Speaking at a Labor Day rally in Boston yesterday, President Barack Obama criticized Gov. Chris Christie over comments the New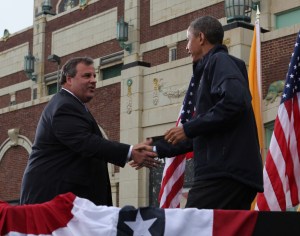 Jersey Republican presidential candidate made about unions.
The President made the comment in conjunction with a criticism of Wisconsin Governor Scott Walker, who is also running for the Republican presidential nomination.
"One presidential candidate, he is bragging about he destroyed collective bargaining rights in his state. And he says that busting unions prepares him to fight ISIL. I didn't make that up," Obama said. "And then there was the guy — these guys are running for office, they're running for the presidency — who said a union deserves a punch in the face. Really? Tell me how you really feel."
Having overhauled pensions and benefits in his home state, Christie on the presidential campaign trail said in a TV interview that national teachers unions deserve a slap in the face.
For more, go here.