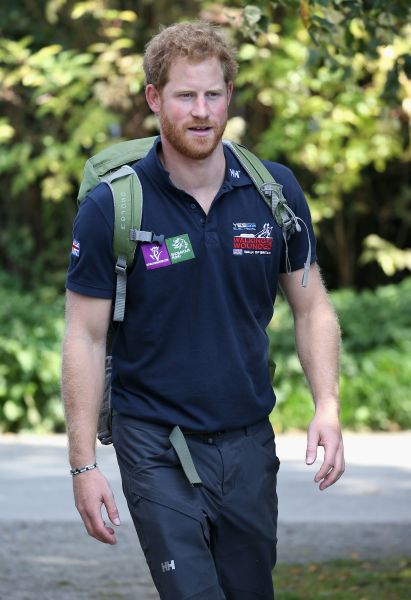 It has been quite the physically-demanding few days for Prince Harry. Everyone's favorite scruffy-bearded prince got chummy with construction workers last Wednesday, and today, he joined veterans for a lengthy trek on foot to raise money for charity.
Organized by Walking with the Wounded, a charity supporting wounded veterans, the Walk of Britain sees six wounded veterans—four British and two American—walk a vast 1,000-mile journey from Scotland to Buckingham Palace in London. The enormous walk takes 72 days to complete and passes through 150 villages, towns and cities, according to the official site.
Prince Harry, a longtime supporter of Walking with the Wounded, today joined the valiant veterans for a 17-mile portion of their trek in Shropshire, ending at the historic Ludlow Castle. Despite having been walking since August 22, the veterans looked pleased to be spending time with their royal patron.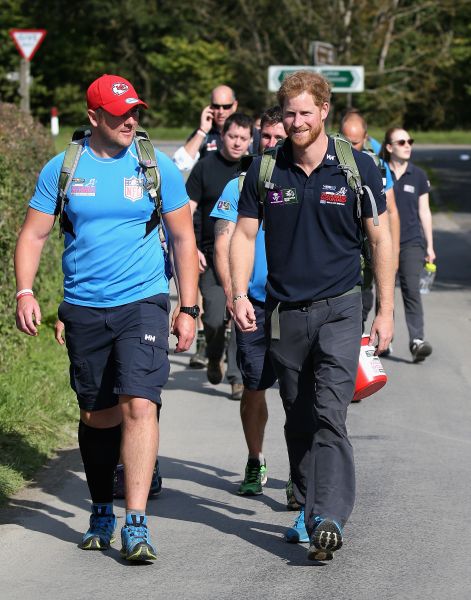 In a speech last March, Prince Harry unveiled this year's Walk of Britain team, as well as explained the importance of supporting veterans, especially those in the process of transitioning into civilian life.
"This process can be challenging, as it is for anyone seeking a new career," he said. "As I make this transition myself, I'm determined to do all I can to help others."
The Walk of Britain, he said, would pass through "communities in which our service personnel and veterans grew up and now live," he said. "In doing so, Walk of Britain will give everyone the opportunity to meet these remarkable men and women."
"People up and down the country will get to see first-hand the determination and resolve of those who have served, and in particular those who have been injured or suffer hidden wounds," he continued. "They will see that whatever their circumstances these men and women are looking to the future. They are looking to employers to give them the chance to keep making a contribution to our communities."
This is not Prince Harry's first Walking with the Wounded voyage. He braved the cold to take part in their North Pole expedition in 2011, and their South Pole expedition in 2013.
The Walk of Britain will finish on November 1 at Buckingham Palace, where one can expect the weary vets will receive a reception fit for a royal.