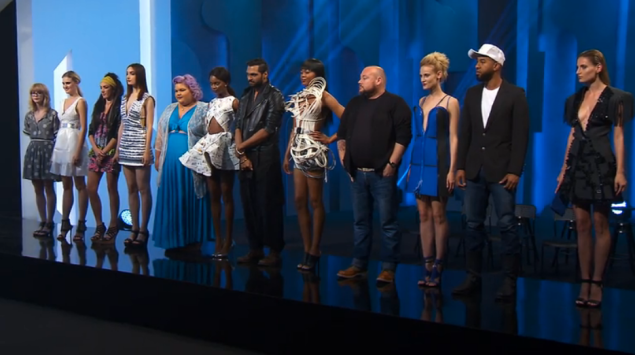 Project Runway is in its 14th season, and after this long, the show has become known for its "unconventional materials challenges." In past years, designers' creativity has been put to the test when they were challenged to create garments with candy, flowers and items from pet, hardware and party stores.
On last night's episode, the remaining ten contestants were challenged to create modern looks from outdated technology. Hosts Heidi Klum and Tim Gunn brought the gang to a dumpster filled with old computers, keyboards, mouse pads, a ton of electrical wires and more, items that would serve as the material for the "clothing" the designers were to make.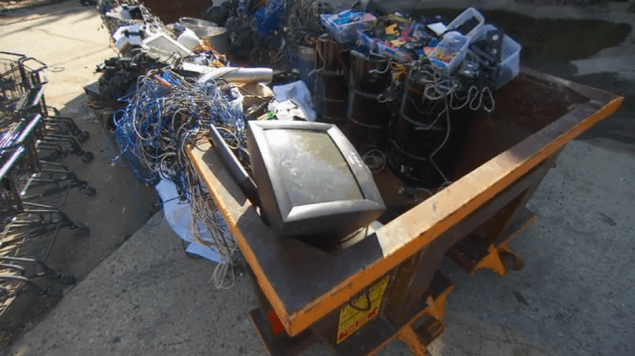 The idea was to transform the materials into something unrecognizable, something that looked like it was actually fabric. Some designers were successful and some were not. A few made very wearable looks, while others experimented with the avant-garde and created garments as artistic as they were fashionable. Here are the designs:
This was the winning look and was created by Kelly Dempsey, 31, from Boston. She worked with aluminum duct tubing and made it appear as if it was a patterned textile.
This look by Candice Cuoco, 27, from San Francisco, was made out of various computer and phone cables.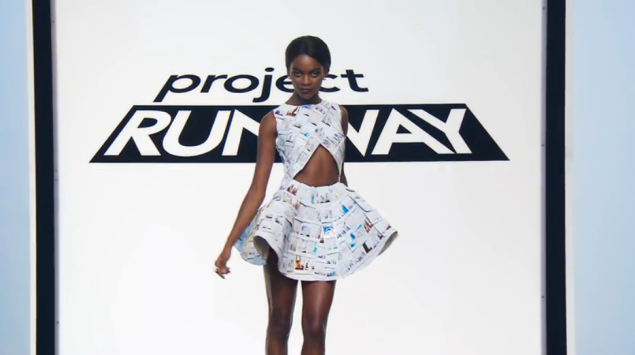 Ashley Nell Tipton, 24, from San Diego, has been a strong competitor so far, impressing the judges on nearly every challenge and even taking home a few wins. She made this dress out of instant Polaroid film, for which she made each individual piece "bleed" into a unique design.
Edmond Newton, 37, from Atlanta, made this unique garment from mouse pads, computer keys and wires.
Swapnil Shinde, 34, from India, made this look from computer and phone cables. The skirt, however, is made from the base fabric they were given to apply items to, and the judges did not appreciate this aspect of his garment.
Merlene Labissiere, 32, from Savannah, Georgia, decided to take advantage of her immunity for this challenge and go big. She created this avant-garde look from computer cables.
This garment was made from mouse pads and computer cables by Laurie Underwood, 29, from Chicago.
Lindsey Creel, 28, from Austin, created this dress from computer keys and CD sleeves. The judges did not like her look at all, and she barely stayed in the game.
This was the losing look of the night. Joseph Charles Poli, 37, from Las Vegas focused too much on making a look that was sexy (instead of matronly) and failed to transform the mouse pads and computer cables he worked with.