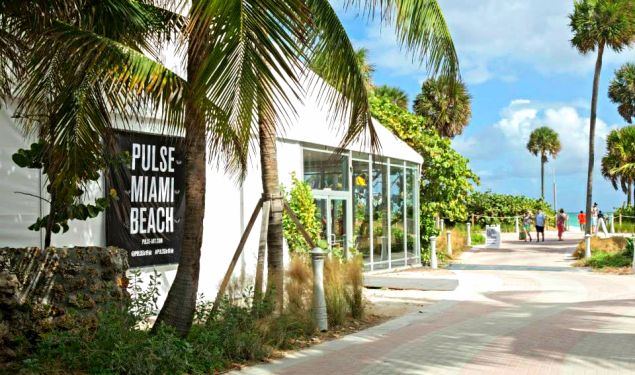 Pulse Miami Beach returns to Indian Beach Park this year with over 80 galleries in tow, and today announced its nominee list for the Pulse Prize.
The award includes a cash prize of $2,500, and goes to a single artist selected by a jury of four from the Impulse (solo booths) and Points (smaller booths for first time exhibitors and non-profits to show projects for the first time) sections of the fair. The semiannual award is given at both the Miami and New York editions of the Pulse fair.
"It's always great to have a diverse grouping of artists—a mix of those who are at the beginning of their career mixed with those who have exhibited widely and internationally," Pulse Art Fair director Helen Toomer told the Observer.
The 2015 edition of Pulse Miami Beach will mark the fair's eleventh year and open on December 1. It runs through December 5.
This year's exhibitor list is over 25 percent first-timers, nearly 50 percent returning galleries from the 2014 edition, and 11 founding galleries who showed at the very first edition in 2004.
And there will also be new programming to look forward to with the addition of "Conversations," a section of 25 galleries that will show two artists each, their work presented in a side-by-side, visual dialogue.
Below, the Pulse Prize Nominees for 2015:
Delphine Burtin | Benrubi Gallery (New York)
Srijon Chowdhury | Klowden Mann (Los Angeles)
Richard Garrison | robert henry contemporary (Brooklyn)
Henry Hudson | TJ Boulting (London, U.K.)
Ronnie Hughes | Rubicon Projects (Dublin, Ireland)
Christopher Kochs | Black & White Gallery (Brooklyn)
Nancy Lorenz | Morgan Lehman Gallery (New York)
Roberto Lugo | Ferrin Contemporary (Cummington, Massachusetts)
Nino Mustica | Scaramouche (New York)
Helen O'Leary | Lesley Heller Workspace (New York)
Trong Gia Nguyen | mc2gallery (Milan, Italy)
Mariu Palacios | Cecilia Gonzalez Arte Contemporaneo (Lima, Peru)
Andrew Salgado | Beers Contemporary (London, U.K.)
Adam Straus | Nohra Haime Gallery (New York)
Grace Weaver | Thierry Goldberg Gallery (New York)
Winter/Hörbelt | Galerie Heike Strelow (Frankfurt, Germany)