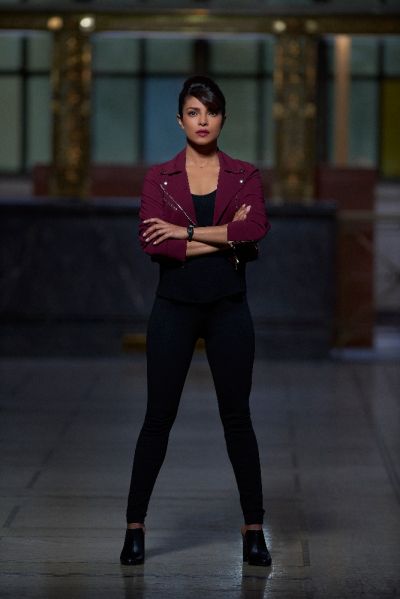 The new ABC drama Quantico starts with a bang – literally. A bomb goes off and a woman emerges, miraculously unscathed, from the rubble. This is Alex, a new F.B.I recruit who just a mere nine months earlier began her training with the agency.
The series centers on a diverse group of recruits who are stationed at the F.B.I.'s Quantico Base for training. They're the best, the brightest and the most vetted, so it seems impossible that one of them is suspected of masterminding the biggest attack on New York City since 9/11.
Flashing forward and back, the goal is not dwell on the actual bombing but to understand how it came to be, says series Creator and Executive Producer Josh Safran. "The hook may make it look like it's about this terrorist event, but the reality is it's about what might lead someone to pull off something like this. It's more about the birth of a terrorist or terrorists," he explains.
Knowing that the subject of terrorism might be a touchy one for some, Safran says, "My idea for this came from the fact that I'm a New Yorker and I was there on 9/11. I wanted to deal with the effects that are still continuing to reverberate because of what happened that day. What we're doing here doesn't make light of terrorism or what happened in any way. We're asking questions like, 'why do these things keep happening, can we understand why they keep happening and is it possible that by understanding certain things that we can stop them from happening?' We're certainly not looking to capitalize on hurt or fear, we're telling this story with respect for the things that have happened in the past."
Safran insists that while the series is intricately plotted, it won't be too overwhelming for viewers. "It is tightly structured and moves quickly between two, sometimes three, time periods, but we made sure that it's not so complicated that it just feels like too much. I like to say that we have a lot of tributaries, but they all lead to one ocean."
Given that many series are now available in their entirety immediately on other platforms, Safran says that the weekly gap between episodes doesn't affect his writing process. "I love week to week. It's all I've ever done before so I know how to do it. I think there is a fear that because this so intricate that people might not catch all of the clues or connect all of the dots right away. That's actually ok. I like the week off because I think it really gives you more time to re-watch the parts you want to, if you want to do that, and then you'll catch everything and be prepared for the next episode."
While the series is just now debuting, Safran believes that he's totally prepared for this season, and beyond. "Before I pitch anything I try to know the whole season and have an idea for the next two. You need to do that because you have to have a roadmap otherwise when production starts it becomes just too much with the time crunch of it all. "
He goes on to explain, "To me this series is like those high octane summer blockbuster movies we used to have in the '80s and '90s with all of the action and stuff, but there's also like this Trojan horse quality to it as well in that within all the action you get to talk about domestic terrorism, religion, politics, and belief systems. If we go to seasons two and three, that will stay the same, but what the horse is made of will change."
Safran admits that he and his team used three of ABC's hit shows to guide them in the creation and execution of Quantico.  "We talked a lot about how Lost and Grey's Anatomy and even Desperate Housewives were these shows where the situation was clear and how they might have felt like other shows in some ways but that people came to them and stayed because the characters were so full. That's our hope here; that viewers will see that there is a lot going on but above all else this is really about the people that are involved in this and all that they go through. And, it's not all darkness all the time; there is some romance and humor as well in this. Just like in real life, even if you're in a pressure-filled situation, sometimes you make jokes or you laugh at something. They all go though a lot of emotions."
Anxious to talk about his cast, Safran excitedly says, "Priyanka [Chopra, who plays Alex Parrish] is, well, there are not that many stars left that you don't know, but she's one of them. People are going to be talking about her a lot after they see her in this. I guarantee it. She just has this quality about her that draws you in. She's like a magnet.' He laughs, as he continues with, "As much as I'd like to say it's the writing or the concept I think you watch her for five minutes and you realize she's a force of nature. So, it's sort of her and then everything else."
Joining Chopra in the cast are several other actors that Safran says bring unique abilities to their roles. "We learned all these interesting things about our cast and we decide to incorporate what we could and it really elevated what we were trying to do. Like, we found out that Jake [McLaughlin who plays Ryan Booth] is a veteran and Yasmine [Al Massri, Nimah Anwar] grew up in a Muslim household in Lebanon, and Johanna [Braddy, Shelby Wyatt] grew up in south and went shooting with her dad so she knows how to handle a gun. We used all of this information to craft these characters and it makes all of them very real, and relatable."
Safran's personal path to Quantico is an interesting one he admits, saying, "Yeah, I went from Gossip Girl to Smash to this, and they might seem really different, but I find them more similar than you would expect. Gossip Girl dealt with pressure that these people felt all stuck together at school. Smash was about the creative process and the pressure people were under for that, and Quantico is about a central event that's filled with pressure. So in a very weird way, I see them as connected because they're all character studies about what people do under pressure."
Knowing that viewers have so many choices now, Safran says that he's structured Quantico is with this in mind, "I really tried to think about the things that make me watch a show live and it sounds simple but it's all about being engaged and wanting to know what happens next. I think if you watch this you'll feel that way. It's fast paced and there really are twists and turns that will make you think. We go deeper and deeper each week out. Some of the characters might die, some might turn out to be bad, you just never know.  That's the fun of being engaged and I really think people will find that, right from the pilot, this is an engaging series."
Quantico premieres Sunday at 10/9c on ABC.