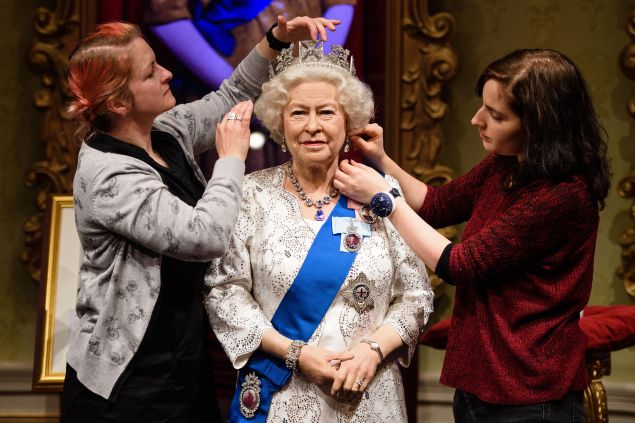 What better occasion for a stylish makeover than breaking a long-held royal record?
Today in London, stylists at Madam Tussauds hurried to "refresh" Queen Elizabeth II's decidedly nightmare-inducing wax figure in time for Wednesday, September 9: the day on which Elizabeth—the non-wax, human version, that is—officially becomes Britain's longest-reigning monarch. The title is currently held by Queen Victoria, who reigned from 1837 until her death in 1901—a total of 63 years, seven months and two days, according to the BBC.
Queen Elizabeth II ascended the throne at age 25, after her father King George VI's death in 1952.
The Queen's wax figure is dressed in a recreation of her Diamond Jubilee dress. She wore the original dress—a crystal-studden gown designed by in-house couturier Angela Kelly—in 2012 to celebrate 60 years on the throne.
Judging by the photos, the Wax Queen's so-called "refreshing" did not appear to include any drastic makeover procedures. Stylists Jane Anderson and Juisa Compabassi appear to have polished her jewelry, straightened her crown, and made sure her shiny white hair curled just right. (On another note, at what beauty school does one train to become a stylist of royal wax figures? Is there a specific career path for this?)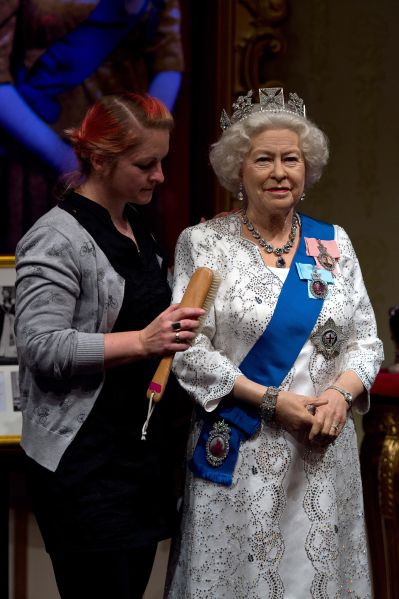 While her wax counterpart is holding down the fort at Madame Tussauds, Queen Elizabeth will reportedly spend September 9 as any royal would: traveling via steam train in Scotland to inaugurate a new railway line. Later that night, she will host a celebratory dinner at Balmoral Castle with Prince William and Duchess Kate Middleton as guests. Whether Prince George and Princess Charlotte join, or stay home with their Mary Poppins lookalike nanny remains to be seen.