From the buzzing cobblestoned streets of Manhattan's Meatpacking District, Brooklyn's Red Hook neighborhood is nearly a million miles away. Or so it seems. But when beloved designer Rachel Comey sends an invite for dinner and a fashion show, making the schlep is totally worth it.
And so I went, directing my cab driver along the way. Telling him which bridge to take, what exit was ours, when to turn left, turn right, and finally, when we had arrived at Dustin Yellin's Pioneer Works space. At this point I had missed the cocktail hour, having spent that time sitting on the Manhattan Bridge. But no worry, I slid into my seat just as an appetizer materialized.
Whipped up by chefs Ignacio Mattos, Thomas Carter and the team at Estela, the food here was no joke. Or at least not the average fashion dinner fare. The first course was a small circle of fish, covered with a gelatinous layer of cubes. It sounded gross, but was totally delicious. The main course was a nibble of salted cod, with tiny potatoes and wisps of lettuce. While this meal was by no means filling, it was at least inventive. Plus, each of the waiters was outfitted in a white top that was cropped in the front and flowing in the back, adding yet another stylish touch to the evening.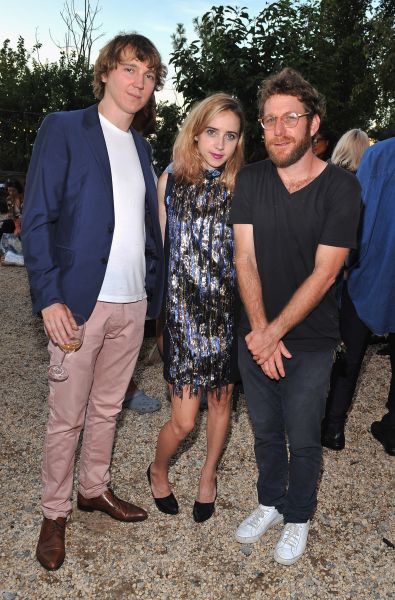 Even the celebrities present were a quirky mix of flashbulb-friendly artists and indie actors. While I spotted Mr. Yellin weaving through the room, I also noticed an intriguing mix, which included Emily Mortimer, Debbie Harry, Parker Posey, Cindy Sherman Zadie Smith, Paul Dano, as well as fashion favorites like Cathy Horyn and Lynn Yaeger. Plenty of Bon Appétit editors were mingling about, too–including editor-in-chief Adam Rapoport–as this show was part of their Feast or Fashion program.
Then it was time for the evening's entertainment. While Justin Vivian Bond belted out soulful tunes, a cast of models filled a riser at the front of the massive (albeit un-air conditioned) hall in Pioneer Works. Swaying with the music, the models were a mix of ages, heights, skin tones and body shapes. They then descended from the risers and haphazardly stumbled between tables of diners, trying to make eye contact with anyone in their paths.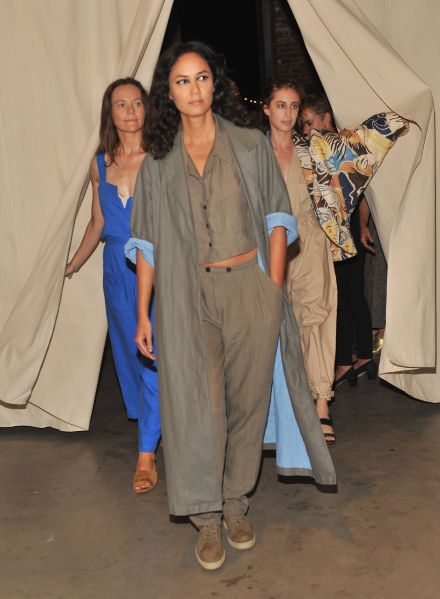 The clothing was a total mix of colors and shapes as well, ranging from a simple grey sparkling lurex dress to a black crop top with buttons down the front and a tie at the navel. The silhouettes were relaxed, with Ms. Comey's signature Brooklyn-cool touch. Denim played a monumental role too, appearing in tie-dyed iterations of skinny pants and loose tunics.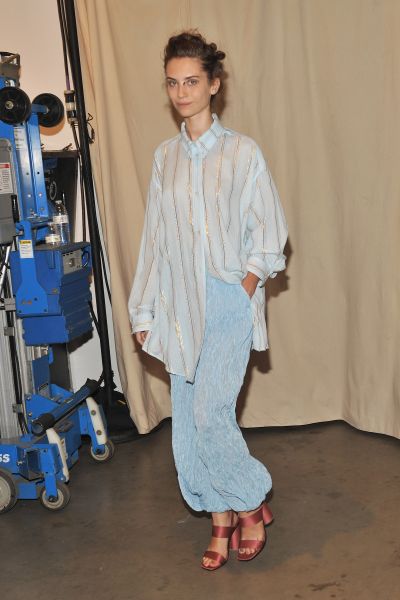 Another notable factor of the evening was the makeup, with each face looking slightly different. Romy Soleimani (from Beauty.com) used bareMinerals product on the faces, keeping the foundation neutral, the brows strong and really playing up the eyeliner. Some models had a circle of black in the corner of the eye, while others had dramatic swoops of eyeliner, but no mascara at all.
All in all, the many moving parts of the evening came together in a way that most fashion events don't; it was unpretentious, lively, and most of all, fun. From the dinner theater aspect to the wide variety of models and clothing, here's to hoping that the rest of fashion week is just as compelling.