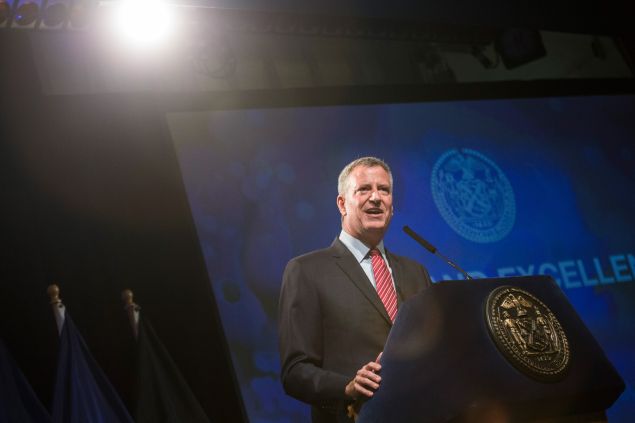 A couple of Democrats close to Mayor Bill de Blasio blasted a new pro-charter schools television ad today, calling the spot "racist to the core."
The slickly-produced ad attacks Mr. de Blasio, a liberal Democrat, for dooming minority schoolchildren to lousy public schools.
"They're racist to the core. They know they are," Bertha Lewis, the founder of the Black Institute, a civil rights nonprofit, told the Observer. "What the mayor needs to do, and I would stand right beside him, is call them out for the racists that they are. He needs to be able to do that. He needs to fight back."
Families for Excellent Schools, a powerful pro-charter group, which has relentlessly criticized Mr. de Blasio for failing to advocate for charters, released the 30-second spot. Produced by Jimmy Siegel, a noted political adman, the ad cost hundreds of thousands of dollars and comes as charter operators are set to hold a large rally on September 30, according to Politico New York.
The ad, entitled "Tale of Two Boys," features two young boys, one white and one black.
"Because he lives in a wealthy neighborhood, this 6-year-old will attend a good school," the ad's narrator says as the young white boy is walked to school by a white parent.
When the black boy appears on the screen, the narrator says, "Because he lives in a poor neighborhood, this 6-year-old will be forced into a failing school." The two boys pass each other on the street as the narrator claims that the white child will likely go to college, while the black boy has little chance of ever attaining a college degree.
"Mayor de Blasio, stop forcing kids into failing schools," the narrator says. "Half a million children need new schools, now."
Manhattan Borough President Gale Brewer, a Democrat, said in a statement that charter operators are "diverting money, resources and space from our public schools."
"The rhetoric of this ad, and the people and money behind it, are part of the problem," she said.
Luis Garden Acosta, the founder of El Puente Academy for Peace and Justice and the father of a child who attended a charter school, said FES was "race-baiting."
" 'Race baiting' like 'red baiting,' exploiting the values and legitimate concerns of our city's communities of color, for whatever political purpose, is abhorrent and posits a dangerous and expanding wedge in a city all to segregated by class, color and community," Mr. Acosta stated, noting that Roberto Perez, a city hall staffer, encouraged him to speak out. "It is abhorrent that a movement that emerged as a demand to tell the truth is used to obfuscate, divide and attempt to denigrate New York City's progressive agenda".
While Mr. de Blasio is enlisting surrogates to fight back on his behalf, his office was a bit less hostile, though it called the ad "crass." "Our students and our families need solutions, not another crass political ad. That's why Mayor de Blasio and Chancellor Farina are focused on ensuring that every child, in every classroom, has a future that isn't limited by their ZIP code," said Wiley Norvell, a spokesman for the mayor.
Since failing last year to halt the expansion of Success Academy Charter Schools, run by his old political foe Eva Moskowitz, Mr. de Blasio has softened his rhetoric toward charter schools, even as his liberal allies continue to seethe. Democratic elected officials aligned with the city and state teachers unions see charters as a thinly-veiled, well-moneyed effort to erode job protections for teachers.
"These folks have figured out a way to make profit off the same kids that they disdained for years and years. As far as I'm concerned, it's predatory education, subprime schools," Ms. Lewis said. "Eva Moskowitz and none of them wouldn't be doing this if it wasn't making enormous profit. To then turn around and say, 'Oh black people, I'm trying to save you from the big bad white man, the mayor, who wants to put you in a failing school'–that's racist."
A spokesman for FES declined to comment.
Updated with comments from Mr. Acosta and Mr. Norvell.