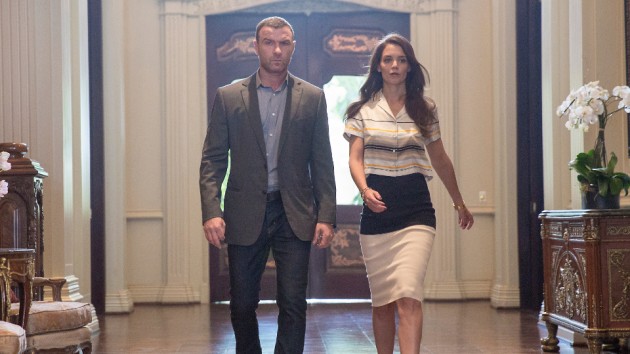 A proper Ray Donovan recap would provide, in addition to a run-down of an episode's goings-on, some thoughts about where the show is coming from and where it's headed. Ray Donovan defies this kind of analysis. The stories it tells are episodic, and though some of its characters have changed over the seasons, none seem to be moving meaningfully from a beginning point to an intentional end. It mines black humor from the point where Irish fatalism meets Los Angeles sheen, and it boasts a stellar cast. It rejects, however, the charge toward series-long arcs and the rise of thematic depth on television. The Donovans can be a pleasure to watch. It's hard to say, at this point, how far along it will have gotten by the time it reaches its finale, or what we will have gained by watching. What pleasures did we find tonight, though? Read on…
THE MAIN EVENT
We open, as every great drama must, as an Armenian pop star named Hasmig takes a concert stage. Faced with the the fact that his father is about to be killed by Armenian mobsters in a sex trafficking sting, Ray has chosen to turn to old friend Hasmig to intervene. We can only hope, for the sake of Ray's dignity, that this is Plan C or Plan D. Hasmig refuses to help because the United States does not officially recognize the Armenian Genocide. As a professional recapper, I seldom choose to insert myself or any first-person material into my recaps, but I choose to do so now because I need to assure you that I am neither obscuring what's actually going on in this scene, nor can I describe a context in which it seems more sensical or edifying. Ray asks a Shakira-esque Armenian singer named Hasmig to save his father from the Armenian mafia and she turns him down because of the unimaginably horrific Armenian Genocide and our nation's tragic diplomatic response thereto. To my fellow viewers, I say simply, "Good luck and Godspeed."
Ray, however, knows that the wise man does not junk an entire operation because of a single slip-up. He contacts Flip Brightman, the local glory hole enthusiast and weatherman that we met in the season premiere. Flip, having been recently promoted to a major broadcast network's late show fill-in host, is instructed to bump Nick Jonas and allow Hasmig to perform an Armenian-language and genocide-themed ballad on his show. Will Flip comply? Does he have the power to make such an accommodation? What television show exists that books Nick Jonas as a musical guest and a sweaty-lipped local weatherman as a host?
Ray's Plan E is to abruptly end Mickey's drug and prostitution ring and to have Mickey declared mentally incompetent and thus free of his obligation to snitch for the cops. How would this shield Mickey from the legal prosecution that Muncie had threatened? It is not for us to ask.
These legal maneuvers succeed, and Mickey's tormentors in law enforcement are held at bay. Ray's final gambit is to sit with Mrs. Minassian and plead for Mickey's life. She refuses, and Mickey is being beaten by a henchman when Hasmig appears, entourage in tow. Mrs. Minassian is star-struck, and all is forgiven. Later, over a nightcap, Ray insists that Mickey leave town, and Mickey, for now at least, agrees.
In the world of Finneys and footballs, Ed Cochran is sharpening his knives for Ray. He finds a picture of Avi crossing into Mexico using Varick Strauss' passport, and thus armed, meets with Ray and Paige for a vetting interview. He neglects to actually accuse or blackmail anyone, but susses out that Ray has become the Finneys' in-house goon. Avi infiltrates Ed's work computer and leaves there a picture of his penis. Ed impersonates Avi to gain access to Avi's storage container, which is apparently a sort of Area 51 warehouse of old incriminating evidence, including the fireplace poker that ended Varick's life. Ed allows the Finneys to purchase the team, but approaches Andrew at episode's end, poker in hand, to cause a few more episodes of trouble for Ray.
THE UNDERCARD
Bridget earns an unlikely passing grade from Mr. Donellen and must punch Mercedes to defend her own honor. She narrowly escapes expulsion, but Abby finds her Oxycodone stash, and the game is largely up. Abby confronts Donellen at his home, but he somehow manages to talk her out of killing him and into keeping the affair a secret. Terry observes that a situation exists and offers to talk to Mr. D, but Abby considers the matter closed. Still, the secret burns: when Paige arrives at the Donovan home with a box of football team swag, Abby's anger at Ray boils over.
NOTES FROM ED COCHRAN'S TCP/IP SETTINGS
You never know when you might need the bludgeon that a millionaire used to murder his secret paramour.
Fair thee well, Mickey's prostitution ring. We had some fine times! Daryl fell in love, Audrey reached for her showbiz dreams and, by all accounts, the cookouts were incredible.
Sarah Shahi and Katherine Moennig both appear in the episode, making it a miniature L Word reunion. Like most ten-year reunions, everyone involved seems mildly embarrassed.
Google confirms that the United States is one of the world's largest importers of wood charcoal, although the profit margins on shipping briquettes must be absolutely brutal.
Terry has a knack for Assassin's Creed!
Even Ed Cochran, Ray Donovan's desperate, bottomed-out sad sack for two seasons running, treats himself to the sweet potato fries.
Mafia pro tip: A closed-door meeting is a closed-door meeting. No matter how much you, an elderly woman, are blown away by the appearance of a mid-level dance-pop singer, she has no right to enter your workspace. Proper Mafia etiquette requires that you check some emotions at the door.