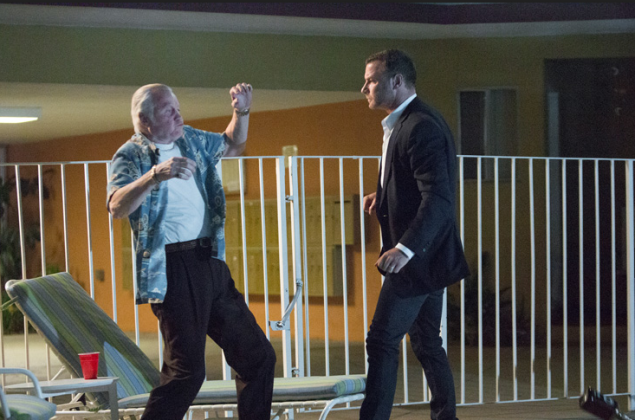 The penultimate episode of the season is upon us, and as is tradition in the prestige drama racket, plotlines are being resolved, kneecaps are being shot, and the viewer is learning what she was meant to be so excited about. The enigmatic and improbable Finneys, they being guest stars, are consumed in an explosion of murder mystery reversals, while the Donovans begin to march back to their starting positions so that Season Three can roll over to Season Four. Who wins? Who loses? Can Southern California support two separate NFL teams whose colors are yellow and blue? Sit a spell, won't you…
THE MAIN EVENT
Ed Cochran has solved the mystery of Varick Straus' murder, and Andrew Finney is keeping himself out of trouble by helping Ed pin it on our hero, Ray Donovan. "Poker" begins as Ed tips off the LAPD to the Straus burial site, it having been deduced from the position of Ray's cell phone as he dug in the sand. Avi's hacker adventure in "One Night In Yerevan" allows him to watch the tip-off in real time, and he sets out to retrieve the fireplace poker from his storage unit and move the corpse before the police can find it. Meanwhile, Andrew Finney visits LAPD headquarters and insists that Ray murdered Straus while Finney listened from another room.
Ray denies any involvement, but can't quite slip the noose: Avi has discovered that Ed and Finney have stolen the murder weapon. Sensing a situation slipping out of control for the lack of physical violence, Ray visits Ed, shoots him, and tosses him into the back of a van. In the course of this experience, Ed reveals that the poker has been stashed in Ray's apartment and the police are on their way. At the apartment, Ray pulls off the smoothest move on the show so far: snagging the poker as the police break down the door, dropping it from his balcony to the street, where Lena waits to whisk it away on a motorcycle.
The final loose end to address is Paige: Andrew has convinced her to corroborate his version of the Straus murder, but Ray intercepts her on her way into police HQ just in time to lay a masterful passive-aggressive Irish whammy on her. She then not only clears Ray's name, but also implicates her father and reveals his romance with Straus in the process. The Donovan gang drops the corpse in a dumpster adjacent to the Finney manse, lights it on fire, calls the cops, and rides away into infamy.
THE UNDERCARD
Mickey is folding up shop and preparing to relocate to Reno. Mickey's last day in Los Angeles requires at least a shenanigan or two, so he tries to make the prostitutes pack his moving truck and takes a long time explaining to Conor why Conor no longer senses a spark with the employee who took his virginity six episodes ago. When Bunchy returns from his honeymoon with talk of fresh grandchildren, though, Mickey realizes that he cannot accept a life in exile. He gathers Bunchy, Teresa, Conor and Daryl and deploys his own Irish Jedi Mind Trick. He claims to be suffering from the symptoms of Alzheimer's and informs everyone of Ray's conservatorship and gambit to drive him from Los Angeles. Everyone jumps to his defense, insists that he stay, and calls Ray from poolside to chew him out. That evening, Mickey lords his victory over Ray. He's found a way to skirt the conservatorship and to forestall Ray's attempts to isolate him from his family.
Bridget returns to Donellen's house to profess her love, and must be dragged away by Abby. Bridget threatens to run away if Terry or Abby take action against Donellen.
Terry continues to serve as Abby's surrogate husband, and during a conversation about Ray's perfidy, the two share a lingering kiss.
Michele, sensing that the Donovan Prostitution Initiative is floundering, steals Daryl's cash and car and leaves him with a Starbucks cup reading "sorry." Daryl, having now been forsaken by both his father and his girlfriend, is quickly losing composure.
The comparison drawn between Mickey's manipulation of the Donovans and Ray's manipulation of Paige brings the viewer as close as he's come to an understanding of The Point Of Ray Donovan's Character. Having spent the entire season attempting to subdue the Finneys using bullets, shovels and wiretaps, Ray finds out what Mickey has known all along: that the psychological realm is where the game is won and lost. Mickey sees immediately that Ray's family ties can be leveraged against all of his machiavellian schemes; Ray's entire war on the Finneys comes down to his ability to convince Paige to act against her own self-interest.
From a distance, the Donovans read as a gang of emotional basket cases being carried along by Ray, his wits and his practicality. Just about three seasons later, though, it's clear that Ray's habit of sweeping aside the emotional to better focus on the beatings and the paperwork costs him both personally and professionally. Bunchy is a better lover. Terry is a better husband. Abby is a better friend. Mickey is a better chiseler. Now, if Mickey's maneuvers take hold, they'll all be more estranged than ever from Ray.
NOTES FROM THE THE OTHER SIDE OF DARYL'S COFFEE CUP
"Think I still have a shot with her?" The glacial pace at which Conor absorbs the facts of prostitute life should earn him a first-ballot spot in the Television Drama Dull Younger Brother Hall Of Fame.
Ed's Cuisine Corner: Jiffy-Pop and bottle beer.
Revealed at long last: Ray has been sweating to create a football team called the Los Angeles Waves.
"They don't want me to go, Ray. Know why? I make them feel good…you make people feel small and shitty." Mickey sings the Charming Sociopath National Anthem.
We've not seen the last of Ed Cochran, but now that Ray has released his sex tape and driven him around in a van with a moldering corpse, the indignities that await him in Season 4 are likely to be vicious.
Still to come in the finale: the Donellen Problem is solved the Ray Way; Paige returns to Ray to find out what she's earned for destroying her own family; Ray must reconcile with with the Donovans thoroughly enough that Showtime doesn't have to shoot new promotional stills for Season 4.