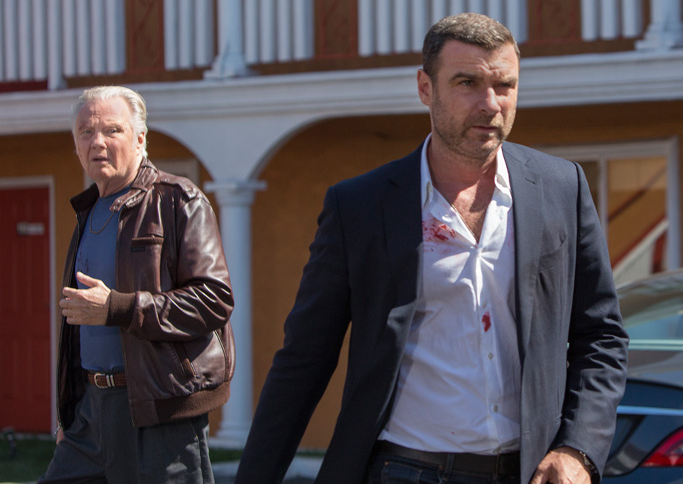 We've reached the end of Ray Donovan Season 3, and the occasion offers an opportunity to investigate just what story has been unfolding this year. The show, for better or worse, is a sprawl, sometimes grave and sometimes flip, telling tales that don't sit neatly side-by-side. The Finney affair, Father Romero's investigation, Bunchy's marriage, the Donellen crisis, and the war with the Armenians won't funnel down to a single showdown or shootout.
It's better, perhaps, to take the finale itself as a statement of purpose, an indication of what Ray Donovan has had on its mind, and of how we should fit the pieces together. Will Ray have gained any insight from his travails with the Finneys? Will Mickey pay any penalty for antagonizing every mobster, police officer and family member that crosses his path? Invest one more hour to find out…
THE MAIN EVENT
A news broadcast relays the demise of Andrew Finney as Ray receives Paige at his crash pad, where she will stay while Katie Holmes negotiates her involvement in Season 4. When Ray returns to Calabasas, Terry comes clean on the entire Bridget/Donellen affair, up to and including the fact that Bridget has gone missing. She's holed up in a Santa Monica motel room trying to instigate a tryst with Donellen. She texts her mother that she's visiting Mickey's apartment, and Abby sends both Terry and Ray in that direction.
Mickey, as might be expected, is carousing with the prostitutes. Terry shows up just in time for Mrs. Minassian's goons to descend, guns blazing. Ray arrives to successfully counter-goon, but not before Terry is shot and Michelle is killed.
Terry undergoes emergency surgery, and Ray goes to war. He and Avi arm themselves for a siege and head to the Minassians' hideout. Before they can make a move, though, Mickey arrives and starts murdering henchmen. Ray is wounded in the ensuing gun battle, but the Minassians are wiped out.
Meanwhile, in Santa Monica, Donellen has arrived at the motel with the intention of cooling Bridget's ardor. They take a scenic stroll and discuss the extent to which they've ruined Donellen's life. Bridget, demonstrating the instincts of a young Don Draper, spins his pain into a genius pitch: "If they're going to blame you for being with me, why not be with me?" And with that, they head back to the motel to consummate their affair. At the absolute precipice of disaster, Donellen loses his nerve. Ray busts in all the same, Lena having triangulated the motel using Donellen's cell. Ray lays a vicious beating on him and leaves with Bridget.
Ray sets out to fulfill Terry's last demand as he was wheeled away to surgery: a priest. Being a strict devotee of doing things the hard way, Ray heads to the Home For Wayward Clergymen and calls on Father Romero, recently seen covered in blood and screaming at the Donovan brothers in Latin. Romero strikes a supportive tone, but insists on hearing Ray's confession, and Ray, still bleeding from the gut, obliges him. The confession is both a hurricane of catharsis and a total beast of an Emmy clip, drilling down past the murder of Father Danny to the guilt that Ray feels at having been victimized. Ray stumbles from the confessional and collapses.
As we leave the Donovans, they're scattering. Bridget is packing her bindle to join the hippies of Santa Monica, Mickey is lighting out for Nevada and Father Romero is driving Ray back towards Los Angeles.
THE UNDERCARD
Bunchy and Teresa have brief and slap-punctuated sex. Teresa is pregnant. Bunchy fears that he'll be a poor father, but Teresa isn't terribly worried.
Conor, Casey Finney and Dog the Dog are absent and truly missed.
—
And that was that. In Exsuscito, Ray Donovan set aside the events of Season 3 to revisit the central traumas of the Donovan family. Wither, then, the Finneys? Ray's sojourn amongst the political elite first read like a modern spin on Raymond Chandler—the hardbitten lowlife who didn't know true evil until he wandered into the clutches of the hypocritical rich. Andrew Finney also provided a surrogate Mickey Donovan for Ray to rage against. By season's end, Ray had freed Paige from her tyrannical father but not himself from his own.
When Varick Straus's corpse was blown up on Andrew's doorstep in Poker, though, the Finney Affair concluded with little apparent effect on Ray's future. He had thrown aside his wife to save (and bed) another damsel in distress, stuck another finger in Ed Cochran's eye, and ended up back where he started, more or less. Even more shockingly, Ray's collision with Donellen, which had the potential for truly savage violence, ended with a brief fight and a renewed barrage of teenage alienation from Bridget.
Exsuscito instead dealt primarily with the foundational sins visited on and perpetrated by the Donovan boys. Bunchy and Mickey, as usual, brought ruin to their doorstep, Terry, as usual, paid the price, and in order to save his life, Ray had to finally confront the abuse he'd suffered at the hands of Father Danny. The moment not only engaged Liev Schreiber's skills as an actor, but also finally dramatized the trauma that has colored so much of his life.
As with so many of the incidents on the show, though, it's difficult to say what the upshot may be. Will Ray Donovan endorse the transformative power of confession and set Ray on a healthier, less reactionary course in Season 4? It would be gratifying to see a more self-reflective Ray Donovan, who strives to live the life of a better man but is tempted by the continuing presence of a man he wants to kill (Donellen) and a woman he wants to have sex with (Paige).
On the other hand, it seems improbable that a man like Ray can confess his way to enlightenment. It's more likely (and more in line with Ray Donovan's tone) that revealing his secret pain and guilt to a near stranger would only enhance their ability to twist his soul and cement his habit of expressing his loyalty to his family through violence and control.
This season in particular punished Ray for the paternalism that always accompanies his love. He's endlessly solving problems for the people he holds dear, but without any sense of empathy. It has emerged subtextually over three seasons that, for all his violent bravado, Ray has actually been the most fundamentally broken Donovan because he's shed his humanity in his mission to protect the people around him.
The actual events of Season 3 might argue the other way, though: the Donovans teetered on the edge of destruction all year because Terry couldn't make it in prison, Bunchy couldn't keep his mouth shut, and Mickey was Mickey. Ray could barely beat, kill and frame enough people to keep the Donovans alive. Sweet as they can sometimes be, the Donovans are a criminal dynasty with well-equipped enemies, and Ray is the only one who seems capable of playing defense. Whether his instinct for survival at all costs is a bug or a feature is a matter for another season.
NOTES FROM BRIDGET'S MOTEL BILL
It's been 36 years since Ray's last confession, and remember: those are Ray Donovan years.
"I didn't know Mexicans hiked!" Good to see Bunchy picking up Mickey's mantle of charming, dim bigot.
It's been a honor and a privilege recapping Ray Donovan for you. It's a confounding show in many ways, straddling the line between an episodic black comedy about Los Angeles crime and the grim saga of a dysfunctional family. In an era when more and more television shows find the scent of prestige and pursue it hellbent for leather, it's been a challenge and a pleasure to follow a show never seems to know whether it will zig or zag. I hope you've enjoyed the swings as much as I have.