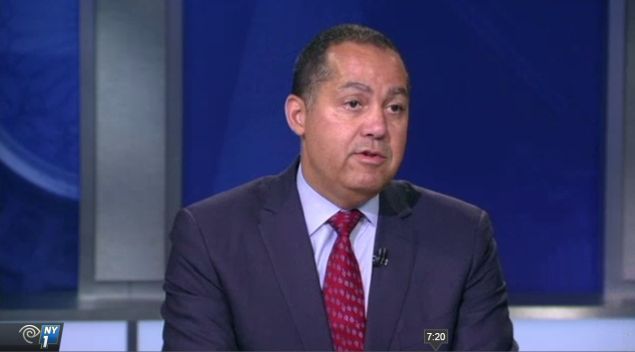 Don Peebles, the real estate mogul threatening to run against Mayor Bill de Blasio, owns homes in Florida and Washington, D.C. But the Democrat insisted last night the real place he hangs his hat in is New York City.
"Where do you live?" NY1 host Errol Louis bluntly asked him after ticking off all the cities Mr. Peebles has called home.
"I live in New York City right now. Okay, my daughter is in school in the New York City area and my son is going into his senior year at Columbia and my children spent, my son graduated high school from New York City so I'm connected to New York City," Mr. Peebles said. "I own property in New York City, I'm a large property owner, in fact, in New York City and I've been doing business in New York City for a decade."
Mr. Peebles made headlines last month when he announced he was unsatisfied with Mr. de Blasio's performance as mayor and therefore wanted to run against the fellow Democrat. Mr. Peebles' declaration was notable because he contributed cash to Mr. de Blasio's 2013 mayoral campaign. In a flurry of television appearances, Mr. Peebles attacked the mayor from both the left and right, accusing his liberal administration of trying to clamp down on charter schools and not doing enough to help minority-owned businesses.
Mr. Peebles is a millionaire and could self-finance a challenge against Mr. de Blasio in two years. He is also African-American, and in theory could cut into Mr. de Blasio's base of black support.
But Mr. Peebles would face many obstacles were he to actually run. He is not widely known and has never campaigned before. To defeat an incumbent mayor, he would likely have to spend campaign cash on par with former Mayor Michael Bloomberg, a billionaire who spent as much as $100 million to win.
Mr. Peebles may also endure a few cold shoulders from his real estate colleagues. He was sued for millions in monetary damages for allegedly breaking ties on the redevelopment of a Manhattan property. It was the second time this year when a former colleague accused Mr. Peebles of "shifty business practices," according to the Commercial Observer, the New York Observer's sister publication.
Residency, however, should be less of an obstacle for Mr. Peebles. New York City election law only requires that a candidate have a city address by Election Day.