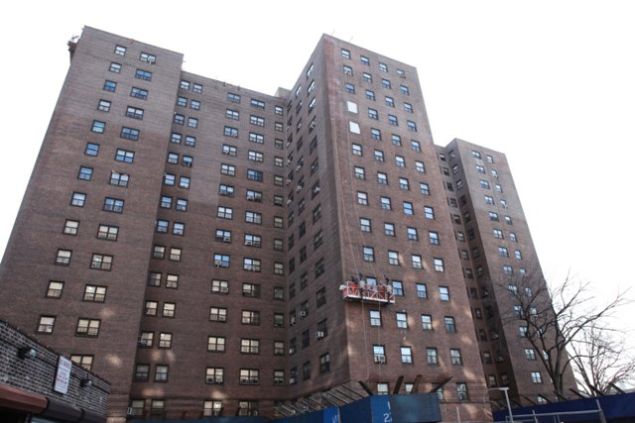 A group of activist groups today released a report finding the the New York City Housing Authority has failed to provide notices and services in the many languages and dialects its residents speak—a violation, the report claimed, of both city policy and federal law.
Entitled "No Access," the study—a joint effort of the Urban Justice Center, the Community Development Project and the Committee Against Anti-Asian Violence—surveyed 221 tenants at 14 of NYCHA's 334 developments and obtained thousands of pages of documents through Freedom of Information Law requests. The surveys found that only 18 percent of public housing tenants of limited English proficiency had been able to obtain documents from the authority in their native tongue, that 70 percent of foreign language speakers who tried to contact the NYCHA call center had found themselves unable to communicate with anyone on the other end of the line, that 92 percent of the non-English-proficient had been asked to sign repair forms they could not read and two-thirds reported that the authority did not take sufficient steps to provide interpretation services.
"The findings are very revealing," said Shahana Hanifa, public housing organizer for CAAAV, at the release event at the City University of New York Graduate Center in Midtown. "We're calling on NYCHA to improve their current language access services,"
No Access found that NYCHA tends to print most of its notices and newsletters for residents in English and Spanish, thus excluding thousands of tenants who speak Chinese dialects, Korean, Russian and languages of the Indian subcontinent. The report suggested the cause of the problem might be that NYCHA has just six people on staff—just two of whom are proficient in an Asian language—dealing with "language access," and because the authority does not have a system in place to keep track of how many foreign language speakers live in its buildings or to find out their level of satisfaction in its services.
Two tenants, speaking through translators, described the difficulty of communicating their questions and requests to NYCHA administrators and staff, which they said resulted in badly needed repairs going unaddressed for months.
The advocates called upon the public housing authority to conduct a periodic census to find out more about the languages its tenants speak, provide outreach in more languages and collect feedback on the quality of the services available in foreign tongues. The report asserted that the failure to communicate with so many non-English or non-Spanish speaking tenants constituted a violation of city policy set forth in a 2008 executive order by ex-Mayor Michael Bloomberg, which required agencies to "ensure meaningful access" to people with limited English proficiency—and even might be a violation of the Civil Rights Act of 1964 and of federal Department of Housing and Urban Development guidelines requiring sufficient interpretation services.
Elected officials present at the event echoed the concerns.
"I think the city has failed, and that these policies are discrimination," said Bronx Councilman Ritchie Torres, chairman of the Committee on Public Housing.
For its part, NYCHA pointed out that the two Asian languages that tenants request most—Mandarin and Cantonese Chinese—make up less than five percent of non-English communications, indicating most such communications are in Spanish. Still, it said it successfully fields thousands of questions from tenants each year in a range of languages, and would strive to respond to even more.
"We are committed to ensuring meaningful access to language services for all residents and provide over-the-phone and in-person interpretation services," said a spokesperson in a statement sent to the Observer. "We are reviewing options to further expand access."
As of January 2014, roughly 90 percent of NYCHA tenants are black or Hispanic, while 5 percent are Asian and 4 percent are white.