In the race for district attorney on Staten Island, Michael McMahon, a Democrat and former congressman, has more money, more name recognition, more union endorsements and more experience navigating the strange world of Staten Island politics than his opponent.
But after pulling off a write-in victory to secure a minor party line last week, Republicans are hoping to prove prosecutor Joan Illuzzi has more mettle.
"It gives us tremendous momentum. It was a huge win," former congressman and borough president Guy Molinari, who chairs Ms. Illuzzi's campaign, told the Observer in a phone interview. "I've been involved in campaigns for 50 years, including 27 years as my own candidate, but I've never seen a candidate work as hard as she did."
Ms. Illuzzi managed to snatch away the Conservative Party line from Mr. McMahon a week ago, after launching an opportunity-to-ballot petition that forced a primary in which she ran as a write-in candidate. About 500 registered Conservatives braved rain to write in her name Thursday—and it earned Ms. Illuzzi an extra line come Election Day.
But if the primary showed Ms. Illuzzi's ability to turn out support, it was also a distillation of old political feuds that have festered on Staten Island—where the Conservatives don't always back Republicans, and the Republicans don't always even back each other.
Ms. Illuzzi, a longtime assistant district attorney in the Manhattan D.A's office who led the recent trial in the decades-old Etan Patz murder, is a total newcomer to running for office but has waded into a borough political scene filled with old fights that always manage to rear their heads in new ways. Backing Mr. McMahon in the primary was former Borough President James Molinaro, elected himself on the Conservative line, a former chair and still major player in the borough party. Backing Ms. Illuzzi was Mr. Molinari, the sometimes divisive dean of Staten Island Republican politics. Mr. Molinaro and Mr. Molinari were once joined at the hip, but this being Staten Island, the former borough presidents with the similar names have since become politically estranged.
Despite her convincing victory and long record as a prosecutor, Ms. Illuzzi has struggled to raise money, and spent much of it on a lawsuit challenging Mr. McMahon's petition signatures. She's taken hits for attempting to sue the city and failing to vote in elections for DA. And she has yet to mobilize much support from the borough's deep bench of Republican elected officials, who have not been particularly visible on her behalf despite her polished resume. The Staten Island Borough President, Republican James Oddo, has not offered an endorsement in the race at all.
Asked if he was disappointed by what seems to be lukewarm support for the party's candidate, Republican Party Chairman John Antoniello said he hoped it would change.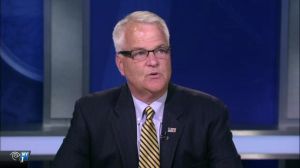 "Now that she's won this primary, I think we'll see more people falling into line and closing ranks behind her," Mr. Antoniello told the Observer. "I think this win will open some doors for her and I think people are going to start contributing to her campaign, given the fact that she won this and she's a very viable candidate. And I think she's going to win in November. She certainly has the momentum going for her."
Democrats, of course, had their own theory.
"I think the reason being is that their candidate is an unknown quantity, even to Republicans," Staten Island Democratic Party Chairman John Gulino said, reiterating what's become a common talking point for Dems in the race. "It's very difficult to come out of nowhere and be the party's nominee and run for office when you've never really been involved with the party."
(Supporters of Ms. Illuzzi, meanwhile, frequently point to her politics-free career as a prosecutor and contrast it with Mr. McMahon's in elected office and now as a lobbyist: "Joan's outstanding momentum and growing bipartisan support prove that Staten Islanders want an experienced prosecutor, not a career politician, as their next District Attorney," campaign manager Nick Iacono said.)
Mr. Molinari said he believed Republicans were skittish about supporting Ms. Illuzzi because they were warned not to cross the Conservative Party.
"I won't go into names but a number of the electeds were laying down on their job," Mr. Molinari said. "And the reason they're doing that is they've been threatened that they will not get the Conservative Party endorsement if they played a key role in her campaign."
But there are plenty of other factors that could be at play, like longstanding rifts in the borough party—including rifts between Mr. Molinari and some of the borough's elected Republicans.
Tensions between various wings of the GOP came to a head in 2013, when its former chairman stepped down amid in-fighting over a Republican primary for the City Council seat once held by Mr. Oddo. The end result of the complicated quarrel was that Mr. Oddo and former Congressman Michael Grimm, two of the borough's top Republicans, essentially stopped speaking, while Mr. Oddo's relationship with Mr. Molinari is largely limited to the two criticizing one another in statements to the Staten Island Advance. While Ms. Illuzzi was not on the borough political scene at the time, Mr. Molinari is now chairing her campaign, which also includes several former staffers for Mr. Grimm.
Whatever the reason for it, it's hard to argue there isn't still bad blood in the party that's getting in the way of the race. When the Observer asked broadly about support from fellow Republicans for Ms. Illuzzi, Mr. Molinari took unprompted aim at State Senator Andrew Lanza.
Mr. Molinari said that he'd heard Mr. Lanza approached Ms. Illuzzi last Friday, while she was speaking to a priest after a September 11 memorial mass at Holy Rosary Catholic Church, and made a comment about how she should not have run a Conservative primary bid.
"He's a lowlife for doing that, and I'll never forgive him, myself," Mr. Molinari said.
Mr. Lanza responded by calling Mr. Molinari—often dubbed the dean of Mr. Lanza's own party on Staten Island—"a sick, depraved liar."
"I absolutely swear on a stack of Bibles I didn't say that," Mr. Lanza said in a telephone interview. "I didn't see Joan. I didn't talk to Joan. I don't know what he's talking about." He insisted he didn't even agree with the sentiment of what Mr. Molinari said he'd said: "I think she should have run for the Conservative line."
The Observer reached out to the two other people allegedly present for the exchange: Ms. Illuzzi and the parish priest. The priest didn't return a telephone message. Ms. Illuzzi's campaign manager, Mr. Iacono, said the whole thing was a "misunderstanding."
"This was a simple misunderstanding. Senator Lanza has reached out to Joan and she has no reason to doubt his full support," Mr. Iacono said in a statement.
Whatever happened at Holy Rosary, it's not really a sign of party unity when two Republicans are trading insults like "lowlife" and "liar" via the press. And this all might raise the question: why is everybody paying so much attention to the contest for a minor party line in a district attorney's race, anyway?
There are 4,218 registered Conservatives on Staten Island—enough to promise a couple thousand votes for a candidate. In a tight election, that can make a difference. And for Ms. Illuzzi, securing the line was crucial: before she wrested it away, Mr. McMahon was on the Democratic, Independence and Conservative party lines, while Ms. Illuzzi had only the Republican.
"It leveled the field, as I can see, regarding the number of lines each candidate has. It's definitely a plus," Mr. Antoniello, the GOP chair, said.
But perhaps the bigger issue, Mr. Antoniello said, was that Ms. Illuzzi proved a point" "The point that Joan was trying to make is that the candidate put up by the Conservatives was not really a conservative."
Which raises another question: how did Mr. McMahon, a Democrat, wind up with the Conservative Party's endorsement in the first place?
Look no further than Mr. Molinaro, the former borough president, the Conservative party's main power broker and Mr. McMahon's campaign co-chair. He's still backing Mr. McMahon, despite the rebuke from his party at the polls. And he's still a proud Conservative, despite Mr. Molinari, his old friend and current foe, calling for him to resign from the party.
"I have no response to him at all, whatever he says," Mr. Molinaro said. "He does what he wants. He says what he wants. And he's not a member of the Conservative party."
He pointed out that Mr. McMahon was awarded the line not unilaterally, but after a vote of the Conservative party's executive committee, which he argued is the most democratic way to do things. He said he chooses candidates based on what they can do for the borough—sometimes, that means a Democrat. He said he backed Mr. McMahon because they had worked closely together when Mr. Molinaro was borough president and Mr. McMahon was in the City Council and then Congress. (There's also no love lost between Mr. Molinaro and the last district attorney, Congressman Daniel Donovan, who backed Ms. Illuzzi—Mr. Molinaro stopped speaking to Mr. Donovan after the then-DA recused himself from a case involving Mr. Molinaro's grandson years ago.)
But this is the second time in recent years that Staten Island Conservatives have revolted against their party picking a Democrat by launching an opportunity-to-ballot—the same happened when the party backed Democratic Assemblyman Michael Cusick last year. Mr. Molinaro blamed "radicals."
"We have people in the Conservative Party who do not believe the Conservative Party should endorse any Democrat, any Democrat—that's including Jesus Christ if he came down and was a Democrat," Mr. Molinaro said.
The borough Republican party made winning the Conservative line a priority—tying participation in the Conservative party's opportunity-to-ballot primary to the awarding of Republican presidential delegate spots, something the GOP chairman walked back after complaints. Mr. Molinaro resents the incursion.
"I'm a strong believer that parties shouldn't interfere with other parties. In your party, you do what you believe. You shouldn't interfere unless you join that party," Mr. Molinaro said.
Mr. Molinaro and other McMahon backers argued that losing the line doesn't mean Mr. McMahon will lose the race. After Mr. Cusick lost the Conservative line, he went on to trounce his opponent in the general election.
"He's well-known, he's got everybody and his cousin endorsing him, and they all want to contribute not only the money but the manpower," Mr. Molinaro said of Mr. McMahon.
Unsurprisingly, his foil Mr. Molinari didn't agree.
"I think we're the favorites," Mr. Molinari said. "People are not supposed to say that, but that's not my style."
This story has been updated to correct that Mr. Donovan did recuse himself from the case involving Mr. Molinaro's grandson, leading to a falling out between the two politicians.