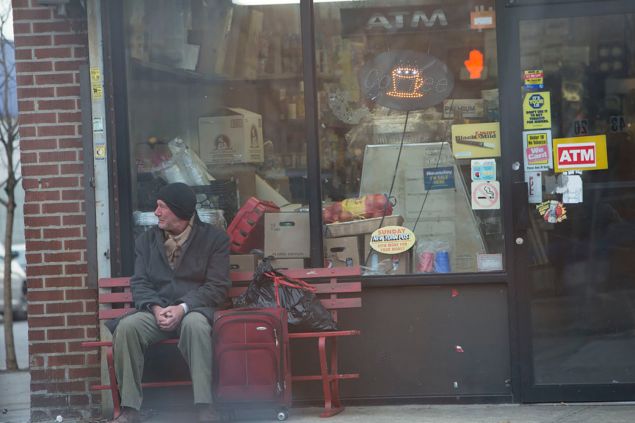 One day it's Friday, trading in stocks. The next day it's Monday, and you're up to your neck in hock. In today's down market, even the affluent can inexplicably become homeless. In the grim, unsettling Time Out of Mind, Richard Gere gives his most uncompromising three-dimensional performance in 20 years as a once-prosperous business executive whose credit score is suddenly battered by the financial downturn in the economy, leaving him dispossessed and living on the street. The plight of the homeless has never been so clearly illustrated. 
---

TIME OUT OF MIND ★★★
(3/4 stars)

Written and directed by: Oren Moverman
Starring: Richard gere, Ben Vereen and Jena Malone
Running time: 120 min.

---
When an eviction crew led by Steve Buscemi finds him in a deserted New York building marked for demolition, sleeping in a bathtub, they toss him rudely into an alley with the other garbage. Disheveled, exhausted and desperately humiliated, his wallet and I.D. papers missing, he's harassed by children and ousted from every park bench. You see these people everywhere, panhandling and sick, and who can blame us for distrusting them? Will they use a handout for drugs, or worse? And how much spare change can a compassionate observer spare? This movie will make you re-think your priorities and also re-count your own blessings.
Mr. Gere, his gray and sodden appearance a mere flyspeck hint of his usual debonair persona, plays a man known only as George. We don't know why why his reduced circumstances have landed him a few steps away from living in a cardboard box. What we know is he is at the mercy of an unforgiving city with nowhere to turn. Clinging to what's left of his intuition and intelligence, he starts observing the people around him and realizes there is trouble everywhere. Hungry, and badly in need of medicine and shelter, George even seeks temporary sanctuary at Bellevue Hospital, a harsh and indifferent place already overcrowded with human flotsam.
Clinging to his decimated dignity in one especially moving scene, he meets a friendly woman in a hospital waiting room and tries to convince her he's not a bum, but a man who might make a good house guest. With the aid of authentic research from the Coalition for the Homeless and actual voices of real homeless people, writer-director Oren Moverman (Love and Mercy) follows Mr. Gere (who produced the film) into dark places most of us have never seen—and never want to see again.
The exquisite "you are there" cinematography by Bobby Bukowski visits the places where people on the skids stop to rest—rat-infested homeless shelters, disgusting soup kitchens, phlegmatic breadlines, hostile police stations. George suffers through endless questionnaires for psychological evaluation. The only people he meets are afflicted, addicted or brain-damaged. Everything is lost—social security cards, birth certificate, photo I.D.s, memory, family, business associates, self-respect. What's left forms a thin line between insanity and non-existence.
Time Out of Mind is not sentimental or overly plotted. It's just a sober, emotionally direct film of subtle observance on the road to Hell. It has an overlapping sound that makes you feel like you're in the shadows, on the rooftops, and shuffling through the halls of the hospital wards with George. It's not a place the inspires much hope or pleasure, although there are fine performances in every frame—not only from Richard Gere, but from Ben Vereen and Kyra Sedgwick as fellow lost souls, and Jena Malone as the estranged daughter who has wasted her life.
There is much to admire here—especially the film's reluctance to preach a sermon to society at large. But in the long haul, Time Out of Mind is so unrelievedly downbeat that it's unrelievedly depressing. George tries to make sense of his predicament and adjust to his many failed attempts at survival, but finds it impossible to integrate the spiritual with the economical. Time Out of Mind makes no attempt to offer anything positive to resemble a thing called hope. That, if you ask me, is not exactly the recipe for box-office success.
Homelessness, a state of being not easily improved, seems to be escalating in cities everywhere, especially New York, but I would prefer dousing the darkness with a ray of hope instead of turning out the lights altogether.