Richard Gere belongs to a tiny group of actors of dubious but powerful distinction: The four who have been picked, more than once, as People Magazine's "Sexiest Man Alive." In a beauty and box office contest that's been held since 1985, it's just him, George Clooney, Brad Pitt and Johnny Depp.
Not everyone on the magazine's list has weathered the years: 1992's Nick Nolte, now more famous for his mug shot than his magazine cover, or the disgraced pin-up of 30 years ago, Mel Gibson, won't likely pull off a three-peat hat trick. But Richard Gere, lounging in late summer in the Westside offices of the International Film Center, has a chance.
Hollywood handsome with that strong jaw, broad forehead and American Gigolo looks, plus that tiny trace of a bunny overbite, the actor strikes an uneasy balance. Urbane and centered, he can comfortably quote The New York Times and the Dalai Lama (whom he considers a friend)—but can't completely shed just a touch of the smugness of a man accustomed to international fame, even as he struggles, thoughtfully, toward humility.
In the character-driven drama Time Out of Mind, 66, Mr. Gere stars—convincingly—as a Manhattan homeless man stripped of his assets, of his vanity and of the actor's movie star good looks, freefalling through the city's social safety net. In a career rethink-slash-expansion, Mr. Gere also produced the independent film, which he has been working on in some form for roughly a dozen years.
The New Yorker in Mr. Gere, explains why: "The city's always in motion. People come to New York because they've got something to do. They got a job. They got a career choice. They're moving from here to there. They're taking this job for now because they're moving up. And they got plans." But "someone with no plans," like his character, the homeless George Hammond, is "totally out of step with" the structure of New York.
But George is not out of step with the men with hand-lettered signs panhandling on Seventh Avenue just outside the IFC Offices where this interview takes place. "They're Time Out of Mind," the actor said. "Time, the whole idea of time, is very much part of our usual structure of how we see the world. For George, there is no time. There is 'I'm hungry; and I'm tired, I wanna sleep.' That's about it. It's very elemental." In the film, George's stillness becomes a form of invisibility.
Variety called the movie, already screening in theaters, "A haunting piece of urban poetry." The Observer's own Rex Reed praised it, noting, "Mr. Gere's gray and sodden appearance [is] a mere flyspeck hint of his usual debonair persona…" and said, "the plight of the homeless has never been so clearly illustrated."
And, perhaps, that plight has never been worse. Homelessness in the city "numbers around 60,000 right now but that's just in the shelters. I don't think there's any way of knowing how many other people are on the streets or found some other way to get through the day and night," said Mr. Gere, who has worked for some years with the Coalition for the Homeless. (The respected group estimates that more people are staying in shelters in New York now than at any time since the Great Depression.)
"These problems go away if society genuinely believes that we're all in this together. And you give the best to the people who need the most," he added with conviction.
During the interview, Mr. Gere's mood seems one of infinite patience, of resigned, even beneficent self-selling. A practicing Tibetan Buddhist, he sits with perfect posture in his conference room chair in a modern, transparent walled boardroom where female handlers wait just beyond the glass to assure his comfort. A console table bears inviting healthy food—raspberries, blueberries, nuts.
He drinks green tea. "People that know me know that I really like tea," explains Mr. Gere. "Around the world people present me with their idea of great tea, which is fun." He prefers Sencha, "the kind of tea that you would have had in a Zen monastery. Tea was kind of invented to keep monks awake at night when they're meditating. There's a little buzz in it."
The elephant in the board room is Mr. Gere's rumored $100 million divorce from former Law & Order star Carey Lowell, the mother of their teenager Homer James Jigme Gere. The high-profile pair was embroiled in an un-Zen split following a dozen-year marriage. (His previous wife was supermodel Cindy Crawford.) He himself is the eldest son of a longstanding union, that of Homer and Doris-Ann nee Tiffany of Philadelphia, an insurance agent and a housewife, both reportedly Mayflower descendants.
The lineage makes his recent turn "undercover" as a New York city panhandler—he says no one spotted him—and Time Out of Mind all the more a departure from his earlier life.
It's clearly not the reason he's doing it, but the passion-project film sets the star up for major accolades. Mr. Gere has never won an Oscar, although the Philadelphia native has had his share of tributes.
The Rome Film Festival recently honored him with the Marc'Aurelio Award for Lifetime Achievement, handed to Mr. Gere by no less than his An Officer and a Gentleman co-star Debra Winger. (Time, apparently, heals all wounds, even legendary on-set spats.)
This premature assessment of a life in pictures challenges an actor like Mr. Gere. Still curious and engaged and anticipating the future, these celebratory events can inspire ambivalence for the honoree. Imagine "being a 65-year-old actor who has made 50-something movies and you're invited to a film festival, and they honor you with giving you a lifetime achievement prize of some kind. And they put together a clip reel of your movies, which is maybe five to 10 minutes long. And you see your life from the time you were 26 years old."
Where is the true Mr. Gere among the mash-up clip reel? He inhales deeply and says, from an apparently quiet place: "If you took all of my movies and put 'em into a blender, you probably get me, pretty close to who I am. There's bits and pieces of me, whatever that is, in every character. That's just the way it is."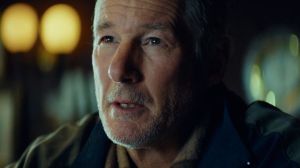 Among those 50-odd films, Mr. Gere has favorites, or at least favorite memories. For him, Days of Heaven is the first among many: "I was in the Chateau Marmont. Terry [Malick] couldn't make up his mind about who to cast. This had been going on for months and months. And I said, 'Terry, you gotta make up your mind. I can't do this anymore. You're making everyone crazy.' When the call from Terry finally came—'I'm desperate for you to make this movie'—I hadn't made a film before that. I was a New York stage actor. And I knew whatever my life was going to be, this was going to determine that next direction."
At the time, The New Yorker's Pauline Kael damned Days of Heaven as "an empty Christmas tree: you can hang all your dumb metaphors on it." Mercifully, she did not single out Mr. Gere for praise or derision. But Days of Heaven has grown larger as time passed in contrast to Pretty Woman, which was an instant hit. Garry Marshall's high-gloss story of a john and a prostitute (famously played by Julia Roberts) who rescue each other, fall in love and live, apparently, happily ever after.
The 1990 romantic comedy remains a touchstone for Mr. Gere: "I think everyone on the planet has seen this movie; it has put my kid through school, has allowed me to pay my bills probably the rest of my life. It seems to have touched everyone in every culture. It's the one thing I hear about every day."
While the rom-com's Prince Charming rescuing the call girl Cinderella dynamic may seem dated, Mr. Gere disagrees. "She actually says, 'I rescue right back.' We were all aware—one of the five producers on that was a woman who was aware, I don't know if it was PC—but just that this is a balanced thing. People have relationships because they're balanced. So how can you make her balanced? Make her meaningful in the relationship? That was there from the beginning. That's why children like that movie. They don't know it was about a prostitute. … There is some kind of magic in that movie that a computer could not have put together. So that was a big deal."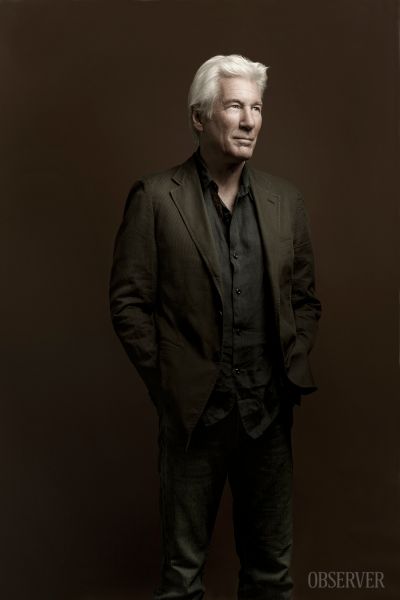 As for Mr. Gere's pretty man, corporate raider Edward Lewis: "He wasn't just a suit. He had his issues too. It was an interesting thing with him when the first time, that first night, she says, 'Well, let's get to it.' And he says, 'Let's slow down.' That wasn't in the script. We added moments like that. There are subtleties in there that maybe are not so obvious when you think of the movie. But that makes it human, makes it worth following these people. It was another touchstone."
A third highlight, Rob Marshall's 2002 Oscar-winner Chicago, returned Mr. Gere to his Broadway roots—and earned him a Golden Globe for playing the glib attorney Billy Flynn. Settling back in his chair, Mr. Gere smiles: "I hadn't done a musical since I was 24, 25? You know, which is how I started in New York as an actor because I could sing and I could move. But I had forgotten what great fun it was."
For Mr. Gere, making Chicago from beginning to end was a blast: "We had a great time, the two months of rehearsals when we were all figuring out how to sing and dance was artistically challenging. The movie was great, it turned out great. Also, it was very successful. So it was like, on all levels, the pistons were firing." 
While Chicago returned Mr. Gere to his singing-and-dancing theatrical roots, Time Out of Mind is a deep dive into a darker, stiller place than audiences associate with him.
Mr. Gere, producer, recruited down-to-earth director-screenwriter Oren Moverman (The Messenger, Rampart) for it. The pair met at an Academy new members' party at the Time Warner Center. Mr. Moverman recalls the night vividly: "Richard Gere, movie star, is telling me he wants to play way outside his comfort zone. He's telling me that he's obsessed with a role. He's done research. And he's asking me to come in and figure it out with him. That was an invitation I couldn't refuse." That chance encounter led to Time Out of Mind.
Mr. Moverman acknowledges that gap between Mr. Gere's previous roles and his present: "Alpha man, powerful, one-percenter, like, all these things that he has played and played very, very well. All of a sudden, he's saying, 'I want to strip this all down.' …And so I do think it's a touchstone in his career because he embraced something that's so in opposition to what we think of him in his public life and his movie star life."
Mr. Moverman notes another risk that Mr. Gere has taken with this project: "He's also gone into the independent world, which is very new for him, people don't realize that…in a way, he's getting back to acting. I'm saying it not because I don't think he acted before but I do think that those Hollywood movies with their glamour and their certain kind of characters were a different kind of acting. He's getting back to his chops."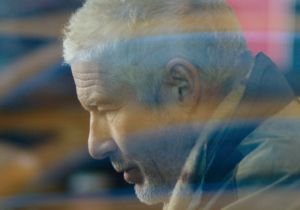 Finally, "Look," says Mr. Gere, in the voice of the sensei addressing the grasshopper, "the film to me is not about homelessness. The film to me is about yearning."
"We are all looking for our place," says Mr. Gere. "Where are my people? Where is my tribe? Where am I embraced? Where am I being taken care of when I fall down? That's the yearning…Some of us have enough distractions in terms of money, power, whatever it may be, we don't think we're yearning for that. But the reality is that's all we're yearning for. Where's my place? Where's my home? That's what this movie is about."