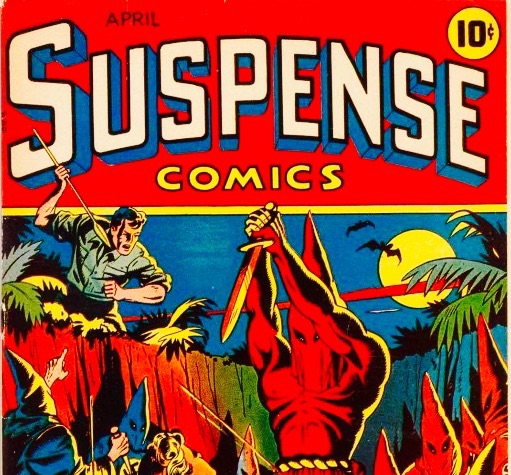 A controversial comic book so rare that, for decades, many doubted its existence, has surfaced at Heritage Auctions and set a rollicking $173,275 record for any comic not featuring a superhero. What it did have, in its lurid cover tableau, was Nazis, Klansmen and a buxom blonde tied up—all drawn by a comic art giant.
The copy of 1944's Suspense Comics #3 is listed among the Top 100 Golden Age Comics in The Overstreet Comic Book Price Guide, a leading guidebook for collectors.
"This copy…had been speculated about for years, and those who saw it in person found that the high [condition] grade was well-earned," said Barry Sandoval, Managing Director of Heritage's Comics, Comic Art, and Animation Department in a statement.
According to Heritage, the issue may not have been sold widely when it was published due to the controversial cover imagery. A description for the cult issue provided for a 2010 online auction on Comic Connect categorized the series as a "Nazi/Bondage/Horror/War hybrid." In the instance of such rare and explicit cover art, its overwhelming success at auction may very well be due to crossover bidding between comic collectors and those favoring Nazi and WWII memorabilia.
The dramatic cover art in question was done by industry legend Alex Schomburg, who created Golden Age illustrations during the 1940s for Captain America, The Human Torch, Sub-Mariner, and covers for "Wonder Comics," "America's Best Comics," and "The Fighting Yank." He received numerous awards for his science fiction art during his lifetime, which often included exaggerated explosions, damsels in distress, and villains of the Allied Forces.
The Observer previously reported on another highlight of the $5.1 million sale (which ran from August 27 through 29), an original double splash art page for X-Men #137 "The Fate of the Phoenix" by John Byrne and Terry Austin. The iconic superhero grouping depicted in the work features Jean Grey (Phoenix), Wolverine, Storm, Professor X, and more, and sold for well over its high estimate for $167,300.