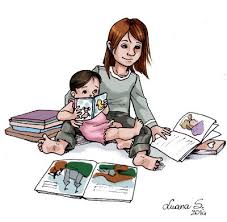 Anyone who doubts that there is an arms race in education in the New York area clearly does not have a two-year-old. I myself was a Montessori kid, the child of two working parents, so I started nursery school at age two-and-a-half. However, that was in a different place and time, when a Montessori education did not cost thirty thousand fucking dollars. My husband and I, now struggling to keep our footing on the Upper West Side against a seemingly unstoppable swelling tide of competitive spending, chose instead to skip what are now called "2's programs."
We both work from home (he's a writer, I'm a real estate broker) and we figured we could provide our own childcare, and fill out the toddler's days with occasional nannying and some enrichment classes. It was a bold decision: I remember transfixing a table at SoHo House by announcing our radical path of waiting till age 3 to tackle the school question. One of the moms at the table, obviously a fellow slacker who'd also punted on the 2's program but who eventually had sent her little one to Avenues: The World School—a noted Chelsea school with a second-language immersion program, gluten-free cafeteria options and a tuition ($45,000) that rivals Yale's—looked at me like I was a rock star, although I caught a smidgen of pity in that glance too, as though she couldn't decide whether to help me to a glass of Sancerre or a SNAP card.
Still hubby and I were conventional enough to pursue some fancy part-time classes. It's good for the kiddo, we thought, to hang with other kids, and pass some germs back and forth, and sometimes get his Goldfish from someone who isn't mommy or daddy. And if that environment has a touch of snob appeal, well, maybe that balances our lifestyle of wearing T-shirts with peanut butter smears on them. So we were thrilled when we got into The Enrichment Program. (Sorry to use a fake name, but hey, we don't want to be on the toddler blacklist; we might someday want to get into a 3's class.) Everyone on our chat boards who had gone through The Program loved it, with a warmth that they usually reserved for the latest lightweight umbrella stroller or certain SoulCycle instructors.
I know teenage angst, drugs and specialized-school testing lie ahead, but on that day, reading our first school acceptance letter, we felt like we were officially stamped and sealed good parents.
I know teenage angst, drugs and specialized-school testing lie ahead, but on that day, reading our first school acceptance letter, we felt like we were officially stamped and sealed good parents.
Until the book list came. We had foolishly assumed that our involvement with The Program would be limited to paying tuition (upfront, of course); showing up and sitting in the lobby while the toddler was taught, or should I say educated, that "1" and "5" were not letters, and maybe being involved in a bake sale. Instead we got a list of weekly themes—okay, they do get a gold star for advanced lesson planning—along with a list of 37 books that it was "highly recommended" that we purchase and read throughout the week. Despite having what we thought was a fairly good library of toddler books, we owned just one (Swimmy, by Leo Lionni).
"Daunted" kind of understates our reaction. Typical New Yorkers, our first reaction was "where the h- are we going to put them all?" We have been working toward a balanced inventory for toddler, so that as one set of Duplos shows up a finger puppet goes, but I didn't at all look forward to his reaction that we were going to have to throw 37 books—even one's he's outgrown, like Baby Faces—out. There would not be enough chocolate-chip cookies in the world, I figured, to get through that tantrum. On the other hand, Mommy and Daddy are pretty protective of our shelf space too.
I tried to imagine what a purge would be like: Northanger Abbey? I guess I could toss it; it's not so much on point for Austen's brand. Paradiso? It is kind of boring, and I always stop after Inferno, so do I really need the full set? Hitchhiker's Guide to the Galaxy? Now wait, why do I have to throw out Douglas Adams to make room for my kid to have more books about monkeys and ducks?
"Baby Kindle!" my friend Marivi helpfully suggested. She's awesome and dynamic and went to Brown, so I gave this suggestion an actual five minutes of thought before realizing that more screens were probably not the point. "We could meet the other parents in the class and all buy the books together," the socialist in me said to my husband, who responded with "well, at that point, we could just run the class ourselves." Ever the practical one, he suggested that we reserve a couple of the early class books from the library, see if the others were in stock at Barnes & Noble, and go through the first few classes seeing what the other parents were doing. Though my heart is filled with trepidation, I think that's a good, balanced approach. If you too have a kid in The Enrichment Program, come say hi. I'll be the one in the lobby, trying to get over my school jitters by reading a soon-to-be-discarded copy of Northanger Abbey, and drinking a nice big glass of Sancerre.
Alison Rogers is a summa cum laude graduate of Harvard University. She has a developed understanding of British literature, co-op applications, and variant verses to "Wheels on the Bus."