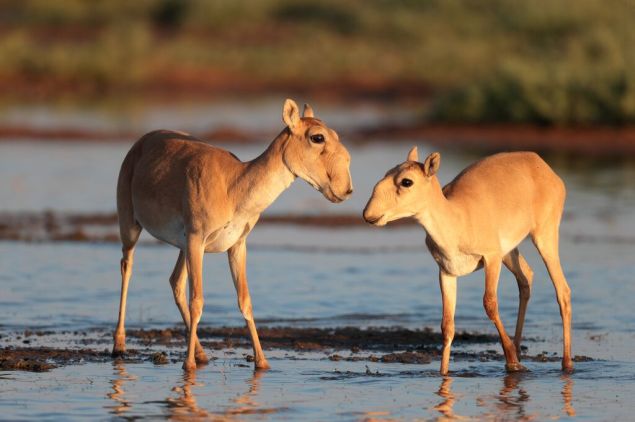 Saigas, the only large herbivore endemic to the steppes of Kazakhstan, have been flirting with extinction for decades. Earlier this year, in late May, nearly 140,000 saigas, about half the population, mysteriously died over the span of a few days. Despite researchers present to obtain tissue samples and conduct tests, the cause of death remains unclear.
Researchers have pinpointed the epidemic to pasteurellosis, a naturally occurring bacteria in the saigas intestinal tract, but are not sure what sparked the collapse of their immune systems, resulting in a 100 percent mortality rate of a herd that had recovered significantly in numbers since the 1990s.
The saigas play a major role in the ecosystem of Kazakhstan's arid grassland steppes. Their grazing helps break down and recycle nutrients back into the ecosystem, prevent wildfires from abundant leaf litter, which decomposes very slowly in cold temperatures, and they serve as a vital food source for predators, and at one time for rural local inhabitants.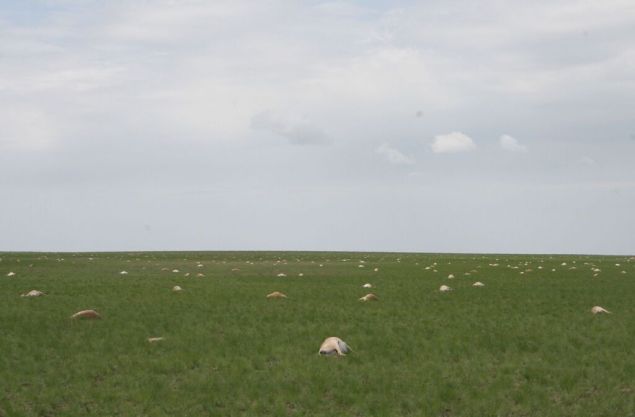 One German researcher in Kazakhstan has claimed to find a diagnosis. On August 4, Khabar TV, a Kazakhstan television station, reported on August 4 that the mass die off was caused by a disease that incites fevers and inflammation that leads to death within 24-72 hours. "The cause of death of the saigas is hemorrhagic septicemia," Steffen Zuther, Advisor for GIS and research at Association for Conservation of Biodiversity of Kazakhstan, told the TV channel in an interview. The Kazakhstan government has not yet confirmed Zuther's diagnosis, with results of all research work to be collated in the fall for conclusive analysis, Khabar TV reports.
The fall of the Soviet Union in 1991 led to a 95 percent reduction of the species over the past 25 years, as rural poverty spikes and lack of protection led to disastrous increases in hunting and poaching of saigas. Their horns are highly valued in Chinese medicine, leading to the saigas' extirpation from China in the 1960s. Saigas were once found from Alaska to the United Kingdom. The rare antelope are now found only in parts of Russia, Mongolia, Uzbekistan and Turkmenistan, with the healthiest populations found in Kazakhstan.
Their most distinguishing characteristic is their large nose, used to filter dust from the air, which acts as a radiator, cooling air before it enters the lungs or preheating it in the winter, which helps it adapt to the significant temperature differences in their habitats. The males also use their noses to produce special mating sounds to attract females.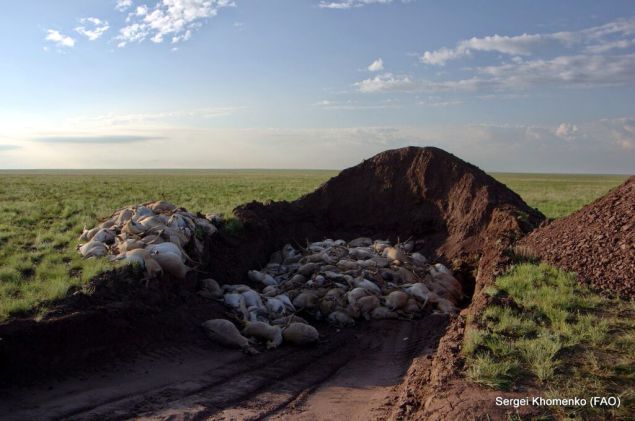 "It's a real mystery why every saiga in the affected herds died almost simultaneously, not just females who just gave birth and their young, both with weak immune systems, but males within the herds as well," says E.J. Milner-Gulland, a conservation biologist who has worked with saigas for 25 years and founder of the Saiga Conservation Alliance, dedicated to raising awareness and funds for the protection of Saigas. "It may have been something the herd ingested, weather conditions, an underlying disease."
Saigas aren't strangers to mass die-offs with similar, smaller scale ones occurring once in the 1980s and a couple of times in 2010 and 2012, but the recent epidemic is unprecedented and a major blow to conservation efforts of this critically endangered species. Ms. Milner-Gulland added, "for past die-offs, there were no research teams on site to investigate immediately after it occurred, but this time we were lucky to extract tissue samples from deceased saigas. A lot of research still needs to be done, but we're confident a firm diagnosis will be figured out."
Such research is vital in order for preventative measures to be implemented so these mass die offs don't occur. Current saiga populations are low enough for brief events like this to drive the species to extinction. The saiga are known for covering thousands of miles per year on their migratory routes. The difficulty of collecting data over such a large area requires significant financial and human resources.