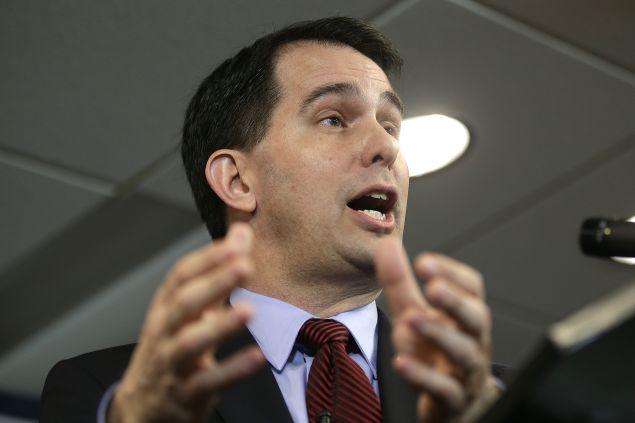 Wisconsin Gov. Scott Walker will drop out of the presidential race this evening, according to a report in the New York Times.
Mr. Walker's decision to leave the race comes amid a disappointing debate performance last week and plummeting poll numbers. As recently as March, Mr. Walker, a Republican, was viewed as a front-runner in the GOP field.
"The short answer is money," a supporter of Mr. Walker's who was briefed on the decision told the Times. "He's made a decision not to limp into Iowa."
A Walker campaign source told the Observer that Mr. Walker was forced to cancel campaign appearances in Michigan, viewed as a key state, and staff had gone unpaid for weeks.
Of the 11 candidates on the CNN debate stage last Wednesday, Mr. Walker spoke the least. His first debate performance had also been underwhelming and supporters were starting to worry that his star was fading.
Mr. Walker rose to prominence after successfully curtailing the power of labor unions in his home state, a traditional progressive stronghold. He survived a recall effort and won re-election last year, raising his profile even further. President Obama won Wisconsin in 2008 and 2012, making Mr. Walker's victories seem more impressive.
An acolyte of Ronald Reagan, Mr. Walker had hoped to unite establishment and evangelical conservatives in a bid that many pundits once saw as formidable. Along with Florida Sen. Marco Rubio and ex-Florida Gov. Jeb Bush, Mr. Walker was often touted as a front-runner with a legitimate chance to win Iowa.
Mr. Walker's decision to leave the race of more than a dozen candidates will mean his influential donors, including billionaire Joe Ricketts, will be free to back other candidates. Other GOP candidates may also court Mr. Walker's endorsement.
He will hold a press conference at 6 p.m. tonight to explain his decision, according to the Times.