Ryan Murphy has a penchant for creating ridiculously addictive television shows. So it's no surprise that Scream Queens is, well, ridiculously addictive. However, Ryan Murphy programs have more in common than just their irresistibility: they tend to stagnate, starting out strong and then slowly wavering. Glee got old. So did American Horror Story. But Scream Queens combines the best of Murphy's two most recent television universes—Glee's silly but enthralling teenage storylines and AHS's silly but enthralling horror storylines—to deliver something that might just work.
Unsurprisingly, Scream Queens involves a lot of screaming. Sorority Kappa Kappa Tau and its sisters are under attack; a masked red devil slashes his way through a staggering amount of both members and those unaffiliated with the sorority in but ninety minutes. Kappa's legacy of terribleness dates back to the nineties, when a group of girls refuse to help a sister who gives birth in the middle of a party (although, to be fair, they didn't want to miss TLC's "Waterfalls"), and subsequently the new mom dies after bleeding out.
And while that's pretty cold, nothing really compares to the arctic frigidness of Chanel (Emma Roberts), Kappa's newly anointed president. Chanel is beautiful. Chanel dresses exclusively in pastels. Chanel names her friends after her: Chanel #2 (Ariana Grande), Chanel #3 (Billie Lourd) and Chanel #5 (Abigail Breslin). If you're wondering what happened to Chanel #5, she fell ill with meningitis and died a while back. So, if you're counting, the death toll is now up to two. Chanel is also probably Emma Roberts's best character up to date—she's unapologetically bitchy and cold, and her insults are almost Shakespearian.
And by unapologetically bitchy, I really mean sometimes homicidal. Chanel, in trying to prank on her new pledges, shoves White Mammy's (her affectionate nickname for her maid) into the fryer—without realizing the fryer was on and boiling. Unsurprisingly, White Mammy is fried to death, in what is an almost excruciatingly long dying sequence. Ryan Murphy includes frames like this: 
And this: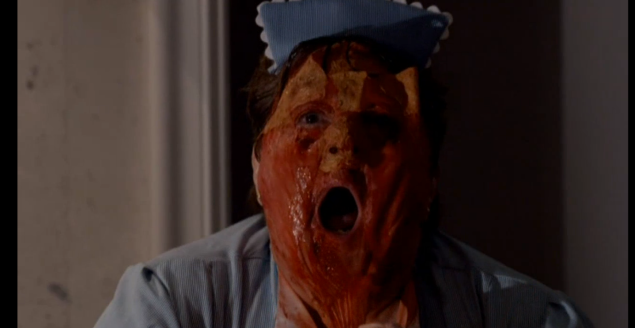 And don't forget this: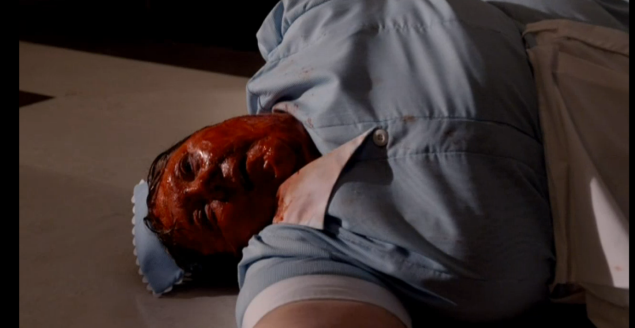 However, freshman Grace (Skyler Samuels) doesn't initially seem aware of Kappa's, well, murderous reputation. She eagerly joins the sorority, looking for a way to honor her late mother, who was also a sister of KKT. Her father remains resistant and slightly pushy about the subject, but he also makes great playlists and has the kind of jawline that could realistically be used as a serrated knife, so we forgive him. He also references Twilight and Game of Thrones in under thirty seconds—I dare you to find a more culturally aware dad.
Cathy Munsch (Jamie Lee Curtis), the dean of the school, joins Grace's dad in his hatred of sororities. We know this because she tells Chanel, "I hate sororities," so take from that what you will.
This hatred manifests itself in an unusual punishment: Kappa is forced to take any and all interested pledges. This does not bode well for Chanel's plans to dominate the social scene. However, she might not have to worry for long—her sisters are getting picked off, one by one (in increasingly traumatic ways, might I add—a brand new member gets decapitated by a lawnmower, bumping the death count up to four). After witnessing more murders than a human being should probably witness, Grace finally decides to look into Kappa's dark past, using her new friend/romantic love interest/sometimes barista Pete (who, conveniently, is a training investigative journalist) to unearth its secrets.
We've established that the show is campy. But, Scream Queens knows that it's campy, and that's why it's so good. You need to accept the show for what it is: an absolutely ridiculous, funny program that's surprisingly self–reflexive. It pokes fun of the hazing and traditions of Greek life; the Chanels try to engage in a blood oath, but it quickly devolves into a debate about whether or not you can get an STD from sharing blood. Kappa's lawyer and alum Gigi (a really, really excellent Nasim Pedrad) perfectly represents what a graduated, washed up sorority member is like—she's genuinely stuck in the nineties ("my therapist says I had a traumatic experience that keeps me in the nineties, but I'm like, uh, I'll take it!"), and reinforces some nasty stereotypes about sorority life ("we have a side boob mixer, followed by a white party. Everybody is encouraged to wear/be white!")
More highlights include Chanel #2's death; she texts flirtatiously with her murderer as he stands before her. Then he murders her.
Actually, everything about Chanel #2 is amazing. Ariana Grande is amazing in this show. Not because she's good at acting. Definitely not. She just has such a great resting, "I'm acting! Look at me act!" face. See below.
But nothing can beat Boone (Nick Jonas) and Chad's (Glen Powell) homoerotic frat brother relationship. Boone is actually gay, and Chad is Chad–sexual (meaning, he only loves himself, and not girlfriend/ex–girlfriend Chanel). Sure, Boone fakes his own murder at the end of the episode. What does that mean? Why would he do that? Do I care, when I can look at this picture of Nick Jonas snuggling his stuffed frog?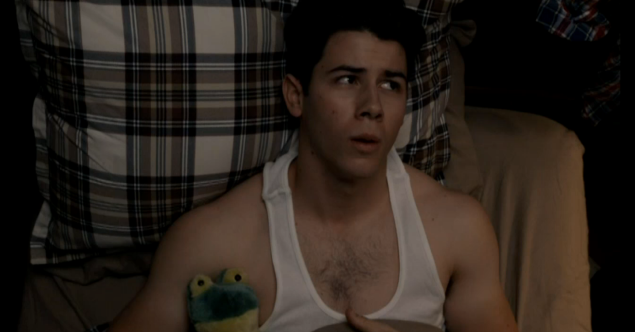 Sure, Scream Queens is campy. It's ridiculous. But you can bet I'm already addicted. I'll leave you with this last image: Lea Michele, you're about to be my new phone background.