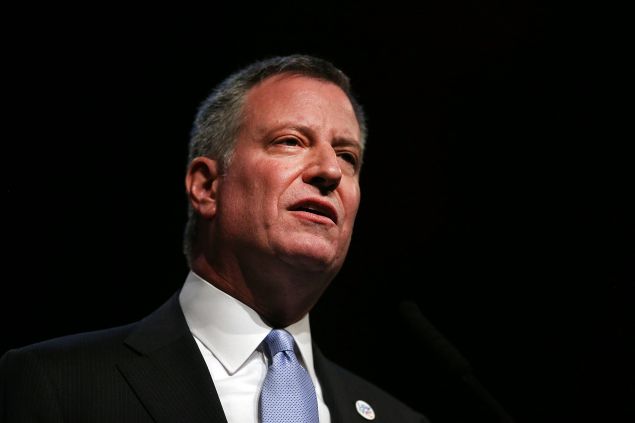 On the vexing issue of housing, Mayor Bill de Blasio has proclaimed a concrete goal: to build 80,000 new units of affordable housing and preserve another 120,000. While ambitious and laudatory objectives, we fear the mayor may be more intent on emphasizing his progressive bona fides than on actually building apartments.
The problem is how Mr. de Blasio hopes to achieve this objective: by forcing private developers to build what the mayor can't achieve on his own.
Last week, Carl Weisbrod, the well-regarded chairman of the New York City Planning Commission, dropped this bomblet in a speech  at New York Law School: the mayor would be introducing legislation that would require private developers to build affordable housing whenever they wanted to build anything. This goes by the anodyne description "mandatory inclusionary housing," but is as radical and counterproductive as anything the divisive mayor has yet proposed.
Mr. de Blasio is gambling that developers have no more attractive places to invest.
Since 1970, most of the city's new, more-affordable apartments—those subject to the rent stabilization regulations—have been built by offering developers tax incentives. Almost all of them have been built under one of two programs: 421a and J-51. If developers wanted to take advantage of tax breaks or zoning variances that allowed them to exceed the number of units allowed on a lot, they had to agree to the rent guidelines or build affordable units as part of the overall project.
Based on an assessment of a project's economics and the changing, volatile nature of the real estate marketplace, each developer could make a rational decision. Some chose to make a deal with the city while others did not. In short, a reasonable way to do business.
During the last legislative session in Albany, Mr. de Blasio first tried to kill the 421a program entirely. Gov. Cuomo, however, pushed through a short-term extension of the program, but with more demanding requirements for developers: an increase from 20 to 25 to 30 percent of a project being affordable in order to qualify for the tax benefit. Not surprisingly, there was a rush by developers to begin projects before the old law expired.
Even this new, more demanding approach makes sense. Mandatory inclusionary housing does not.
First, there is the very real question of whether it is constitutional. Ross Moskowitz, a partner at Stroock and an expert in real estate development, asked Mr. Weisbrod to address the constitutionality question, noting that would be one reason people would challenge the proposed requirement. Despite Mr. Weisbrod's confident assertions that the mayor's proposal would not violate the "takings" prohibition in both the United States and New York Constitutions, we're inclined to think otherwise. We do know one thing for sure: a mandatory requirement will certainly generate years of litigation, probably delaying any new affordable construction.
Second, the mayor's proposal may be pitch-perfect for his political acolytes but is tone-deaf on economic grounds. It yet again underscores Mr. de Blasio's utter lack of understanding of how the private sector actually works. Developers will deploy capital where it makes the most sense. Mr. de Blasio's mandatory mandate is a significant additional cost. Adding another negative to a growing list of deteriorating indicators—more shootings, festering homelessness, deteriorating schools—Mr. de Blasio is gambling that developers have no more attractive places to invest.
That is a dangerous bet and a cynical one. Because Mr. de Blasio will never be held accountable for the projects that do not materialize, they will simply vanish. Developers will wait out Mr. de Blasio's term in office or deploy their capital and energies elsewhere. The real losers will be the striving families who need affordable housing.
CORRECTION: An earlier version of this editorial incorrectly characterized Ross Moskowitz's position on the constitutionality of Mayor de Blasio's proposal. It also misspelled the name of his law firm. The Observer regrets the errors.