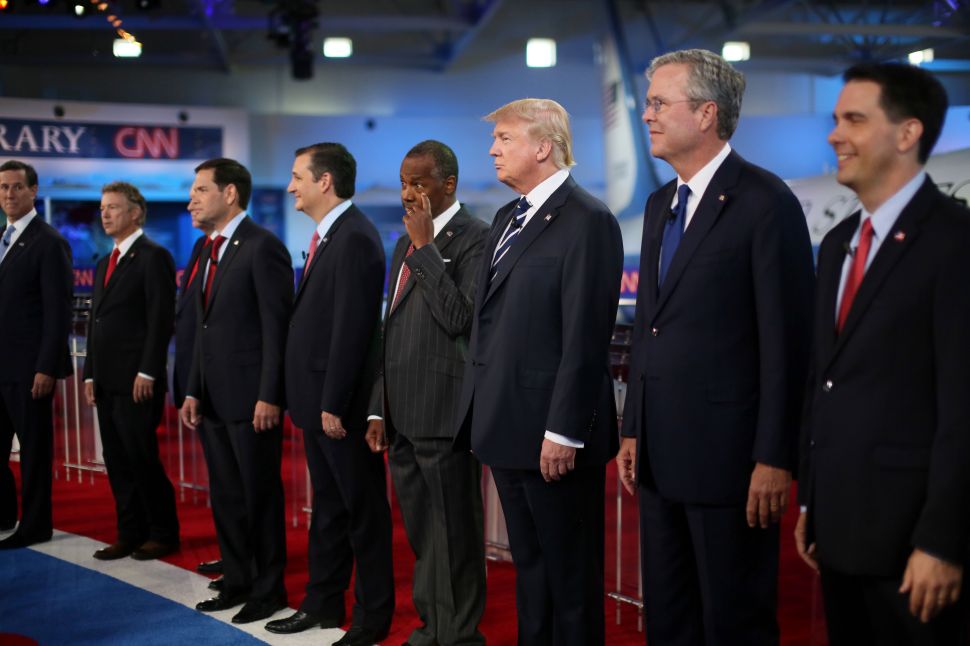 If you didn't watch the second Republican presidential debate on CNN, congratulations, you have more fulfilling things to do than spend five hours watching 16 people arguing about Planned Parenthood and Kim Davis.
But if you're curious about who said what, here's a breakdown of the comments each candidate made (in the main debate, we can just forget the undercard debate) that stood out, and the comments that fell flat:
Donald Trump
Where he floundered: His connection of vaccines to autism. Though he did temper his comments by saying he believes parents should be able to space out vaccines with smaller doses, which Rand Paul and Ben Carson, who are doctors, both agreed with.
Where he excelled: He was less combative than he was in the first debate. That alone is a plus for him more than anything he could have said. But he did have a great line when he accurately noted to Jeb Bush that his brother George W. was so unpopular "that Abraham Lincoln couldn't have been elected," leading to President Obama.
Jeb Bush
Where he floundered: Medical marijuana. Mr. Bush admitted that he smoked 40 years ago, but his attempt to seem pragmatic came off as meek, as if he had sparked up just 40 minutes ago. He had the opposite problem from Mr. Trump; he needed to be more combative. Instead, he failed to effectively explain why he voted against a medical marijuana ballot in Florida and let Mr. Paul walk over him.
Where he excelled: Mr. Bush's defense of his wife was his best moment. While he failed to extract an apology from Mr. Trump for suggesting Bush was soft on immigration because his wife is from Mexico, he was able to turn the conversation into a positive one about the issue. Mr. Bush brought up Ronald Reagan (the debate was held at the Reagan Library in California) and a "hopeful, optimistic approach" to immigration that allows people to come to America legally and pursue their dreams.
Ben Carson
Where he floundered: I'll admit I was a fan of Dr. Carson when I was 11 years old. My middle school English teacher taught us about him and his life story and his work as a neurosurgeon. But since he entered national politics, I haven't liked what I heard. He had the lowest energy of any candidate on the main debate, and his answers at times were incoherent. He did himself no favors when, trying to explain the need for a stronger military, he called the U.S. "weak" and said our Marine Corps are "not ready to be deployed."
Where he excelled: He still has an outsider quality and that people love. He's not combative, but he comes across as likable and people like his down-to-earth attitude. He also gave a reasonable, conservative solution to raising the minimum wage, which is to say that it should be negotiated and indexed so that the issue doesn't come up again. He also suggested a separate, "starter" wage for young people so that they are not cut off from gaining employment because it is too expensive to hire them.
Scott Walker
Where he floundered: Mr. Walker has a great story about what he's done in Wisconsin that resonates with Republicans, but he's relying on that more than his responses and demeanor during the debates. He's not losing too much, but he's not really gaining either. There were 11 candidates on that stage, and he spoke for the fewest minutes of any of them. He can't just sit on his record and speeches, he has to actually prove why he should be president in unscripted settings.
Where he excelled: Mr. Walker is excellent at defending his record in Wisconsin. He was able to push back against Mr. Trump's claim that the Badger State ran a budget deficit under Mr. Walker. It isn't true, and Mr. Walker pointed that out while noting Mr. Trump's multiple bankruptcy filings.
Ted Cruz
Where he floundered: It's not really Mr. Cruz's fault, but it took so long for him to answer a question I forgot he was on stage. He rarely tried to jump in to give himself more speaking time. In a debate with 11 candidates, not taking any and every opportunity will be unhelpful.
Where he excelled: Mr. Cruz's explanation of Supreme Court judges and the power the next president will probably have at deciding future laws in this country was on point. He name-checked two judges he would have preferred on the Supreme Court, Edith Jones and Mike Luttig, insisting that if they had been appointed then Obamacare would have been struck down. I can't stress enough how important the appointment of Supreme Court judges is in this country—especially to primary-voting conservatives—and the next president will most likely have an opportunity to appoint at least one new judge to the bench. It's an appointment that can greatly affect the laws of this country, as we saw with the 5-4 decisions on Obamacare.
Carly Fiorina
Where she floundered: She missed an opportunity to challenge Mr. Trump early on over his access to nuclear weapons if he were to become president, but she could have just been picking her battles. She's also great at giving concise, coherent responses and laying out her beliefs, but as someone who has been following her campaign since the beginning, I can say she's starting to repeat herself a lot. That's been fine so far since she's remained relatively unknown, but if she continues giving the same answers from now she's going to sound like a broken record.
Where she excelled: She is the only person who made it out of the kiddie debate and onto the main stage – and she proved why she deserved it. She held her own on a stage with 10 other candidates all seeking to prove themselves. She inserted herself into questions in order to increase her speaking time and give the audience a complete picture of her views on a range of topics and didn't let the debate hosts cut off her responses.
Marco Rubio
Where he floundered: Like Mr. Cruz, Mr. Rubio failed to bring attention to himself by injecting himself into conversations when he was not asked to respond. That cut down on his airtime and makes him less memorable to the audience.
Where he excelled: When Mr. Rubio did answer questions, he had strong answers on par with Ms. Fiorina. When discussing Syria, Mr. Rubio gave a commanding response about the "pinprick" attacks suggested by Mr. Obama.
"[Obama] said the attack he would conduct would be a pinprick. Well, the United States military was not build to conduct pinprick attacks," Mr. Rubio said. "If the United States military is going to be engaged by a commander-in-chief, it should only be engaged in an endeavor to win. And we're not going to authorize use of force if you're not put in a position where they can win."
John Kasich
Where he floundered: Sometimes we wouldn't hear from Mr. Kasich for half an hour, how is someone supposed to prove themselves to the American people when they can't even get attention in a primary debate? He spent an inordinate amount of his time going after Mr. Cruz for the Texas senator's position on the Iran deal, a position the vast majority of primary-voting Republicans support.
Where he excelled: His response to shutting down the government over Planned Parenthood, while not popular with many conservatives, is actually practical. Mr. Kasich suggested leaving the defunding up to governors. He correctly noted that Mr. Obama would never sign a bill or a budget defunding the abortion provider, and shutting down the government over such a effort was futile – and would ultimately harm Republicans.
Mike Huckabee
Where he floundered: There doesn't seem to be much more to Mr. Huckabee than religion, and this debate did little to prove otherwise.
Where he excelled: He actually had a very strong opening statement, pointing out that no one on the stage was either a "self-professed socialist" or "under investigation by the FBI because we destroyed government records, or because we leaked secrets." It was a nice dig at the Democratic candidates and avoided criticism of his fellow Republicans.
Chris Christie
Where he floundered: He came off a little brash when he told Mr. Trump and Ms. Fiorina that nobody cared about their backgrounds or success. It wasn't the biggest flop, and he avoided any nasty exchanges like he had in the first debate, but ultimately I don't think he stood out like some of the other candidates. (Full disclosure: I worked in New Jersey politics in 2009 and passed out Christie literature along with the literature of the candidates whose campaigns I worked for).
Where he excelled: One of the events that helped put Mr. Christie into the governor's office was the arrest of 30 politicians and political operatives – 29 of which were Democrats – as part of a federal corruption probe. Mr. Christie was able to capitalize on those arrests as a federal prosecutor, and he reminded the debate audience of his previous role by suggesting he would "prosecute" Democratic frontrunner Hillary Clinton during a debate if he were the Republican nominee.
Rand Paul
Where he floundered: Prior to the debate, Mr. Paul teased that he was going to challenge Mr. Trump. I didn't really see much of that except for his comment about Mr. Trump attacking people based on their looks.
Where he excelled: That being said, I think Mr. Paul came out ahead during his clashes with Mr. Trump, especially the aforementioned appearance clash. After Mr. Paul called out Mr. Trump, the businessman responded by… attacking Mr. Paul's looks. And of course, his response to the marijuana question will resonate with the more Libertarian members of the Republican party.
Disclosure: Donald Trump is the father-in-law of Jared Kushner, the publisher of Observer Media.