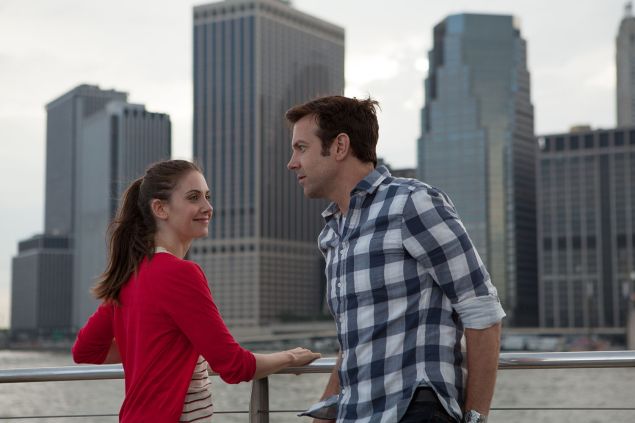 Of all the misguided, indiscriminate refugees from Saturday Night Live trying desperately to move up a notch and be movie stars, Jason Sudeikis is more versatile and charming than most, but either he has no taste, a bad agent or both. He just doesn't have any luck picking projects with lasting value. Somebody should protect him from himself—before he turns into Will Ferrell.
---

SLEEPING WITH OTHER PEOPLE ★½
(1.5/4 stars)

Written and directed by: Leslye Headland
Starring: Jason Sudeikis, Alison Brie and Jordan Carlos
Running time: 95 min.

---
In Sleeping with Other People, a dismal hack job pretending to be a take on modern relationships (anathema to comedy second only to political correctness), he plays Jake, a womanizer who loses his virginity one night in 2002 to a girl named Lainey (Alison Brie) in a Columbia dorm. It takes 12 years before they meet again in a 12-step rehab clinic for sex addicts. He's still a womanizer, she's a kindergarten teacher, and both of them suffer interminably from commitment problems.
When things get dangerously close to anything resembling real emotions, they sabotage their feelings by "sleeping with other people." But once they realize what they really want is to sleep with each other, they freak. Lainey still carries a torch for the nerdy medical student Matthew (Adam Scott) she was looking for the night she met Jake, but he's now a gynecologist with a wife and baby on the way. Lainey can't go back for seconds, while Jake is up for anything. Two drinks and he's anybody's. Instead of hitting the sheets to solve their problems for good, they opt for a platonic relationship, sharing their failures and fantasies like soulmates, and blurting out the warning watch cry "Mousetrap!" whenever they get close to realizing how much they secretly want each other.
The preposterous script, comprised of raunchy talk about erect penises and vaginal secretions, and the unrealistic rom-com direction are both by Leslye Headland, who seems to fatally idolize the work of Judd Apatow. Everything in this hoax is a cliché inspired by a dozen other B-movies about the same subject, from No Strings Attached with Ashton Kutcher to Friends with Benefits with Justin Timberlake.
The one time Lainey takes a night off from her screwed-up obsession with men to meet a gal pal for cocktails, the friend shows up with a lesbian lover who tries to seduce Lainey. So Jake does what every girl's best male confidante always does, right? He tries to enhance Lainey's sex life with a graphic description of female masturbation using a finger and a bottle. Any movie that compares a clitoris to an old I.B.M. ThinkPad is a strong but pathetic reminder that there are better ways to waste at the movies.