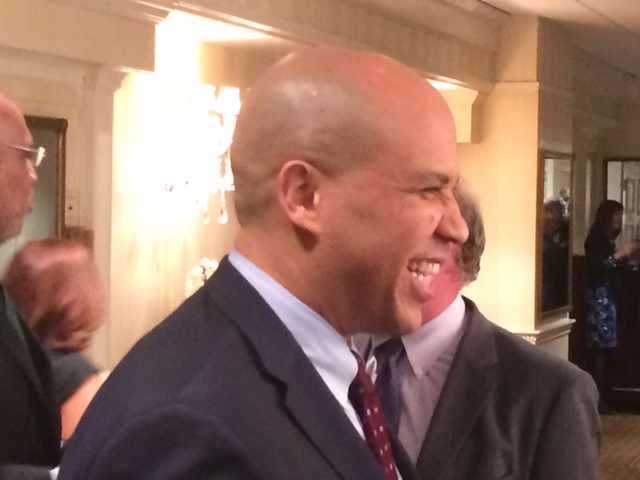 Dear Senator Booker:
During my tenure as Regional Administrator of Region 2 EPA, you were serving as mayor of Newark. You and I worked closely and effectively together on environmental issues affecting Newark and were full of praise for each other.
More than that, we became personal friends. What bound us together was the close kinship you expressed for the Jewish community, stemming from your days as a student at Oxford. As an Orthodox Jew and fervent Zionist, I treasured our friendship dearly.
When it came to Jewish matters, our relationship was not superficial. I am a lover of Jewish cantorial music, and on one occasion, I sent you a video of Cantor Yitzchak Meir Helfgot, the foremost cantor in the world today. You responded with an email immediately, thanking me and stating how inspiring you found the chanting of Cantor Helfgot to be.
These days are long over. You have failed to follow those models of political courage in your party, Senator Ben Cardin of Maryland, Senator Charles Schumer of New York, Senator Joe Manchin of West Virginia and your fellow New Jersey Senator Bob Menendez who have had the wisdom to oppose President Obama's wretched agreement with Iran. Instead, for whatever motive, you have chosen to support Obama on this matter. The Obama Iran Vienna agreement constitutes the worst foreign policy debacle of the Western world since the Munich appeasement of Hitler in 1938.
You should know, Senator, that while the American Jewish community is divided on this issue, there is virtual unanimity among the electorate in Israel in opposition to Obama's sellout to the Iranian tyrants. The Israeli body politic is divided on the Palestinian issue. When it comes to the issue of Iran, however, both Labor and Likud agree that a nuclear armed Iran constitutes a mortal threat to the survival and security of Israel and that the Obama Iran deal has facilitated both Iran's obtaining nuclear capability and its financial support of international terrorism. Even the icon of the Israeli Left, Ari Shavit, has been vehement in his opposition to the Obama-Iran accord.
In your endorsement of the Obama deal, Senator, you seemed to be acknowledging that the agreement was flawed, but that no better deal was possible. You stated, in essence, that the Obama deal was better than doing nothing.
There is a better foreign policy alternative, Senator. Our nation should implement policies to promote the overthrow of the tyrannical Nazi-like regime in Teheran and its replacement by the forces of the Green Revolution, which Barack Hussein Obama has failed to support and has, in fact, shameful ignored. America should make NO DEAL with the existing regime.
There is time for you, Senator, to reverse your egregious error of judgment. In making this request of you, I ask you to do two things.
First, you do not need to listen to a conservative Republican like me regarding Obama's Iran appeasement deal. Instead, read the recent articles, speeches, and book of Harvard law professor Alan Dershowitz, a liberal Democrat and former Obama supporter, a good and great American and devout Jew who gives his loyalty to America and the American-Israel alliance a higher priority than the advancement of the political fortunes of Obama and the Democratic Party.
Dershowitz is a man who is now devoting his entire life to the defeat of Obama's Iran appeasement deal. Senator, if you can read Dershowitz and still claim that Obama's Iran deal does not place the safety and security of Israel in mortal peril, I will lose all remaining respect I have for your judgment, integrity, and your claims of being a friend of Israel and the Jewish people.
Second, in order for you to have an historical perspective, I urge you, Senator to study the Oster conspiracy of 1938, of which I first learned in a course at my undergraduate alma mater, Northwestern University taught by James Sheehan, America's foremost expert on modern German history. Sheehan later taught at your undergraduate alma mater, Stanford University.
The Oster Conspiracy of 1938 was a proposed plan to overthrow Hitler and the Nazi regime if Germany went to war with Czechoslovakia over the Sudetenland. It was led by General Hans Oster, deputy head of the Abwher (Germany's counter-espionage agency) and prominent figures within the German military who opposed the regime for its behavior that was threatening to bring Germany into a war that they believed it was not ready to fight. They planned to overthrow Hitler and the Nazi regime through a planned storming of the Reich Chancellery by forces loyal to the plot to take control of the government, who would either arrest or assassinate Hitler. Most of the members involved agreed that they would support the restoration of the Hohenzollern monarchy of Kaiser Wilhelm II that had been residing in exile in the Netherlands since 1918.
If you read the writings of British historian A.J. P. Taylor, Senator, you will learn that contrary to popular belief, Czechoslovakia in 1938 had an efficient military and a terrain advantage which would have enabled this valiant nation to resist a Nazi invasion for a substantial period of time and enhance the prospect of the Oster conspiracy overthrowing Hitler. Had Hitler been overthrown in 1938, there would have been no World War 2 and no Holocaust.
The forced surrender of the Sudetenland by British Prime Minister Neville Chamberlain and French Prime Minister Edouard Daladier at Munich in September, 1938 made Hitler an overwhelming national hero and doomed the Oster conspiracy. The result was World War 2 and the Holocaust.
And in circumstances virtually identical to Munich in 1938, Obama's appeasement of Iran in 2015, with your support, Senator, and the support of the Jewish appeasement lobby and modern day Jewish Cliveden Set known as J Street will guarantee 1) the survival and indeed strengthening of a regime in Teheran dedicated to the genocide of the Jews of the State of Israel; 2) the acquisition of a nuclear weapon within ten years by this regime which will enable these barbarians to commit this genocide not within the four years it took Hitler, but within sixty seconds; and 3) the release of $150 billion to this regime with which it can foment terrorism and the murder of Americans and Israelis throughout the world.
And if you ignore the wise counsel of Alan Dershowitz and the lesson of the 1938 Oster conspiracy, Senator, you will share the blame with President Obama for this historic catastrophe.
There is a reason why I feel a special passion at this time of the Jewish High Holidays, Senator. During the past year, the Almighty gave me the great blessing of the birth of my granddaughter. I pray for her, my son, and my daughter-inlaw at the morning minyan every day of my life. As I think of this nightmarish sellout to Iran, I cannot help but think of the visits I make on every trip to Israel to the memorial at Yad VaShem in Jerusalem to the million Jewish children who perished in the Holocaust. And as I prepare for Rosh HaShannah and Yom Kippur, I look at the beautiful face of my granddaughter, think of my visits to the Children's Memorial at Yad VaShem, and say to myself, "Never, NEVER AGAIN."
Alan J. Steinberg served as Regional Administrator of Region 2 EPA during the administration of former President George W. Bush and as Executive Director of the New Jersey Meadowlands Commission under former New Jersey Governor Christie Whitman.