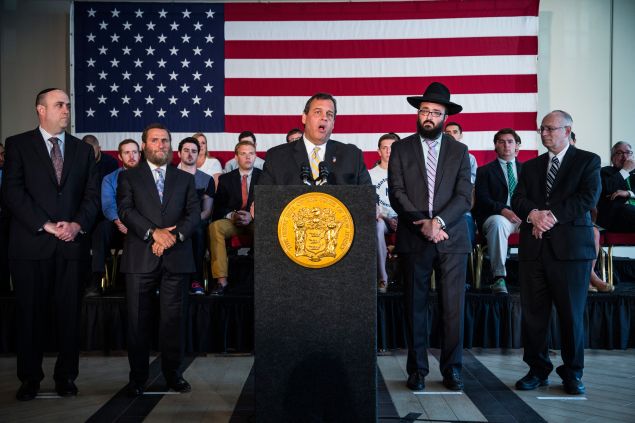 Our organization, The World Values Network, announced yesterday that it will host a press conference with Jewish communal leaders and Governor Chris Christie on Tuesday, September 8, 2015 at 11:00am in the New Jersey Performing Arts Center in Newark. The public event will serve as a communal call to congressional leaders, especially New Jersey Senator Cory Booker, to prevent a nuclear deal with Iran. Speakers will include Birthright Israel co-founder and Jewish mega-philanthropist Michael Steinhardt and former President of the UJA-Federation of New York Jerry Levin.
The event, which serves as a final attempt to urge my close friend Senator Cory Booker against the nuclear deal will underscore the dangers of accepting the deal put forth by the Obama Administration and urge that a better deal is possible. 
When we did our last event urging Cory to oppose the deal, we were joined by Governor Christie, NORPAC President Ben Chouake, and President of the Rabbinical Council of America, Rabbi Shalom Baum, at a press conference at the Rutgers's Chabad House. The press conference was widely covered in the national media by everyone from The New York Observer and The New York Times to The Wall Street Journal and everyone in-between and led many of the TV newscasts.
Since the accord was announced, as well as the secret side deals that have come to light, I have consistently made my position known in every way possible—a position that represents the majority of the American public according to the vast bevy of recent polls.
Many Senators and Congressmen have come under intense public pressure to either support or oppose the deal. All such pressure is part of the legitimate workings of a democracy.
As an American and as a member of a community that will be most gravely affected by the passage of this agreement, as well as a citizen of the great State of New Jersey, I believe it is imperative to make this position known to my representatives in the face of such a perilous agreement seeking Congressional approval. And I also believe appealing to my representatives is my fundamental democratic right and responsibility.
We will speak out against a deal that gives Iran $150 billion by which to murder more American soldiers through terror proxies in the Middle East and abroad.
My dear friend of nearly a quarter century, Senator Cory Booker, who served as President of my Jewish student organization at Oxford University, is of course one of those representatives who has not yet announced a decision on the accord. Following our press conference, Cory's spokeswoman released a statement that surprised me and seemingly disapproved of public pressure. "Senator Booker will make his decision on the Iran deal based upon what he believes is best for America's national security regardless of political pressure, lobbying, or theatrics."
This statement must respectfully be challenged especially since some in the national media said it was referring to our press conference.
Cory and I share a mutual admiration for our hero, Dr. Martin Luther King, Jr. Jews are especially indebted to Dr. King because he brought the words of the Hebrew prophets to life and made the Jewish Bible live again.
As I referenced during the press conference, I believe Dr. King is the greatest American of the 20st Century. I have long held this belief because Dr. King restored America to its founding principles — all people being created in God's image and enjoying equal and inalienable rights. Prior to Dr. King's efforts America had not realized its full potential as "the land of the free and the home of the brave." Dr. King brought about a second American Revolution. And he did so with peaceful, at times "theatric" public agitation. He loudly marched on Washington. He didn't whisper on Washington. He didn't believe in quiet deals with lawmakers. He didn't believe in secret meetings with representatives, making his case only in the halls of the Capitol building. Dr. King transformed this nation, in large part, with public agitation and theatrics.
Of course, he had to have some political relationships. But above all, he knew that change had to come about through getting constituents to march.
The greatness of Dr. King was not only his ability to deliver soaring and unforgettable oratory. Yes, I love his speeches like few others. And yes, I've tried to memorize many of his greatest phrases and even drove my kids to Mason Temple in Memphis, Tennessee. I wanted to show my kids the place where on 3 April, 1968, King belted out his "Mountain Top" speech, one of the greatest pieces of oratory of modern times.
And we will speak out against a deal that legitimizes a government that has publicly and repeatedly promised another genocide of the Jewish people.
But this is not what made him so successful as a civil rights leader. What made him so hugely effective was his ability to get people to march and the righteous pressure he brought to bear on lawmakers that ultimately resulted in the civil rights and voting rights legislation being enacted. Without that, his words would have been just that: words.
King brought about change through public "theatric" agitation that forced legislators to focus on the righteousness of his cause and the justice of their demands. Oprah Winfrey's brilliant new film "Selma" highlights how determined politicians like President Lyndon Johnson were to try and get King to stop the public pressure he brought to bear to force them to act courageously. In the end, Johnson became a hero and is remembered by history for doing the right thing in large part because of King's agitation.
If Iran's constant threats to annihilate Israel is not wrong then nothing is wrong. If Iran's murder of innocent civilians throughout the world is not evil then nothing is evil. If Iran's hanging of gay men in public squares is not an abomination then nothing is an abomination. And if Iran's plans to build nuclear weapons by which to hold the world hostage is not immoral then nothing is immoral.
And we will speak out against a deal that gives Iran a legitimate path to a bomb in 10-15 year.
We will speak out against a deal that gives Iran $150 billion by which to murder more American soldiers through terror proxies in the Middle East and abroad.
And we will speak out against a deal that legitimizes a government that has publicly and repeatedly promised another genocide of the Jewish people.
If there is one thing that Americans have learned from the martyrdom of Dr. Martin Luther King, Jr., it is that people of conscience must speak out against injustice regardless of the consequences to them.
Cory and I are will always be soul-friends. Our deep friendship, forged between a Rabbi to the students of Oxford University and a young African-American Christian Rhodes scholar, who would serve as President of that Rabbi's Jewish student organization, is based on our shared mutual values, the highest of which is an infinite respect for the value of each and every life.
Iran is firmly committed, as they endlessly remind us, of "Death to America" and "Death to Israel."
We dare not surrender to them with a deal that allows a legitimate path to a nuclear device and more than a hundred billion dollars to murder people around the globe.
Rabbi Shmuley Boteach is the international best-selling author of 30 books. He will shortly publish The Israel Warrior's Handbook. Follow him on Twitter @RabbiShmuley.