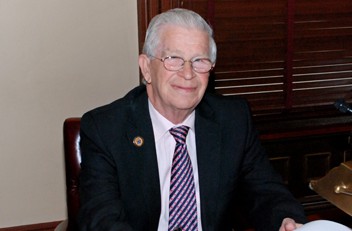 As the local mayoral and city council elections accelerate in Old Bridge, both the Democratic and Republican sides are reporting that a man in a black car was spotted destroying campaign signs for Democratic mayoral candidate Bill Cerra last week. State Senator and Middlesex GOP Chairman Sam Thompson said that the incident was unusual, but only for the for the fact that the vandal targeted Democrats.
"Republicans don't usually destroy signs here. Usually it's the other way around," said Thompson. "Almost every time we have a race here in Old Bridge the Democrats are out destroying Republican signs."
All parties agree on a few details of the incident, in which a man in a black two-door car tore down the sign and ran it over in a parking lot close to the Republican headquarters in the middle of the day. A release from the Democrats claimed that it is one in "a series of attacks on 'Team Cerra' campaign signs throughout the township," but Republicans are calling it an isolated incident.
GOP Executive Vice Chairman Tony Paskitti, who called the police to report the destruction of Cerra's signs soon after it happened, said that he hoped law enforcement and the party's quick response to the vandalism would help keep things civil as the campaign continues.
"We don't want anybody to tear up our signs either," said Paskitti.
Paskitti went on to allege similar destruction of property and worse during the last local race four years ago.
"Last election cycle four years ago they smashed the campaign headquarters window, a plate glass window. And then they smashed the windshield of the campaign manager and they smashed tires. And one of the chairwoman, Anita Greenberg, got her car keyed.
"It was pretty nasty," he said.
Cerra and local Democrats are calling the incident a deliberate effort to suppress the Democratic vote and keep voters uninformed.
"I think it's a sad commentary on what the Republicans will stoop to remain in power. Instead of standing on their merger record they feel it's best to destroy property and not permit the residents of Old Bridge the chance to make an educated decision", said Cerra in a statement.
Old Bridge Republican Chair Art Haney said that the incident was not the result of any coordinated effort by the party, and denied the Democrats' claim of a pattern of vandalism.
"These types of things have happened to us in the past, and we would never allow anyone within the Republican party to do this, it's absurd. We told them that we would file a complaint against the person if the person got caught."
The incident comes after a controversial Republican primary in Old Bridge, when some claimed that Thompson had overstepped his authority in removing incumbent Councilwoman Debbie Walker's name from the ticket and adding Councilman Brian Cahill's, despite Walker winning the popular vote.