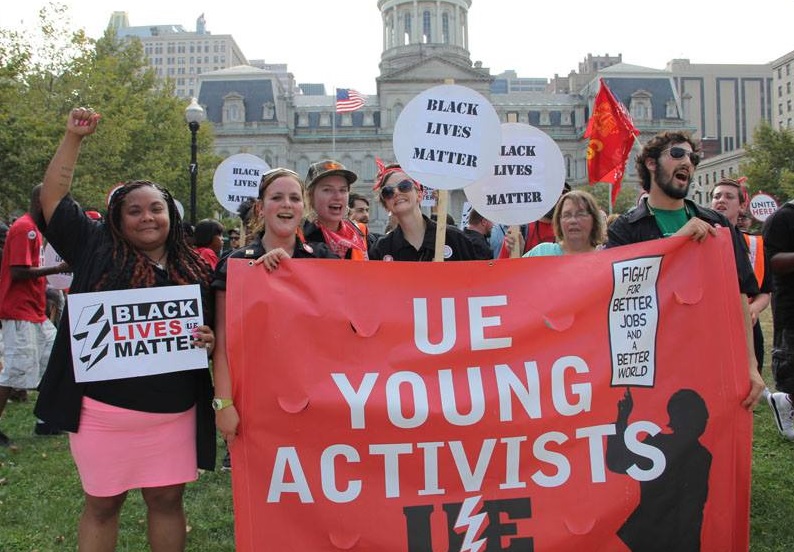 During its national convention in Baltimore last month, the United Electrical Workers union (UE) adopted a resolution endorsing the anti-Israel Boycott, Divestment and Sanctions movement (BDS). The resolution passed by the 30,000-member organization blames the Israel-Palestinian conflict on the creation of the Jewish State.
The resolution does not endorse a "two-state solution" and neglects to condemn the terrorism perpetrated by terrorist groups Hamas and Hezbollah. It accuses Israel of racism, genocide, apartheid, ethnic cleansing, and "waging a merciless war on the impoverished population of Gaza."
Calling for an end to all U.S. military aid to Israel, the resolution seeks to pressure Israel to end its "siege" of Gaza and "negotiate a peace agreement on the basis of equality, democracy, and human rights for the Palestinian and Israeli people, including Palestinian self determination and the right of return for refugees."
Supporters of the Jewish State, as well as anti-Semitism watchdog groups, are speaking out against the EU anti-Israel position and the resolution's inherent fallacies.
"The resolution suggests Israel's founding was illegitimate, refusing to acknowledge that Jews are indigenous to Israel and have an inalienable right to self-determination there," said Roz Rothstein, CEO of StandWithUs. "The union undermined its claim to stand for justice and human rights by calling for 'the right of return' (for all Palestinians), which U.S. President Barack Obama and other world leaders have firmly opposed, saying it would extinguish Israel as a Jewish state."
Boycotting Israel could lead to legal problems for companies that use UE laborers.
Ms. Rothstein's objections were echoed by Anti-Defamation League (ADL) President Jonathan Greenblatt.
In a September 3rd letter to UE President Bruce Klipple, Mr. Greenblatt expressed how "deeply troubled" the ADL is over the UE decision to endorse the BDS movement.
Mr. Greenblatt explained that the resolution "presents a highly distorted view of the conflict between Israel and the Palestinians, including the outrageous and totally unfounded claim that from 1947 to 1948 the Jewish State engaged in ethnic cleansing of 750,000 Palestinians."
The ADL president added, "The UE has shamefully lent its support to a campaign that is bigoted in its origins and entirely counterproductive to peace efforts between Israelis and Palestinians. It's a sad break from your traditions of fairness and inclusivity."
Boycotting Israel could lead to legal problems for companies that use UE laborers.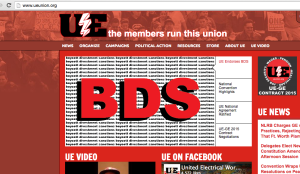 In a September 2nd letter to General Electric (GE) President Jeffrey R. Immelt, Shurat Hadin – Israel Law Center President Nitsana Darshan-Leitner of Tel-Aviv and U.S. counsel Robert J. Tolchin urge GE to "void their labor accords with the United Electrical, Radio and Machine Workers of America ("UE") in light of the union's declared endorsement of the anti-Israel boycott-divestment-sanctions, or BDS, movement."
The letter warns the Fairfield, Connecticut, company that "implementing BDS policies could result in severe criminal and civil liability for the company and its officers." Shurat Hadin notes, "the BDS movement's efforts are unlawful racial discrimination on the basis of national origin and/or race, creed and religion under the International Convention on the Elimination of All Forms of Racial Discrimination and numerous U.S. state and federal statutes."
Shurat Hadin reminds GE's president that GE's own "corporate policies prohibit bias in employment and commit the company to observe all applicable labor laws." The company website claims that "diversity and inclusiveness" are essential to GE's "productivity, creativity, innovation and competitive advantage."
Boycotts in the United States are not protected by the First Amendment, as they are regarded as action, not speech.
According to Shurat Hadin President Nitsana Darshan-Leitner, "the union's outrageous call to support the boycott even violates the constitution of one of its own regional unions requiring the UE to unite `all workers in our industry … regardless of craft, age, sex, sexual orientation, nationality, race, creed or political beliefs.' "
UE did not respond to a request for comment.