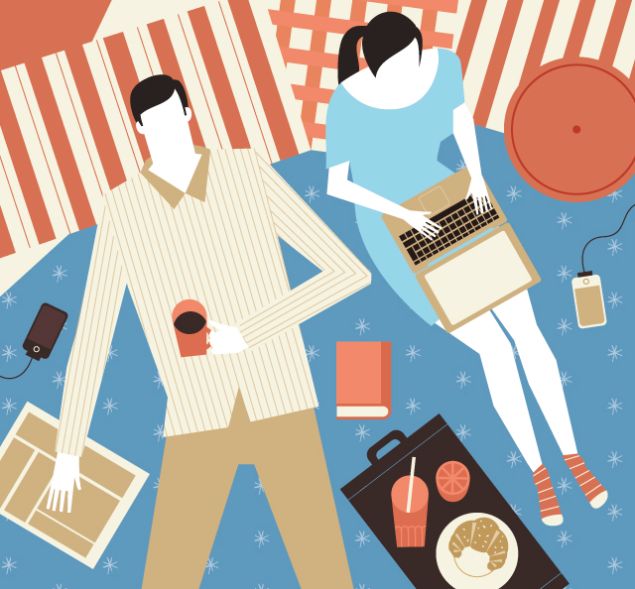 I bought my first bed when I was 23. My friend Anna and I went to a mattress chain near the book publishing company where we were assistants. "Get the second cheapest, no matter what the salesman says," Anna counseled. She was the kind of friend who knew things like that. I was somehow young enough that it hadn't occurred to me that a salesman might not have my best interests at heart.
"This is the one I have, and everyone loves it. Seriously, everyone loves sleeping in my bed," she raved, her tone emphatic with Texas enthusiasm, as she led us to the very back of the brightly lit store. The middle-aged salesman blushed and stifled a laugh at the suggestion that everyone was sleeping in Anna's bed, everyone loved it.
It was awkward, but ultimately less stressful then picking out the bedding. Later that same week, I spent hours unzipping plastic packaging, trying to imagine sleeping on different moderately priced beige sheets. I squeezed pillows until I settled on one with a Laura Ashley tag and one with a Nautica tag, both brands that, back in the '90s, had storefronts on Columbus Avenue. I eventually made it to Ikea, where I bought a duvet cover and throw pillows made of imitation memory foam.
It wasn't all that long ago, but a lot has changed in the industry. Now, the sleep space is a burgeoning area for startups, eager to disrupt the existing supply chain and market mattresses and luxury sheets to  tech-savvy millennials. Remarkably, something as mundane as blankets and sheets has become hip, recast as an aspirational lifestyle that play into the trend toward health and wellness.
It certainly seems to be profitable.
Now, without setting foot in a store, the ads come to you; a series of images that show hip millennials in retro-chic patterned pajama sets, reading the Sunday paper in a bed of fluffy white linen, succulents or wildflowers on the night table, the bright pop of eggs on a breakfast tray, the promise of a French press brewing in the background.
Over the summer, Casper, a tech company that sells one-firmness-fits-all foam mattresses, raised $55 million in a new round of funding, bringing its valuation to $550 million. Not bad for a company that started less than a year and a half ago. No need for uncomfortable conversations about beds with middle-aged salesmen. Instead, a few clicks and Casper's signature striped box gets delivered to your door. Remove the packaging, and the mattress expands, a moment that the accompanying instructions urge the consumer to capture and upload on social media.
Not surprisingly, a slew of e-commerce mattress companies are flooding the market, promising ever-higher quality for mid-range prices by eliminating the middleman and selling directly to the consumer. Fashion magazines and design blogs are taking notice (Vogue recently featured "7 Mattress Startups that Want to Sweeten Your Dreams"). Beds have somehow become stylish.
And it isn't just mattress startups that are making a play for the tech-savvy with daydreams of comfortable beds. Direct-to-consumer luxe linens have become a lucrative staple for brands like Brooklinen, Parachute, and Boll & Branch, startups that sell bedding at prices that, while not cheap, are, the founders say, hundreds of dollars less than products of comparable quality.
"We look at ourselves as a brand that's delivering premium products and making the luxury sleep experience accessible to the masses," Ariel Kaye, the founder of the Venice Beach-based bedding startup Parachute, told me. The inspiration for Parachute came after Ms. Kaye "found perfection [she] hadn't known existed at a picturesque hotel on the Amalfi coast."
Likewise, Vicki and Rich Fulop had the idea for Brooklinen after trying to recreate the "best sleep of their lives" that they had at the Wynn Hotel in Vegas. The hotel's sheets proved beyond their budget, but made them aware of the mark-ups in the industry. So, with funding from a Kickstarter, they started a bedding brand.
Now, everything for a good night's sleep can be purchased online, no middleman necessary.
"Two years ago, everyone bought their mattresses at Sleepy's, everyone bought their sheets at Bed, Bath and Beyond or department stores," Mr. Fulop said. "But with the accessibility and evolution of direct-to-consumer models, in order to move a product, you don't need to pay licensing. You don't need shelf space."
And of course, by eliminating the paradox of choice, these brands have made it easy for the confused consumer. That is no small part of the appeal of a Casper or Tuft & Needle, both of which sell just one mattress rather than a baffling array of brands and price ranges. Other new mattress companies like Saatva or Keetsa go a more personalized route, but there is still a finite limit to the number of options.
Or take the example of buckwheat-filled pillow purveyor Hullo, which sells one product in just three sizes, small, standard and king. No trying to remember whether you sleep on your front, back or side. Similarly, the new luxury linen startup has at most two fabric options, in just a small handful of muted colors or subtle patterns. No need for endless deliberation. The sheets are all plush, the colors tasteful.
"If you go to a store, there are a lot of products and it's a really overwhelming amount of choices," Ms. Kaye said. "What we do is try to make our products really relatable and accessible and just provide that kind of competence that I never really felt."
As almost any e-commerce startup will tell you, these products are more than mere brands. They bring a lifestyle promise. And that lifestyle is conveyed through swoon-worthy social media and clever marketing.
Now, without setting foot in a store, the ads come to you; a series of images that show hip millennials in retro-chic patterned pajama sets, reading the Sunday paper in a bed of fluffy white linen, succulents or wildflowers on the night table, the bright pop of eggs on a breakfast tray, the promise of a French press brewing in the background. The suggestion of sex once inherent in the notion of beds has given way to a fantasy of stylish people just hanging out in matching sleepware. Click on a couple of links and, within days, everything from the mattress to candles with scents like "fireside" or "bourbon blood orange" can be yours.
The lifestyle being sold is more than just a pretty picture. It is the belief that something as seemingly indulgent as a good night's sleep will improve one's waking hours. It ties into a larger moment of health and wellness, of SoulCycle and green juice.
"It's cool to be that person who goes to the gym before going out. All these fitness monitors are now integrating sleep and I think that just opened up this conversation about why sleep really matters," Ms. Kaye explained. "People are understanding more the effect that lack of sleep over the long term can have on your body and on your productivity."
Although it may seem crazy to build a business on products that are usually forgotten about for years on end, these brands are capitalizing on something even more promising than a boom in wellness-related spending.
"Our customer is moving into their own apartment, no longer with roommates, probably in relationships or thinking about getting into relationships, making a little more money, getting their second or third or fourth job out of college," Ms. Dunlop said. "We wanted to hit this customer with our product and be top of the mind."
It's always unnerving to have one's life reduced to a predictable pattern of consumer behavior. But of course I do fit that description. And, in the years since I was 23, I've become much more accustomed to buying things online.
Besides, spending a Sunday reading the paper in a well-dressed bed while wearing smart pajamas looks better every year.