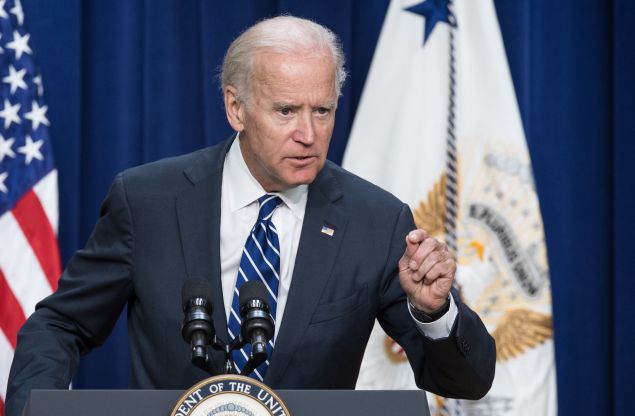 There are two basic paths this upcoming race to 2016 could take. The one is that Vice President Joe Biden enters the race now, which could be his opportunity to be to President Obama what George H.W. Bush was to Ronald Reagan. He's not boring in this configuration; in fact, he is much like H.W. He would be a classic mild-mannered closer, bringing denouement and quiet time to a boom era, descending gently to the end of realm of a dynamic, archetypal natural leader, a celebrity, an outsider and a charismatic politico.
Reagan was and so is Mr. Obama, which you can easily gauge by the anger, resentment and hostility which follows them through the ages by the opposition. Mr. Reagan still fires a hostile instinct to this day. But interestingly, H.W. does not. Joe Biden could be that man, loved through future ages as Mr. Obama's second, even among those who despise Mr. Obama, still question his youthful associates and adolescent drug use, still claim that he was born in Kenya. There is no mystery to Joe Biden.
Or it could go another way. Recently, economist Art Laffer said a revelation is ahead. It is 1979 all over again and we are about to embark on a great journey of American imagination, money and discovery. Just like we did following the novelty Jimmy Carter Presidency, recovering from the war in Vietnam and the internal American turmoil. We chose a Georgia farmer and Sunday School teacher for president with a wildly eccentric brother who traded Jimmy's presidential fame to market his own brew, Billy Beer. America basically took a few years off. A lot of people got stoned.
And so as well go Mr. Obama's eight years, frivolous and adolescent, hanging on petty issues, our strength and global impact demolished while we engaged in internal discord at home. We became so badly deconstructed that our rugged old stand-by Britain, whose Queen even let the President's wife hug her when they came to visit, who we knew would never leave our side, suddenly left us behind to join China in a vast new global banking enterprise, a move we begged them not to make. And she brought the whole of Europe with her in opposition to American will.
Youth wants to know: How does Hillary Clinton fit in here? She does not. How does the Bill Clinton's Personality Cult fit in here? It doesn't.
And from that could come an awakening as in 1979 and a new Ronald Reagan would arise again to restore our place in the world. As The Gipper did post-Vietnam and post-hippie America.
Which path we will take depends on this: Is Barack Obama a dynamic exception to the rank and file as Mr. Reagan was and will he be remembered as such through time? If so, the path opens to Uncle Joe in 2016. Or is Mr. Obama really a mediocrity as many consider Mr. Carter to have been? If so, then we will be seeing a new Reagan arise archetypally to wake us up again as Mr. Laffer suggests. Perhaps it will be that other dynamic Texan, former CEO of Hewlett-Packard, Carly Fiorina.
Youth wants to know: How does Hillary Clinton fit in here? She does not. How does the Bill Clinton's Personality Cult fit in here? It doesn't.
And something else will enter into this determination: The Iran deal put forth by Mr. Obama, by Secretary of State John Kerry and as explained just recently, an arrangement first put forth by Secretary of State Hillary Clinton. Because this will not go away, nor will the catastrophe of Benghazi, nor will the heartbroken asylum seekers and expedient emigre hordes accompanying them, heading north across Europe, to which they will bring the final death cough of a border system that really died well back in 1917.
Will Mr. Kerry be the next of the very tall men to win the Nobel Peace Prize? If so, it should throw him in the mix with Mr. Biden and the others on the path to 2016. Or is Mr. Kerry the earthly incarnation of Slender Man, the tall, dark and faceless, spontaneous web phenomenon who leads innocent children along the path to the dark forest, never to be heard from again.
It is interesting to note that today, only 21 percent of Americans support Mr. Kerry's Iran deal. And it is interesting also that one of the major sponsors of the large Capitol Hill rally in opposition to the Iran deal this week was sponsored by the Tea Party Patriots. The Tea Party today enters into mainstream political consciousness on this issue, which tends to support Art Laffer's hypothesis.
The turning we are at now is completely dependent on the outcome of this, as it was in November, 1979—Jimmy Carter's last days as president—when 52 American diplomats and citizens were held hostage for 444 days by the Ayatollah Khomeini of Iran. America's weak, almost paralyzed response to the intimidation of the hostage takers prepared the way for an American strongman and Mr. Reagan's presidency followed directly.
This could be very bad news for Joe Biden.