Poor old BAM. Even its newest wave can't compete with New York's latest and trendiest venue of choice, the Park Avenue Armory, whose current season "encompasses site-specific installations, commissions, and cross-disciplinary collaborations across a range of art forms." How can mere dance or music or theater compete? Well, I'd be all for it if the results weren't so terminally boring.
It's not that the perpetrators of these extravaganzas are stupid or lazy—far from it: They've worked out intricate and deeply sincere concepts, and they know how to produce startling effects. But concepts and effects don't add up to art.
Wayne McGregor, the well-known British choreographer, tells us that his current project, Tree of Codes, "began with a series of fascinating conversations" between him and the conceptual artist Olafur Eliasson and the musician Jamie xx. I'm sure they were fascinating, because these are articulate people, but unfortunately their rhetoric turns out to be gaseous and impenetrable—filled with current buzzwords about art, creativity, pushing the limits—and it's talent, not conversation, that produces serious work.
The Tree of Codes began as an experimental novel by Jonathan Safran Foer, which itself was put together from words and phrases filched from Bruno Schultz's famous story "The Street of Crocodiles." Sound interesting? But none of the words or phrases that pop up, seemingly at random, during the performance of McGregor's dance-a-thon can be deciphered, given the overwhelming din of the implacable thump-thump of Jamie xx's sound-a-thon. The road to hell is paved with good conceptions.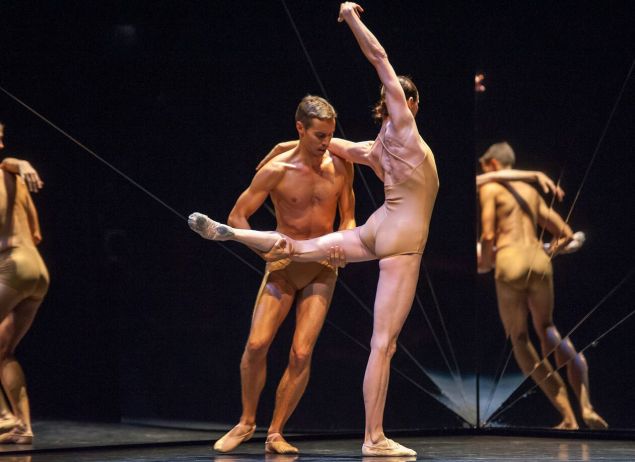 There's a huge installation in the center of the vast (55,000 square foot) Armory setting. It does everything but dance. Huge structures swing open and shut, scrims envelop scrims, light is refracted and re-refracted, mirrors mirror mirrors, the audience gets to see itself reflected, and—oh, yes—there are fifteen frantically hard-working dancers hoping to be noticed. And they're good dancers—nine of them from McGregor's own company, six from the Paris Opéra ballet (another bastion of concept). But what they've been given to do is the same old McGregor vocabulary of churning, flinging, hurling, crashing. Some of his ballets have structure; this one just has staying power. Why in the midst of these thrashing modern dancers do we suddenly find three Paris ballerinas on pointe, showing us their prettily arched feet and their elegant arabesques? Answer comes there none.
Or rather the answer is that their presence is just another surprising effect. And "effect" is the name of the game here. The dancers give their all, but their efforts—occasionally interesting when you can focus on them—are obliterated by sound effects, lighting effects, stage effects. You're bombarded with isolated ingenious moments, but they don't add up to anything coherent, and indeed when McGregor and Co. run out of effects, the whole thing just stops: It doesn't arrive anywhere because it's never been anywhere to begin with. The bag of tricks just empties.
There was more than an hour of this barrage, solemnly registered by an attentive audience that clearly thought it was attending an Event. But somehow when the last breathless dancer had staggered offstage, and the final uninteresting throbs of the score had subsided, and the last lights had bounced off the last mirrors, the response was muted. The Event, people had noticed, had no clothes.