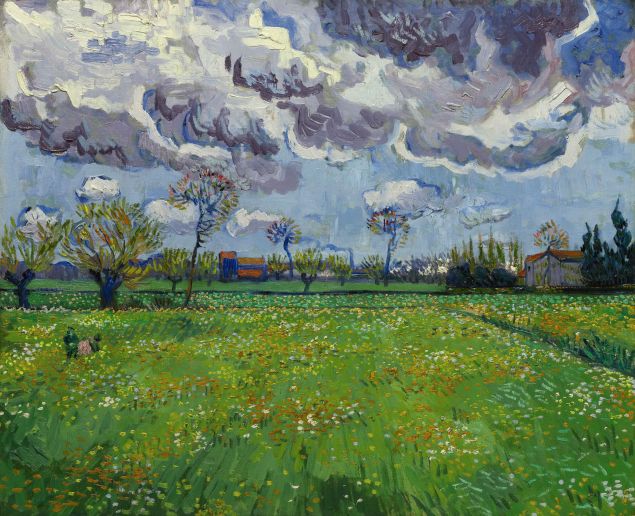 Sotheby's has added two major pieces, including a Van Gogh with a $50 million to $70 million estimate, to its Impressionist and Modern sale set for November.
Paysage sous un ciel mouvementé by Vincent Van Gogh will lead the sale of 19th and 20th century works from Belgian collectors Louis and Evelyn Franck. The painting is "from the coveted mature period," according to Sotheby's.
"As such treasured collections become increasingly rare in the market, it is a privilege to present Louis and Evelyn Franck's collection this fall," said Simon Shaw, co-head of Sotheby's worldwide Impressionist & Modern department, in a statement from his firm. "Collecting in the mid-20th century, their elegant, cultured taste is reflected throughout the selection of works by many of the most influential members of the European avant-garde. The Francks acquired the best possible examples from iconic periods of each artist's oeuvre. This is a historic offering which will excite connoisseurs globally this season."
The additions should help Sotheby's retain its edge over fierce competitor Christie's. Sotheby's fall Impressionist and Modern sales have bested Christie's eight out of ten times in the past decade, according to The Art Newspaper.
The other major addition is Mystic Suprematism (Black Cross on Red Oval), one of the only Kazimir Malevichs to remain in private hands. The painting is offered by the heirs of the Russian painter and father of Suprematism. It is the last of five paintings returned to the family in 2008 to be offered for sale and the estimate is $35 million to $45 million.
"Mystic Suprematism captures a moment when Malevich was at his most radical, iconoclastic and powerful," said Mr. Simon. "Sotheby's first offered a work from this illustrious group in 2008, when Suprematism, 18th Construction achieved a record $60 million. With so few outstanding Suprematist paintings remaining in private hands, we are honored to have been entrusted by the artist's family once again."
The November 5 sale also includes work by Pablo Picasso, Paul Cézanne, Kees van Dongen and Henri de Toulouse-Lautrec.