The Ras Baraka Administration is examining the prospect of a nine-percent property tax increase in the city of Newark, according to a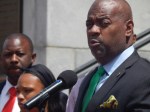 source familiar with developing backroom dialogues around the budget.
In October of last year, state officials approved an $800 million city budget for Newark while warning of coming financial catastrophe due in part to uncollected healthcare premium payments. As it headed into the 2014 budget cycle, Newark faced a $93 million deficit.
The Baraka Administration did not confirm or deny the active discussion between city council members and the mayor's representatives regarding a possible nine-percent tax hike.
Speaking on condition of anonymity, another source could not confirm a nine percent property tax hike but said, "There's going to be some increase. That's the nature of the beast, but there will be a dog and pony show. I don't think that figure is final."
A third source confirmed the proposed increase.