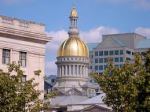 With two criminal record expungement bills going before the state Senate Thursday, one source told PoltiickerNJ that she expects for the opposition from Republicans to be fierce.
Saying that she sees the bills as a chance for Senate Republicans to vote in the best interests of people who are being held hostage by their records as non-violent offenders, the source added that the most vocal critics would be Senators from districts that do not stand in the same sore need of the social and economic good the measures would provide for New Jersey's blighted cities.
The first would offer automatic expungement of criminal records for certain classes of non-violent offenders, with many exemptions for felony charges like kidnapping and arson. The second would create an application process by which victims of identity theft could move to have offenses stricken from their record if they were performed by another person using the victim's ID.
In an election year that has seen both Assembly Republicans and Democrats call for bills that would reinstate the death penalty in New Jersey following highly publicized murders of policemen, members of the legislature may prioritize a tough-on-crime message. Given the prevailing mood and the uniform strategy in competitive districts like the first, tomorrow could prove to be a difficult day on the floor for the bills.