Andra Tomsa was born in Romania, raised in suburban New Jersey and attended Fordham University in the South Bronx, where she still lives. The disparate environments and qualities of life she witnessed in these places gave her an early understanding of the genetic lottery, and drove her to find a solution to income disparities.
"I understood at a young age that circumstances can be very different," Ms. Tomsa told the Observer. "I've always had a passion to fight inequality. I wanted to rebalance the situation and give everyone equal access to what they deserve."
Several different factors allowed Ms. Tomsa to fulfill that goal. While pursuing her economics degree at Fordham, she was a bartender at local watering holes and noticed the preferential treatment given to frequent customers.
At the same time, she learned about Bank of America's savings program, which rounds up debit card purchases to the nearest dollar and adds the balance to the customer's savings account.
Once Ms. Tomsa thought about how she could combine her experiences in the hospitality industry with her lifelong desire to help the needy, she realized that rounding up bills Bank of America-style was the easiest way for wealthy patrons to donate to help needier citizens.
"Hospitality is a cash cow in New York," Ms. Tomsa said. "People just throw money into it. I wanted to capitalize on that and funnel that gigantic cash flow. And if you dilute the task and ask the end patron to round up, you're not costing the restaurant anything."
Seeing an opportunity for charity, Ms. Tomsa launched the app Spare in March 2014—the new version is being released today. As hinted by its name, the app uses spare change to feed the hungry. Customers who use Spare at New York City restaurants can round their bills up to the nearest dollar to support hunger relief—they can also donate up to $0.99 no matter the amount of their bill.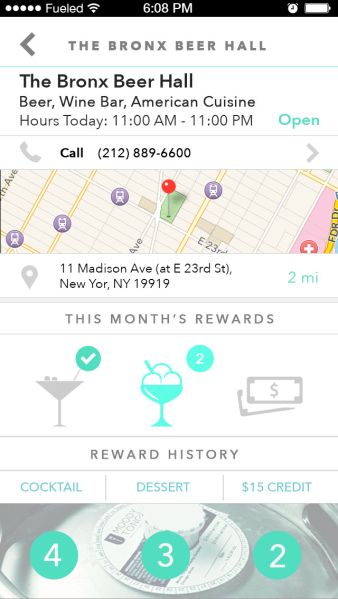 The app is designed to help food insecure families in New York City—one in five city residents don't have access to healthy food, and each year the city's poorest residents miss a total of 250 million meals.
Spare is a for profit company that leases the use of the tech to a non-profit that then distributes 80 percent of round up revenue to four partner beneficiaries for a 20 percent fee.
Giving $0.99 may not seem to help the problem much, but according to estimates from the Food Bank for New York City that small amount can help feed four people—the food bank has relationships with city retailers and buys in bulk, which is cheaper than paying consumer prices.
The tax deductible donations Spare receives go to local charities, including the Food Bank and City Harvest.
While Spare can be used at any eatery in the city, the app's 15 partner restaurants in Manhattan, Brooklyn and the Bronx offer discounts and rewards to customers who give frequently. With the Spare loyalty program, if you donate three times at one of the partner locations within one month, you get a free cocktail. Donate five times, and you get a free appetizer or dessert. The app tracks the number of visits to each restaurant.
"I was trying to create a win-win," Ms. Tomsa said. "The value the consumer gets far surpasses what they've donated, and these restaurants get to expose their business to more people. It's very seamless, very fluid and very easy."
Ms. Tomsa's lofty final goal is to close the meal gap in New York City—though she admits this isn't a simple task, she thinks bringing people from all economic strata together to help the neediest is the best way to solve it.
"If we can engage people, we can close something that's been there forever," Ms. Tomsa said. "We can raise awareness, bring the community together and do something truly incredible."