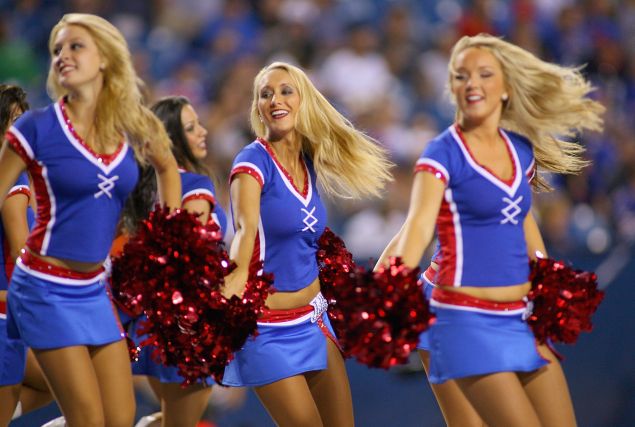 A day after the kickoff of football season, State Senator Diane Savino took to the airwaves to promote new legislation—which would make cheerleaders, who are currently often classed as independent contractors, official employees of the teams they perform for.
Appearing on the Capitol Pressroom radio show, the Staten Island legislator argued that cheerleaders receive less than minimum wage or are not paid at all, despite the time and physical effort they devote to their routines. Since the young women sign contracts dictated by the teams they are associated with, and are usually forbidden to work with another organization, Ms. Savino asserted they are not independent contractors but employees—and the teams must treat them as such by meeting wage and labor laws and paying overtime, and allowing the ladies to organize.
"These women are not just pretty. They're very talented acrobats, dancers, gymnasts and they are as much athletes in many respects as the players on the field. They deserve to be treated, you know, with dignity and respect. And that's all we're asking for," said Ms. Savino. "They bring untold financial value to the team much in the same way the players do."
The legislation, which Queens Assemblywoman Nily Rozic is pushing in the lower house of the State Legislature, appears to be a reaction to an ongoing lawsuit against the Buffalo Bills, the only football team that actually plays in New York State and which opened the season yesterday by beating the Indianapolis Colts 27-14. Five former members of the Buffalo Jills cheer squad took the team to court last year alleging they were not paid for any of their practices or performances at games.
The team responded by suspending the entire squad.
Ms. Savino pointed out the bill would apply to all cheerleaders for all professional sports teams in New York, and brushed off a questions about whether cheerleaders opened themselves up to exploitation by taking a job that had them show off their bodies,
"Look, no one would watch the cheerleaders if they were dressed in a sackcloth, it's obvious," she said. "You know, there's a reason why people are watching them. Women, we're objectified in so many ways, and when we decide that we want to somehow utilize our God-given assets, then we're criticized for that too."
The politician argued the ultimate solution would be for National Football League Commissioner Roger Goodell, who has disclaimed responsibility for the cheerleader employment situation, to change internal policy and mandate teams to comply with local ordinances. The senator and Ms. Rozic were among the signatories to a letter addressed to Mr. Goodell, whose name appears on the cheerleaders' contracts, to declare the women employees—which Ms. Savino argued would pay off for the NFL financially.
"To avoid 50 states of legislative attempts to rectify this, which would be, probably, a disaster for the NFL, they could simply say to all of their teams, 'if you have a cheerleading squad, you must obey whatever the rules are, the wage and hour laws, in that state that is the home for that squad. Simple. And we'll all go away,' " she said. "And they could send a message to the largest growing sector of their fan base: women."