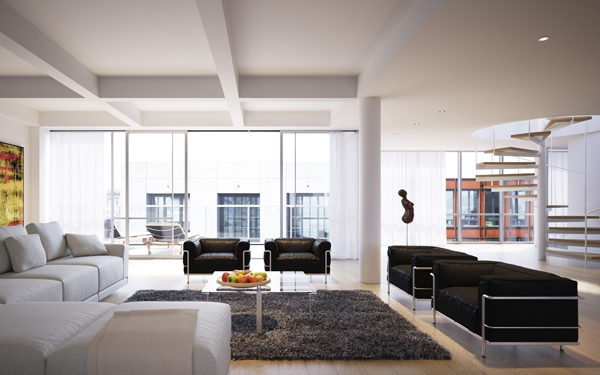 The condo conversion of Dumbo's former Brillo steel wool factory at 200 Water Street has launched sales.
"When we acquired the site in 2013 with Urban Realty Partners, Dumbo wasn't as it is today," developer Sam Sidhu of Megalith Capital Management said of the waterfront neighborhood we remember being pretty darn nice two years ago.
He clarified: "It was a prime market in Brooklyn, but Brooklyn hadn't really eclipsed many parts of Manhattan."
Megalith purchased 200 Water, which was built in the 1950s, as well as the adjacent site from the Watch Tower Society—Jehovah's Witnesses, who until recently owned a large number of properties in the neighborhood.
The former factory is located between Jay and Water Streets, within the Dumbo historic district, which Mr. Sidhu touted as an advantage, along with the building's mid-century bones.
Apartments range from 1,800 square feet to 2,800 square feet, and the price tags, which range from $2.9 million to more than $5 million, definitely reflect Mr. Sidhu's beliefs that Dumbo has surpassed many Manhattan neighborhoods' pricing.
Gil Even-Tsur's Architecture Workshop and Aufgang Architects completed the "gallery style" construction and interiors at 200 Water Street, which was the last industrial site on what is now an entirely residential block.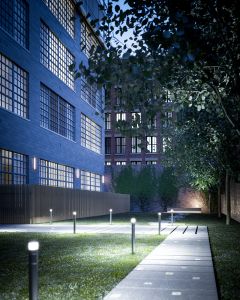 "It has the high ceilings that are very similar to art galleries, and the lobby of the building has a loft-like, gallery feel. The ceilings range up to 14-feet high in some of the units," Mr. Sidhu noted. There is abundant concrete, brick, and steel.
"It won't feel like a converted warehouse, it's more of a converted factory," he boasted.
He went on: "with all of the features you'd wish for in a conversion—high ceilings, windows, and industrial feel with character, but without having the inefficiencies that can be created from old historic conversions."
The 15 units consist of two, three, and four-bedrooms; six of the units have private outdoor space. The two penthouse units have their own private roof decks.
As for the buyers, Mr. Sidhu said he thought it would be mixed between Brooklyn and Manhattan buyers, with the majority coming from the borough of Kings.
"[Dumbo] really gives you the feel of Soho and Tribeca—it is the Soho and Tribeca of Brooklyn, but as a much more attractive price point," Mr. Sidhu declared (at least it hasn't eclipsed those neighborhoods yet).
And if living in the Brooklyn version of trendy Manhattan neighborhoods isn't enough, downtown Manhattan is "only a ten minute cab ride from Tribeca, for this more attractive price," he added.