Jersey City Mayor Steven Fulop continues to avidly make the rounds of political events, maintaining a daily and nightly work rate around the state, routinely criss-crossing the paths of his 2017 gubernatorial rivals, including former U.S. Ambassador to Germany Phil Murphy.
On Saturday, Fulop marched in Paterson's Dominican Parade with Mayor Jose "Joey' Torres and First Lady Sonia Torres and At-Large Councilwoman Maritza Davila (pictured above).
He also ran over the weekend in a 26-mile relay run from Ridgewood to the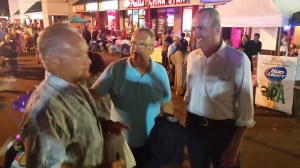 World Trade Center with Freeholder Steve Tanelli, Assemblyman Tim Eustace, and Ridgewood Democratic Chairman Frank DelVecchio.
For his part, Murphy last night showed up at a very well-attended street rally organized by Assemblyman Ralph Caputo (D-29), in support of the veteran Democratic incumbent.