"It seems like for clothing, or anything cool, you need a black body to sell it in a sense. You need a black body to legitimize the cool," says Joshua Kissi who makes up one half of the group Street Etiquette. "But everything we do, fortunately and unfortunately, in certain cases, involves the black body."
'It seems like for clothing, or anything cool, you need a black body to sell it. You need a black body to legitimize the cool.'
Street Etiquette does not commodify the black body, break it, appropriate it, or take from it, like we often see by "curators" and purveyors of culture. Instead, Street Etiquette explores and chronicles the African Diaspora and reinterprets Black Culture.
Started as a fashion blog in 2008 by best friends Mr. Kissi and Travis Gumbs, Street Etiquette is involved in all forms of artistry: from creating a Mood Board to shooting images for editorials, producing short films and releasing digital mixtapes on Soundcloud called Audio Visuals.
"We feel like music meets fashion meets art, and you know, every movement had a soundtrack to it," Mr. Kissi said of the intersection between all of SE's different projects.
Messrs. Kissi and Gumbs took note of the fashion industry's superficial tendencies and knew that they wanted to do something more. "If you look a certain kind of way, people assume that you listen to a certain type of music, everything comes with a uniform," Mr. Kissi told the Observer. "You know punk rock, hip-hop, country, everything… and you could dissect those little sensibilities into an overall package, in a sense… What Street Etiquette represents is a certain—tailored—[look] that's still on the street and raw type of uniform."
[soundcloud url="https://api.soundcloud.com/tracks/217644365″ params="auto_play=false&hide_related=false&show_comments=true&show_user=true&show_reposts=false&visual=true" width="100%" height="450″ iframe="true" /]
"In the early days of SE, we would get a lot of heat because of the way we were dressing," says Mr. Gumbs, referencing his upbringing in Mount Vernon in the Bronx.
These days, SE's style is turning heads for all the right reasons—SE's looks are so signature, they aren't chasing trends so much as making them. The "Street Etiquette look" is a style unto itself: a mix of suave dandyism with a sporty-meets-street aesthetic. But as Mr. Gumbs explains, it wasn't always this way.
"It sounds crazy and I honestly hate even saying it, but that was our reality. There is so much culture everywhere in New York, and we would find inspiration in any and everything, but then get called names on our own blocks just for expressing ourselves and working towards what eventually became our form of artistry," Mr. Gumbs says.
Finding inspiration and artistic overlapping in everything is at the core of Street Etiquette. It's elegantly displayed on their Mood Board, their daily record of inspiration. Images of R&B singer Kelela are alongside Basquiat paintings, photographs of Muslim women praying in Morocco, black and white snapshots of children going home from school on a hot summer's day in Harlem. Fine art and scenes from everyday life sit side-by-side, offering a multi-dimensional perception of Black Culture.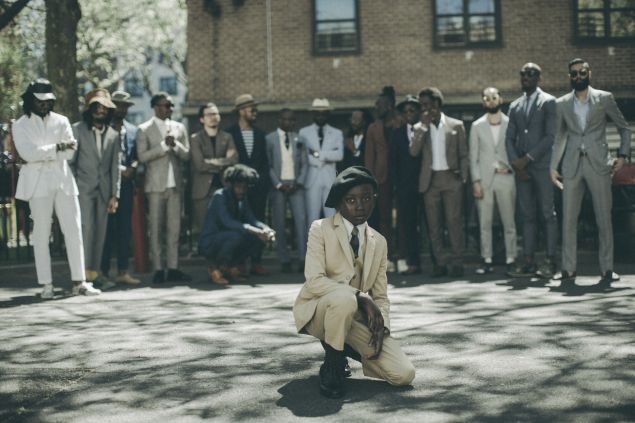 "We realized that there was a lane for celebrating black culture artistically in our own way, and have dedicated ourselves to creating content that speaks to that," says Mr. Gumbs.
Street Etiquette's celebrated editorial Black Ivy drew inspiration from photographs in LIFE magazine of students attending Howard in the 1950s. SE chose to use students attending City College of New York as their subjects, documenting their iconic street-meets-prep style.
After the critical acclaim of Black Ivy, SE turned its attention to telling the stories of those who they felt were marginalized or overlooked. From a photo series about the effects of gentrification and income inequality in Bedstuy and Bushwick to more time-intensive and collaborative projects, like their soon-to-be-released short film SLUMFLOWER.
The New York premier of SLUMFLOWER kicks off Fashion Week on September 10 at the Brooklyn Historical Society. The film played at the Cannes Film Festival earlier this year, and deals with the subjects of black masculinity and coming of age in the projects.
When describing his inspiration for the film, Mr. Kissi says, "You know, my upbringing, being born and raised in the Bronx, and [I was] seeing that the black lives of little kids aren't always as youthful as it should be. You know, sometimes we're looked at as adults, from an early age, and I think SLUMFLOWER looks at the dealings of that."
With the recent anniversary of the death of Tamir Rice, Mr. Kissi was reminded of what it was like to be a young black child who was expected "to know better, to do better, to be aware of their space and their surroundings." He wanted to directly address his lived experience of being a child in a black body and communicate what that experience was like to a larger audience.
Street Etiquette documents and gives a voice to up-and-coming black artists through its ambitious editorials, Mood Boards and Audio Visuals series. They are always responding to the times and asking: how can black culture respond to our environment through art?
Street Etiquette is the answer.