Of the many apartments that have risen, or are slated to rise, at the massive, 433-unit Navy Green housing complex on Clermont and Flushing avenues in Wallabout, only 98 are condos. And of that 98, only 24 are market-rate units (the other 74 being medium income affordable units), a fraction of which quietly hit the market last week, nonetheless provoking a flurry of activity.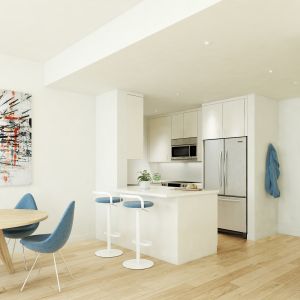 Of the five units at 8 Vanderbilt that hit the market—two one-bedrooms, two two-bedrooms and one three-bedroom—all are currently spoken for, according to Martin Dunn, of Dunn Development, which is developing the project along with L+M Development Partners. The units start from $575,000, $825,000 and $1.1 million respectively, with townhouses starting at just over $2 million (Halstead is handling sales).
"We've gotten 10 offers at or above our asking price last week," he said.
"The interest has been unbelieveable—and there is across-the-board interest in all the sizes of units," Tell Metzger, of L+M, told the Observer.
The sales launch, which will be followed shortly by the release of new units, establishes not only that there is a market for condos in Wallabout, which is located on the Northern fringes of Clinton Hill and Fort Greene by the Brooklyn Navy Yard, a good distance from any subway stations (a recent New York Times article focused on how the area—a half mile from the erratic G train in many spots—had become popular with cyclists looking to score cheaper rents), but a strong one. Buyers are, quite apparently, eager to invest in Brooklyn condos, even those beyond convenient reach of a subway. (The area is, of course, served by several bus lines.)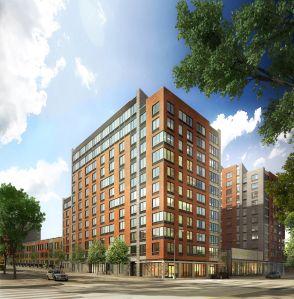 The affordable housing component of the condo development, the lottery for which closed earlier this year, will provide condos ranging from $230,000 to $440,000 for households earning up to $175,000—one of the rare affordable condo projects in the city. Overall, the entire development will be three-quarters affordable. There is little to no other new residential development in the neighborhood.
Of course, it helps that the neighborhood is a historic one adjacent to some of the most expensive areas in Brooklyn, with Williamsburg just to the North. And that the Brooklyn Navy Yard has attracted more and more businesses and tenants—besides mega-tenant Steiner Studios, Brooklyn Grange and a rooftop Vineyard, among many others, are now at the complex. And this summer it was also announced that Wegmans, a supermarket chain much beloved by shoppers in other cities, would also be coming to the area. A food court and the first ground-up WeWork building are also in the works.
"It felt a bit like an untested market," admitted Mr. Metzger. "The development is in a neighborhood that didn't have a lot of new residential development or retail for some time… this neighborhood wasn't an obvious place for residents or new investors 5 or 10 years ago, but it's caught up in the wave now."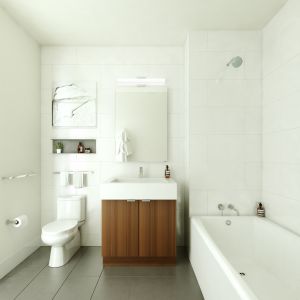 "It's taken us by surprise," he added.
With housing prices soaring across the borough, buyers are looking to areas that they might have snubbed several years ago. And as the Navy Yard continues to add tenants and jobs, it's to be expected that more and more Brooklynites will want to live nearby.
Mr. Dunn said that they were seeing potential buyers from many neighborhoods in Brooklyn, as well as Manhattan—with a mix of academics, people in technology and those who work at the Navy Yard. And the local streets, once fairly quiet, are much busier as Navy Green's rental developments have been filling with tenants on a rolling basis these last few years.
The development's common green of more than 30,000 square feet is also likely to fill soon, as well. Among the other lures at the development are energy-efficient design, a landscaped roof deck, gym, laundry room and—crucial for those who count on cycling to and fro—a bicycle room. Perhaps most alluring of all, though, is the 25-year tax abatement, which, depending on the fate of the 421-a tax break, over which legislators and the unions are now negotiating, could soon number among the rarest amenities of all.