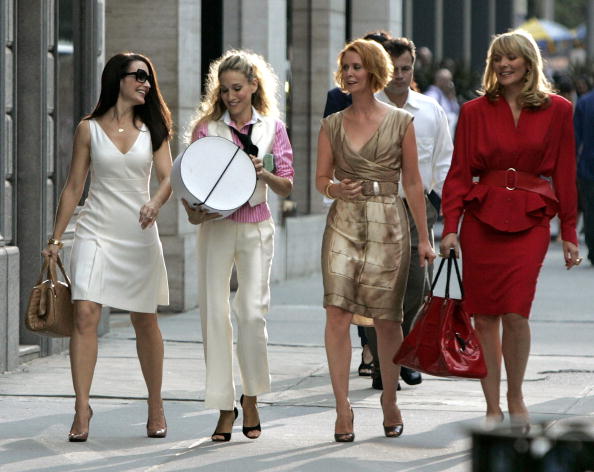 What defines New York style? When I think about it, there are two images that instantly come to mind. One is of Carolyn Bessette-Kennedy in a black turtleneck and cropped-kick flares. The other? Carrie Bradshaw in a scoop-neck top and Manolo's. Perhaps it's because these women—one real, the other fictional—were top of mind in the late '90s, a moment when the teenage me was figuring out her own way of dressing.
Yet they both possess a sense of fashion that is undeniably New York. Bessette-Kennedy may forever be the symbol of clean minimalism, in her Narciso Rodriguez bias-cut wedding gown, and Ms. Bradshaw may be best known for flouncing around in one ridiculously full skirt or another. But it's in the way they carry themselves that they are united. Both women look "put together," a trademark of dressing like a New Yorker. "I think there is a really polished version of New York style and then a much more downtown, sassy version that is also quite slick," the London-based Caroline Issa, chief executive and fashion director of the independent magazine Tank. "It's not a messy-cool attitude. It's considered."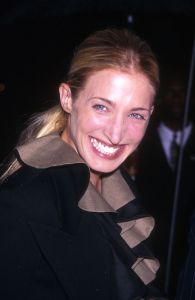 "I think New Yorkers have never looked so good," declares the New York-based, British-born stylist Emily Barnes, whose clients include artist and actress Jemima Kirke and singer Karen O. 
But what really makes New York style in 2015? New York Fashion Week, which begins September 10, serves not only to preview what clothes will land on the racks six months from now, but also as an anthropological study in the city's street style. Given that fashion's obsession with the '90s doesn't seem to be waning, expect to see women gliding through in slip dresses and turtlenecks—if the weather allows—but also midi skirts, sensible flats and plenty of navy. Vintage Levi's will also be out in full force, although worn with a sturdy midi-heel instead of sneakers. 
None of this surprises New York street style photographer Phil Oh, even if he is reluctant to admit it. "It seems a disservice to the diversity of the city to attempt a definition of New York style. What the fashion-conscious are wearing in Tribeca differs so wildly from Williamsburg, Fort Greene or Jamaica, Queens," says Mr. Oh, who has captured thousands of outfits since launching his blog, Street Peeper, in 2006. "However, I'll concede that it's true that New Yorkers tend to try, with varying degrees of success, to appear more polished than their European counterparts. It seems more of a virtue in Paris and London to look cool with the illusion of minimal effort. To be able to say, 'What, this old thing?'"
'I'll concede that it's true that New yorkers tend to try, with varying degrees of success, to appear more polished than their european counterparts.' –Street Style Photographer Phil Oh
So, how does New York stack up to the other fashion capitals? It's true that, in London, it's O.K. to be a magpie, to look perfectly imperfect. "I think Londoners are quite up for experimenting with color, print, pattern and texture whereas New Yorkers maybe a little less so," Ms. Issa observes. "New Yorkers prefer monochrome, or florals, or structure."
In Milan, there is an extravagant, colorful and ladylike elegance to the wild looks fashionable types pull off. Milan style can be summed up in the way street style star Anna Dello Russo dons a hat, or All the Pretty Birds blogger Tamu McPherson combines pink trousers with jewel-encrusted heels. And don't forget the Italian sun tan. Deep, dark tans reflect that old-money, jet set style Italians love. 
In Paris, it's more important to be cool and classic, whether you're wearing a Breton-stripe top with Chelsea boots or a Chanel bag. "Without generalizing too much, I would say that Parisians tend to have a more classic sensibility that they keep fresh through the use of beautiful accessories," says the designer Misha Nonoo, who was raised in London but has lived Paris and currently resides in New York.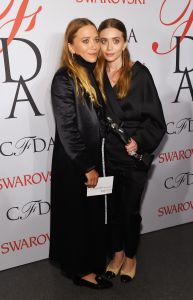 All that being said, connectivity has changed the way we consume fashion and in turn, the style stars with whom we identify. In the past, women were inspired by the clothes in magazines. Today, women are inspired by clothes they see on streets across the globe. "I think the Internet, and the access to worldwide street style has lessened a city's look. Now, there are simply style tribes," Ms. Issa says. "There are quirky, irreverent dressers in New York that will identify more with their London counterparts than an uptown Oscar de la Renta devotee. Perhaps the web has enabled style soul mates around the world to find each other more easily."
One could argue that the proliferation of imagery has led to the homogenization of street style. "What once felt very Tokyo, or definitively Paris, or quintessentially New York is so neatly curated into Tumblrs and hashtags that trends in personal style spread so quickly," Mr. Oh says. 
To be sure, it is not out of the ordinary to see a New York woman wearing a quintessentially Milan brand like MSGM, or for a Parisian to make New York-based label Altuzarra her uniform. Designers, too, do not necessarily identify with where they are based. Michael Kors may feel very New York, but there is a reason The Row feels comfortable enough to move its show to Paris this season. (Designers Ashley and Mary-Kate Olsen's refined garments work for a certain type of woman, not for a woman in a certain city.)  
Ms. Nonoo says her style has changed since moving to Manhattan six years ago. "I feel more casual," she says. "I mainly wear flat shoes during the day and even in the evenings at times. I also lead an extremely busy life in New York—as do most people!—and my style reflects that."