H&M and Balmain put to rest a pressing question with an ad campaign for their forthcoming collaboration: do supermodels ride the subway? According to these images, the answer is yes. And it turns out that they head underground dressed to the nines, with plenty of sparkle and some big belts to boot.
Starring Gigi Hadid, Kendall Jenner and Jourdan Dunn, alongside male models Hao Yun Xiang and Dudley O'Shaughnessy, these campaign images really glamorize the use of public transportation. Esteemed photographer Mario Sorrenti captured the photos, which will be splashed across billboards and featured in glossy magazine ads.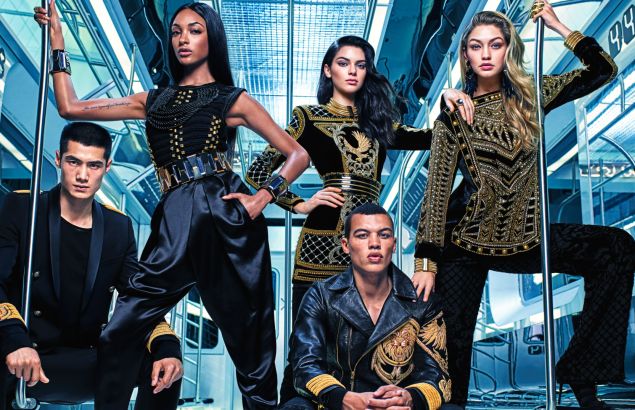 We'd also like to point out that Mr. O'Shaughnessy looks eerily like Balmain's creative director, Olivier Rousteing (pictured below). There's something about those chiseled cheekbones and pursed lips that mimic those of the 28-year-old French designer.
"When you love the Balmain world, you love the models that are part of it, too. Kendall, Gigi and Jourdan are my friends, and they are the perfect choice to star in the Balmain x H&M campaign," Mr. Rousteing explained in a press release. Mr. Rousteing has famously dubbed his closest female friends (all of whom are very much in the public eye) as part of the Balmain Army. These women are both strong and have a smart-yet-sexy sartorial sense, which lends itself well to the Balmain aesthetic.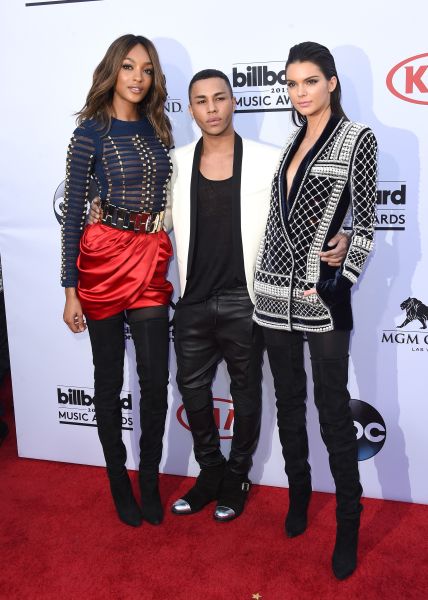 All three of the female stars in the campaign have already sported designs from this collaboration on the red carpet; most recently Ms. Hadid wore one of the beaded dresses from the collection to the Harper's Bazaar Icons soirée. Those who didn't receive Mr. Rousteing's exclusive invite to join the Balmain Army can shop the collection on November 5, both online and in H&M stores.