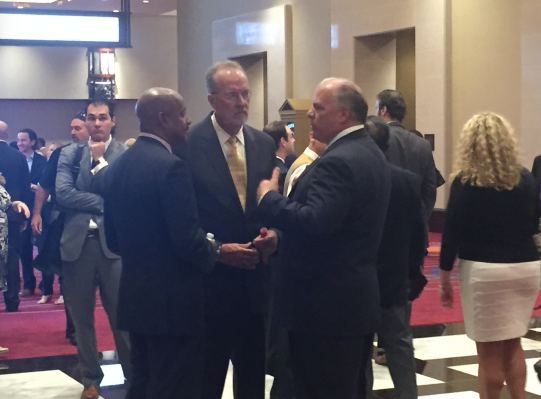 ATLANTIC CITY – Following Governor Chris Christie's performance at the second GOP presidential debate Wednesday night, Senate President Steve Sweeney (D-3) caught up with PolitickerNJ in Atlantic City to offer his thoughts on the Governor's comments regarding the legislature. Christie took the opportunity on the debate stage to bill himself as a long-time outlier and adversary against the Democratic state Senate.
"I'm a Republican in New Jersey. I wake up every morning as an outsider," said Christie during the debate. "I've vetoed 400 bills from a crazy, liberal Democratic Legislature."
Speaking from Harrah's in Atlantic City, where he and other insiders were in attendance for the casino's new convention space's opening ceremony, Sweeney said that he trusts the public will remember what he described as the Democrats' strong record on the state's tax structure when looking back on the governor's record of parting ways with the Senate.
"Well, he wants to claim that he cut taxes a billion dollars with the unemployment tax," said Sweeney. "It was the Democratic legislature in a bipartisan bill. It was my bill, with Tom Kean — and John Corzine signed, which brought a billion-dollar tax cut. His administration had nothing to do with it. So, the Democrat legislature that he can't work with cut business taxes $540 million."
Sweeney went on to say that he sees Christie's aggressive posture as an attempt to garner applause with a selective portrayal of New Jersey's economic development efforts.
"You know, he's the governor and you've got to take the bad with the good," he added. "When things are going bad, you've got to accept the criticism."