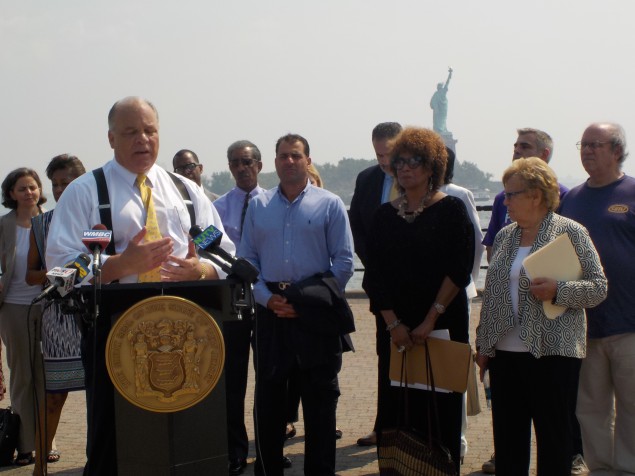 Senate President Sweeney was joined by some of New Jersey's most notable Democratic state senators in Jersey City's Liberty State Park today to call on Governor Chris Christie to sign the Democracy Act (S-50/A-4613).
The Act's provisions call for a number of changes to voting laws that, according to Sweeney and his coalition of supporters, would ensure that all "eligible voters are able to participate in the democratic process."
Senate Majority Leader Loretta Weinberg (D-37), Senator Teresa Ruiz (D-29), Senator Nia Gill (D-34), Senator Paul Sarlo (D-36), Senator Ronald Rice (D-28) and Senator Sandra Cunningham (D-31) were all present. One notable absence was Assembly Speaker Vincent Prieto though he has been the most vocal member of the Assembly regarding the legislation.
"There are no political differences between the Speaker and I on this issue," Sweeney told PolitickerNJ. "He is a big supporter but this was a senate press conference. Out of respect for him, he was invited."
Though Sweeney claims there was no political motive behind today's location—the very tip of Liberty State Park where the Statue of Liberty stands tall at what seems like an arm's length—Jersey City is the home of one of his biggest potential adversaries when looking at the 2017 gubernatorial election: Mayor Steven Fulop.
"We chose this location for the meaning," said Sweeney. "What better place could there be?"
Though the conference was held in his town, Fulop did not attend. While Fulop has not confirmed his official entry into the gubernatorial race, his candidacy has been widely discussed as a foil to Sweeney's in the Democratic Party. North Jersey vs. South Jersey; veteran vs. labor affiliated; ivy league educated vs. no college degree.
While the gubernatorial election is still two years away, political lines are drawn. Sweeney is widely rumored to have support in Essex County as he pursues the position of governor—something demonstrated by the presence of Ruiz at today's event—but the South Jersey powerhouse's courtship of North Jersey has been lethargic. A potential reason for Prieto's absence in his home county is his allegiance to fellow North Jersey politician Fulop. Today's event could be perceived as Sweeney attempting to expand his competitiveness in the north.
Other groups present to support Governor Christie's signing of the Democracy Act included the ACLU, Working Families, the NAACP and the SEIU.
If the Democracy Act is signed by the governor, it will give voters the opportunity to vote early in person, provide communities with a greater than ten percent language population with registration forms in that language and register people to vote when they get their drivers licenses, among other provisions.
"We must continue to advance inclusive policies for our residents and to expand access to voting in the democratic process," said Senator Gill.
According to Sweeney, if the act is signed by the governor, it should take effect for the next election. If it is not passed, Sweeney said that his group "will go to the people" and potentially include the question on the ballot in 2016.
According to a Rutgers-Eagleton poll, there is over a two-thirds support among N.J. voters in support of the provisions of the Democracy Act.