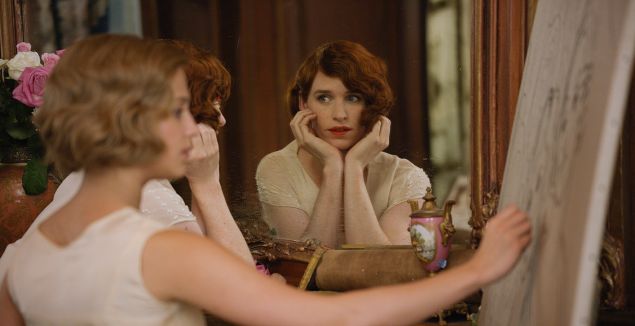 Men with fuchsia hair in sequin heels pushing their way in to see Eddie Redmayne in a red dress in The Danish Girl. Thousands of fans hovering under umbrellas to get a glimpse of Johnny Depp. Lines of eager patrons clutching wet tickets, ready to sit through anything and willing to stay in their seats until the last projector stops running. Exhausted, bleary-eyed critics watching movies from 8 a.m to midnight with no time to eat or sleep, existing on muffins and pizza and exorbitantly overpriced Häagen-Dazs bars. You know you're gobsmacked sideways to be here, but you wouldn't miss it for the world. So if it's September in the rain and you're running out of eye drops, it must be a dream, or Toronto, or both.
The Toronto International Film Festival (a.k.a. TIFF) is celebrating its 40th year with an over-stuffed program of 399 films, including 298 features and 132 world premieres from 71 countries. Matt Damon is here, George Clooney is all over the place, not as an actor but as a producer. So are Susan Sarandon, Cate Blanchett, Helen Mirren and Sandra Bullock. Robert Redford is a no-show, but yesterday on my way to the pharmacy half a block from my hotel to buy NoDoz reinforcements to get me through five movies a day, I was almost trampled by a screaming mob begging for selfies with Jake Gyllenhaal.
For 11 days, the planet stops spinning, every actor is Brando, every fledgling director is the next Spielberg, and front-page headlines about Hillary's emails and Canadian cabinet ministers under house arrest are replaced by rumors of celebrity spottings, while obscene amounts of space are devoted to photo-ops of clickbait like Elle Fanning posing in the middle of the street in a wet dress without a bra. In this glam parade of silicone breasts, Botoxed lips and liposuctioned midriffs, Yo-Yo

Check out the rest of the Fall Arts Preview here.
Ma is saluting TIFF in person with a cello concert. The streets are blocked off into pedestrian malls dominated by rock and roll bands, creating massive human gridlock. Museums, libraries and shop windows are devoted to movie themes. Lives are risked trying to get into a special screening of Alfred Hitchcock's Vertigo, introduced by Kim Novak and featuring a live performance of Bernard Herrmann's famous score by the Toronto Symphony Orchestra. The place is a zoo, dominated by total chaos, with 75 red carpets at 28 theaters throughout the city showing 30,943 feet of film.
What a change from 1976, when TIFF was started by three film buffs who borrowed $125,000 on their American Express cards and greased some palms at the Carlton Hotel in Cannes to get the best table on the terrace. From there, they launched what they originally called the Festival of Festivals. The first year they showed 80 movies, with no help from the Hollywood studios, and the only celebrity who came was Jeanne Moreau. The second year, they lured the Fonz, Henry Winkler. Forty years later, it's morphed into the biggest film festival in the world and every filmmaker from Sri Lanka to Sunset Boulevard fights to get in. I remember my first year, when everyone stayed in the same hotel and Clint Eastwood came alone and held court in the bar until the sun came up. Everything was smaller, it was easier to meet people, programmers and critics rubbed elbows with stars and directors and it was like a cult. Now the stars arrive with entourages, encircled by security guards, press agents and people with headsets who look like the KGB.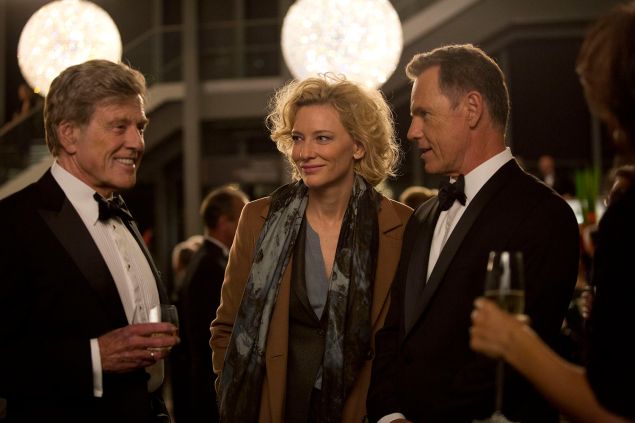 One thing has not changed: it's still a festival that prides itself on presenting something for every taste. You still get cartoons and popcorn movies like The Martian. But TIFF is also a gauge that measures what the next year will bring. Expect an overdose of hot-button topics like sex reassignment surgery, terrorism, bullying, the horrors of home invasions, incest, the plight of immigrants, pregnant teenagers, people falling in love during the financial crisis in Greece and soldiers suffering from post-traumatic stress disorder. Gay themes are so yesterday now that coming out is no longer taboo.
"EVERYBODY'S GAY!" shouts a Toronto newspaper headline. But like it or not, two popular subjects you can expect in the days ahead are same-sex marriages and gender fluidity. One audience favorite is Freeheld, adapted by Ron Nyswaner, the openly gay Oscar winner who wrote Philadelphia, from the true story of closeted lesbian New Jersey cop Laurel Hester (another brave, poignant performance by Julianne Moore) and her butch partner, sexy mechanic Stacie Andree (Ellen Page). Laurel's new lifestyle alienates her fellow cops and leaves her boyfriend (Michael Shannon) feeling betrayed, but as time passes and old wounds heal, Laurel is diagnosed with cancer and the women are forced to face the reality of both death and what comes after. The movie follows Laurel's desperate efforts to transfer her policemen's union pension benefits to Stacie with the aid of a compassionate gay rights activist (a surprising turn by Steve Carell) who helps them challenge the prejudice of homophobic elected county officials determined to uphold "community standards." Ellen Page, who has come a long way since Juno, says reading about this news story is what inspired her to come out of the closet herself and become a vociferous fighter for equal rights.
***
The most controversial unveiling at TIFF is the gorgeous, heartbreaking British film The Danish Girl, starring the spectacular Eddie Redmayne as 1920s transgender pioneer Lili Elbe, who was a talented landscape artist named Einar Wegener in Copenhagen, happily married to a loyal and devoted but less talented portrait painter named Gerda (Alicia Vikander). Slowly, when Einar first begins to realize his female side after trying on Gerda's negligees, he takes the form of a shy lady cousin named Lili, polishing female postures, makeup and fashions, and perfecting the gestures and feelings of a woman while posing for exotic nudes that make his wife a celebrity in her own right. When Einar bites the bullet and makes the life-changing decision to undergo the experimental surgeries in Dresden that were unheard of at the time, Gerda stays by his side until his untimely death. Meticulously directed by Oscar winner Tom Hooper (The King's Speech), this amazing film, based on Lili's personal diaries published in 1933, is a medical-research thriller and unconventional heterosexual love story compromised by God and nature that will unquestionably register strongly at the American box office when it opens in November and rise to the top of the predictions in the forthcoming awards season.
In About Ray, three generations of New York women in a family without male guidance clash, embrace and learn to transform each other when the youngest, a trans-teen girl who lives like a boy and calls herself Ray (Elle Fanning) must convince her mother Maggie (Naomi Watts) and lesbian grandmother Dolly (Susan Sarandon, in a similar role to the one played by Lily Tomlin in Grandma, but more likeable) to sign a consent form granting permission for a sex change. Unfortunately, the law also requires the signature of the birth father, and Maggie can't remember if she was impregnated by Craig (Tate Donovan, now married in the suburbs with three children of his own) or his brother Matthew (Sam Trammell). After an obstacle course paved with speed bumps both humorous and emotional, Ray comes to accept two fathers instead of one, and the problems they have coming to grips with a daughter who is turning into a son before they even get to know her or him has daunting consequences. The script shares the details of preparation, and explains the stages of testosterone therapy and breast removal, but there's nothing creepy or repulsive about the facts outlined in About Ray. The transitions Ray faces are obvious, but the movie is more about the effects her choices have on the other people in her life than it is about Ray. The witty script and perceptive direction by Gaby Dellal are aided enormously by three generations of actresses with depth and nuance, each playing a character with an arc. But it is Ms. Sarandon, as the grandmother, who provides the least understanding at first ("To me, it's mutilation!"), then grows into a different kind of comfort zone with the knowledge that in sex reassignments, the person you love will always remain the same. The only thing that changes is the details. It's a wise and illuminating take on a difficult, uneasy subject.
***
With a surfeit of wares to choose from, it should come as no surprise that the quality is higher this year than usual, but I've attended TIFF before when the glut is not worth the eye strain. A veteran of these clambakes for more years than I care to admit, I learned years ago to sift quickly through the flotsam that floods the press room every morning. A few words to the rookies: run from anything about "a farming family struggling to eke out a living in northeast Scotland" or featuring a plot described as "a middle-aged married man finds an outlet in online gambling." The good stuff is always diluted with the work of amateurs who borrow their ideas from classics from the past, thinking modern movie buffs are all too young to notice. So I passed on something from Belgium called Black, described as "a 15-year-old girl in a black gang in Brussels must choose between loyalty and love when she falls for a Moroccan boy from a rival gang." A Belgian West Side Story, anyone? And how about a thing called Wedding Doll from Israel: "Fixated on romantic fantasies, a kindly and strong-willed girl with a mild learning disability embarks on a relationship—much to the concern of her protective mother." Light in the Piazza in downtown Jerusalem?
Not to worry. There's so much to see and talk about this year that it revives my faith in a banner season ahead. Sure, there's still a lot of fat to trim, but for every bloated waste of time crammed with digital tricks and CGI effects, there's a secret gem that fires the imagination and makes you actually feel something. Most of these are from England. One of the best films I've seen is 45 Years, a masterpiece of truthful observance and elegant understatement starring Charlotte Rampling and Tom Courtenay as Kate and Geoffrey Mercer, an elderly retired couple aging with dignity and blessed with contentment in their autumn years. During the week their friends and neighbors in their rural Norfolk village are planning a celebration for their 45th wedding anniversary, a letter arrives from Switzerland informing Geoffrey they've found the frozen remains of an old girlfriend who fell through a fissure in the ice while on a vacation, decades earlier. The subject of that tragic accident has never been discussed in all the years they've been married, but when memories of a girl he almost married begin to haunt her husband after so many decades, the usually reserved and unshakable Kate grows troubled, resentful and insecure. Little things—an old Jerome Kern song, a faded recollection of how they met, Geoffrey's reliance on Kate to remind him when to take his prescriptions—take on exaggerated importance. They fail to share their thoughts. Their routine is disrupted. What remains of their lovemaking diminishes. They both start smoking again. It's slow, but reassuring in the careful, moment by moment behavioral choices made by writer-director Andrew Haigh (Weekend) with the aid of two seasoned pros who prove that the worst part of getting decrepit and old is losing purpose—something that will never happen to the alluring Ms. Rampling or the still foxy Mr. Courtenay, even after all these years.
The same goes for the great Maggie Smith, who gives a spectacular performance in Nicholas Hytner's The Lady in the Van. This is a bizarre and fascinating true story of what happened one morning in London when the brilliant playwright Alan Bennett peered out of his upstairs window to see a battered old van parked in his driveway occupied by a strange old bag lady of curious origins who called herself Miss Shepherd. She remained there, eccentric, insulting and implacable, for the next 15 years. The story of their peculiar relationship was first published as a short novel, then turned into a hit play in the West End, and now finds itself embellished in an unusual but highly entertaining film that fits Dame Maggie like a lacy Victorian glove with missing fingers. An ambulance driver in the Blitz blackouts, a nun, a virtuoso pianist and a certified oddball who once did some time in a mental asylum, she's cantankerous to the end, comparing herself at the grave site to Bernadette of Lourdes. Nobody plays the dimmest bulb in the lamp better than Maggie Smith, and she's ably supported by Alex Jennings as not one but two Alan Bennetts—one who lives at 23 Gloucester Crescent and rides a bicycle to the National Theatre to act in his own one-man monologues, the other an alter-ego who gets it all down for posterity. This is the kind of total delight as rare in movies today as a cell phone would have been to Anne Boleyn.
***
The list of 30 documentaries on the 2015 schedule is highlighted by Amazing Grace, the eagerly anticipated concert footage directed by the late Sydney Pollack of Aretha Franklin, who won no friends here by going to court to legally cancel the premiere because, she said, TIFF neglected to ask her permission. But fans of non-fiction cinema are still raving about new full-length movies about Yo-Yo Ma, the Rolling Stones, Egypt's Nasser Hussain, inmates of Guantanamo, Muslim women in Haiti, the tango, Janis Joplin, the remarkable behind-the-scenes footage of the Bolshoi Ballet's attempts to recover since the brutal 2013 acid attack on director Sergei Filin and the closeted life of legendary gay Hollywood costume designer Orry-Kelly. Biographies are the rage. Ethan Hawke, an actor almost as overrated and over-exposed as James Franco, is hopelessly miscast as the handsome, heroin-addicted, jazz-singing trumpet player Chet Baker in Born to be Blue (a song written and made famous by Mel Tormé, not Chet Baker), but Bryan Cranston is riveting and powerful as blacklisted screenwriter Dalton Trumbo in the aptly titled Trumbo. In Legend, rising British star Tom Hardy is mesmerizing in the double roles of London's underworld gangsters, the identical twin Kray Brothers.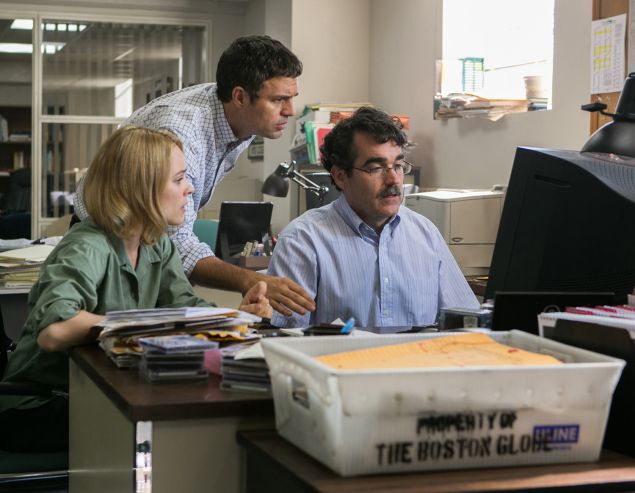 Robert Redford looks nothing like Dan Rather, but with passion and decency he makes one of television's journalism heroes as real as breathing. The movie is Truth, brilliantly written and helmed by James Vanderbilt, who makes a stunning directorial debut collating all the facts in the tragic story of how Rather and his two-fisted team of reporters and researchers on 60 Minutes, spearheaded by ace producer Mary Mapes (a devastating Cate Blanchett), steamrolled a great story on the air—a stop-the-presses exposé of how a young, privileged George W. Bush paid off people of influence in the 1970s to get him a safe job in the Air National Guard that would save him from combat duty in Vietnam. It should have been another triumph for the crown prince of network news, but Mapes and her crackerjack team failed to check Bush's secret military documents for accuracy. Instead of wrecking Bush's chances for a second term in the White House, the scandal backfired. The media came down on Rather like an atomic missile, and the resulting scandal forced him to resign after 40 years at CBS and wrecked the careers of his entire staff. Coming on the heels of the career-derailing saga of Brian Williams, the subject couldn't be more relevant, but there's more to it than retribution for a controversial story.
Based on Mapes' 2005 memoir, Truth and Duty, the narrative covers everything from dirty politics to the fickle nature of television executives who use the network news as a source of generating income. One of the finest films about journalism since All the President's Men, with a pluperfect cast including Elisabeth Moss, Topher Grace, Dennis Quaid, Bruce Greenwood, Stacy Keach and Dermot Mulroney, I predict Truth will be one of the most controversial films of the year. Robert Redford skipped TIFF but sent in his place none other than Dan Rather himself, who answered honestly and forcefully every question posed by the press. He naively thought CBS would protect him and stand by him. Instead, they forced him to humiliate himself, apologize on the air and then resign. He still genuinely feels journalism is not a science, that even the most brilliant reporters are only human, and that when he broadcast the story that ended his 40-year career with CBS News on 60 Minutes the night of September 8, 2004, he was guilty of nothing more than believing too deeply in his own version of…Truth. Mark it in ink. This is one you must not miss.
***
Another firestorm about the power of journalism is Spotlight, the true story about an exemplary team at the Boston Globe that courageously researched and revealed the Catholic Church cover-up of child-molesting pedophiles among the Massachusetts priesthood in 2001. The four-member investigative team that tirelessly devoted their lives to a scandal that won the Globe a Pulitzer is played by Michael Keaton, Mark Ruffalo, Rachel McAdams and Brian d'Arcy James. They are flawless. Much more later on this magnificent film by Tom McCarthy when it opens in the U.S. November 6. There's more, but you get the picture.
For now, it's off to another cocktail party where hundreds of people nobody ever heard of will fight over little squares of curried chicken on sticks and take-home party favors of breath fresheners called "Embarrass-mints" and try to get through the rest of the week in one piece. At TIFF, survival kits are optional.