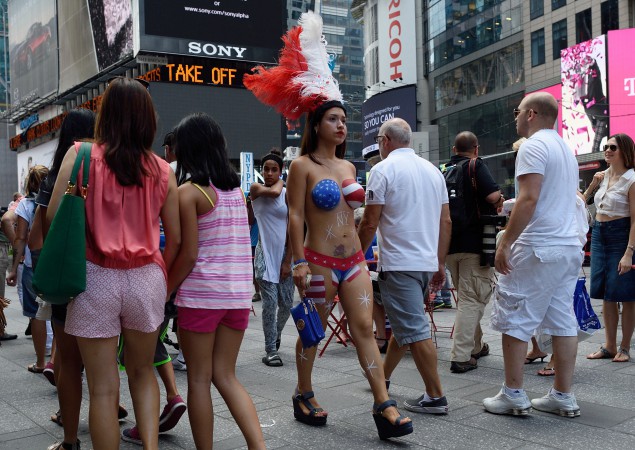 The task force assembled to deal with naked ladies and costumed characters asking for cash in Times Square has reached a verdict—sort of.
A day before the task force is due to report to Mayor Bill de Blasio, members said they'd agreed to seek regulations on the time, place and manner in which people—from desnudas to CD hawkers—are able to solicit, through legislation giving the Department of Transportation rule-making authority over pedestrian plazas and through a City Council land-use overhaul of Times Square.
"The devil is in the details, on both time, place and manner restrictions, as well as the DOT rule-making authority and what they are going to consider," Councilman Corey Johnson, who represents part of Times Square, told reporters. "It's still not fully baked yet."
The group has also agreed there ought to be a city agency with a special unit devoted to enforcing vendor rules in the area, though they haven't determined which, in addition to the NYPD's new 107-person Times Square unit.
The consensus reached today is along the same lines as a proposal, dubbed Times Square Commons, brought forward by the Times Square Alliance, Mr. Johnson, Councilman Dan Garodnick, and Manhattan Borough President Gale Brewer—who also strongly opposed the now-scuttled idea from Mr. de Blasio to rip up the area's pedestrian plazas. The Alliance proposal called for allowing costume characters and topless women to pose for photos in some areas, while leaving other areas open for people walking or engaging in other activities.
Under the First Amendment's guarantee of freedom of expression (and the state's laws on nudity), the city cannot simply outlaw people dressed as Elmo, or with their bare breasts painted, or asking for money. But the law does allow for restrictions on the "time, place and manner" of commercial enterprises.
"Exactly where they'll take place and exactly what areas will be restricted for what, I think is something we're gonna work out in the months to come, working with our colleagues in the City Council and working with the Times Square community," City Planning Chairman Carl Weisbrod, who chairs the task force along with Police Commissioner Bill Bratton, said.
Mr. Johnson and Mr. Garodnick said the plan had two components: giving DOT rule-making power for all plazas, and having the City Council undertake Times Square specific reforms through the Uniform Land Use Review Procedure, or ULURP—a lengthy process that involves feedback from community boards, the borough president, and the public.
"DOT does not today have the ability to create special rules as to those plazas, and it's not unique to Times Square, it's all around the city," Mr. Garodnick said. "One unique Council action will be able to give DOT the rule-making authority to do that. Two, there's a recognition that Times Square is unique and it requires its own special set of regulations, and that is what we will put through a full ULURP and allow for there to be a complete process and consideration of the various things that we have proposed."
Mr. Weisbord and Mr. Bratton stressed that the problems of today's Times Square were nothing like the old—and in fact were a result of the city's success in turning the once-seedy streets into a family friendly tourist destination. While tourists love it, it's turned into a place most New Yorkers actually avoid—and the Observer asked whether the changes designed to quell the annoyances of the area might make it a place native New Yorkers no longer dread going.
"All of us love going to the theater, and anyone who has guests who come to their home in New York, the first thing they do is go to Times Square, and you have to go with them, so you know, we go there a lot," Ms. Brewer told the Observer, saying it might be more attractive with "less hustling."
Mr. Johnson was less diplomatic. "Most New Yorkers are aggressive walkers. You don't like being caught in crowds and you like maneuvering around people," he said. "Times Square is not an easy place to do that. So unless you're going to the theater or you're working there, most New Yorkers avoid Times Square."
"It's a cool area, though," Ms. Brewer insisted. "It's a cool area."
The officials repeatedly stressed that the guidelines were aimed not just at the naked women, but at all the aspects of Times Square that cause "chaos"—like people selling hop-on hop-off bus tickets or comedy show tickets, or the ranting Elmos that garnered a great deal of media attention a year ago. But it was bare breasts—repeatedly featured and derided on the cover of the Daily News—and not Elmos that spurred Mr. de Blasio to form his task force. Mr. Johnson said he wasn't sure why that was.
"The borough president, Councilman Garodnick and myself have been asking fo this type of attention to Times Square for a long time. Way before," he said. "So we are grateful that the Daily News putting this on the front page four days in a row was the catalyst that got everyone together to start talking about it."
So was it the media, then, who needed topless women to be involved before they started to care about the chaos in Times Square?
"I am gay and I'm not offended by topless women," Mr. Johnson answered. "And that's not because I'm gay."
The ideas will be presented to Mr. de Blasio in a memo tomorrow, task force members said.