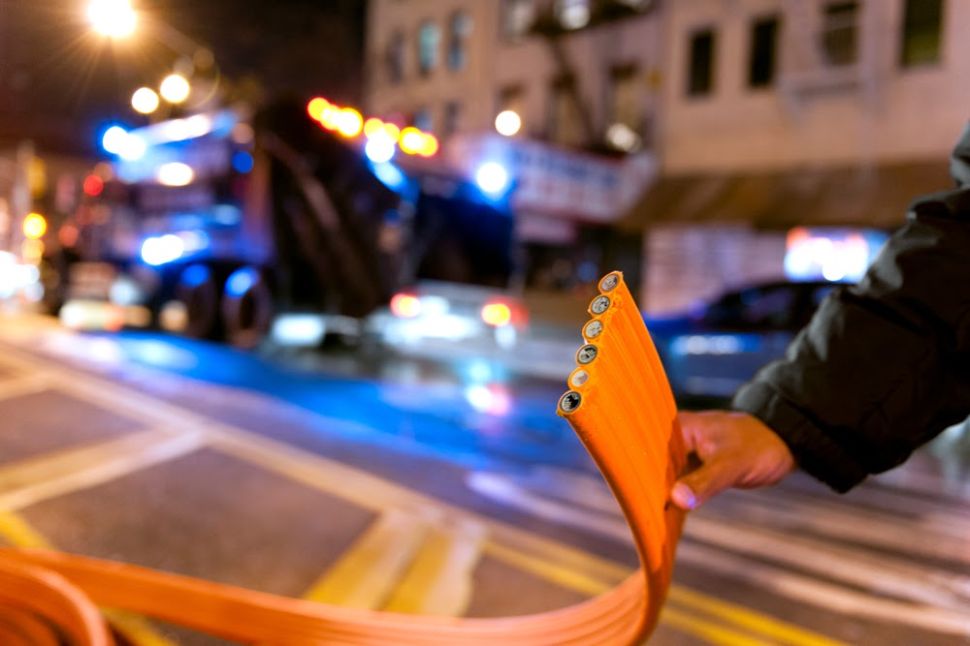 Russ Hamm started his career as a music producer. There was always an urgent need in that business, he said during an interview at the office of his company, Rainbow Broadband, to get today's work in one city to the next city. "I can remember seeing the chairman of Sony holding a phone up to a speaker to play music for people in Tokyo," he said.
Mr. Hamm came to see that there was a connectivity problem in media and saw an opportunity. Now, he's the CEO of Rainbow Broadband, a company that uses microwave technology to transmit the Internet above our heads. Internet access is usually thought of as cables in the ground, DSL, copper or (ever so slowly here) fiber optics. Microwaves offer an attractive option for buildings that have struggled to get a telecom to bring them commercial-grade service.
In fact, Rainbow is providing service through the sky to well known tech and media companies, like Manhattan's Guardian and Twitter and Brooklyn's Vice and Kickstarter.
A frequent theme with members of the tech community in New York City is frustration with broadband access. Multiple sources Commercial Observer spoke to for this story referred to parts of Brooklyn, for example, as a broadband desert, but even parts of Manhattan are underserved. And average speeds here are lamentable compared to other major cities globally.
As TAMI tenants make up a larger part of the mix in commercial buildings, it's becoming increasingly important for landlords to bring multiple providers into their buildings, so that tenants have options and a backup source of access. In IT terminology, that's called redundancy. For businesses that exist entirely online, losing access amounts to shutting down the business. It's not an option.
One way to guarantee a building stays connected? Make sure it has more than one path to the Internet.
Rudin Management realized this early on…