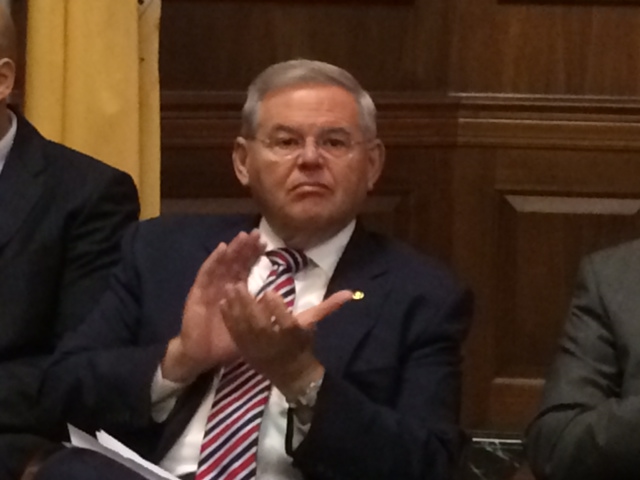 In honor of Hispanic Heritage Month, PolitickerNJ this week complied a list of the most powerful Latinos in N.J. politics. The list ranges from federal officials, to councilmembers, to lobbyists and everyone in between. See who made the list:
Bob Menendez. As the U.S. Senator, Menendez holds a significant amount of clout in New Jersey. A former Union City mayor, assemblyman, and congressman, Menendez has been on the frontlines of N.J.'s political world since the 1980s. Now, the Senator is under indictment on bribery charges but he does not seem to be letting that slow him down.
Vincent Prieto. Assembly Speaker Vincent Prieto is the ranking member of the New Jersey General Assembly. He is also the chair of the Hudson County Democratic Organization. Hudson County is known for being a democratic stronghold.

Paterson Mayor Jose "Joey" Torres.

Jose 'Joey' Torres. Torres was the mayor of Paterson from 2002 to 2010, making him the first Latino mayor in New Jersey's third largest city. In 2010, he was defeated, but won again after running as an independent Democrat in 2014. He enjoys close ties to fellow big city mayors Ras Baraka of Newark and Steven Fulop of Jersey City.

Teresa Ruiz. State Senator Ruiz is considered a rising star in the Democratic Party in New Jersey. Currently, she serves in district 29 which includes Newark, the state's biggest city. She is expected to advance in her career with rumors swirling she could be the next senate president or possibly even the next Lieutenant Governor.
Albio Sires. Congressman Sires (D-8) has deep ties in the Democratic stronghold of Hudson County. A former West New York Mayor and former Speaker of the General Assembly, he is strongly associated with U.S. Senator Bob Menendez.
Wilda Diaz. The mayor of Perth Amboy is the only currently serving Latina mayor in New Jersey and doesn't mind bucking the Middlesex County Democratic Committee when she needs to get her own way.
Nilsa Cruz-Perez. A former Assemblywoman, state Senator Cruz-Perez was elected into office to fill the district 5 seat that was vacated by N.J. power player state Senator Donald Norcross.
Idida Rodriguez. The veteran Democratic Party insider leads 1868 with Leroy Jones (chairman of the Essex County Democratic Party). She is close to Paterson Mayor Jose "Joey" Torres.

Junior Maldonado.

Junior Maldonado. The Hudson County Freeholder is allied with Jersey City Mayor Steven Fulop. With Fulop likely pursuing a gubernatorial bid in 2017, Maldonado is well positioned.

Luis Quintana. The Newark Councilman-at-large served as Newark's acting mayor in 2013 and 2014 after Cory Booker was elected to the U.S. Senate. He was the first Latino mayor of Newark.
Wilfredo Caraballo. Caraballo is a former assemblyman who is currently a tenured professor at Seton Hall University School of Law in Newark. As such he has regularly had contact – and shaped the views of – with New Jersey's rising political figures.
Lizette Delgado-Polanco. Delgado Polanco works as the vice-chair of the Democratic State Committee.
Alex Blanco. The Passaic mayor is the first elected and second serving Dominican-American mayor in the United States.
Jose Arango. The Hudson County Republican chairman leads the party in a county where republicans have little pull. Hudson is known for its Democratic strength.

Julie Diaz.

Julie Diaz. The former Obama for America organizer and former chief of staff to Assemblywoman Annette Quijano now works as NJ Political Director at SEIU Local 32BJ.

Esther Suarez. Suarez was just sworn into her position as Hudson County Prosecutor earlier this month. She is the first woman and the first Hispanic to hold the position.
Rafael Fajardo. Though Fajardo no longer serves on the Elizabeth Board of Education, he is still a strong behind-the-scenes player there. The district is known to be contentious and Fajardo is known for his disagreements with state Senator Ray Lesniak.
Faustino Fernandez-Vina. Justice Fernandez-Vina was nominated to the Supreme Court by Governor Chris Christie in September 2013. He is the only Latino currently serving on the state Supreme Court.
Felix Roque. The embattled West New York mayor is currently facing indictment on charges that he accepted upwards of $250,000 in bribes. Roque has faced indictment before over hacking allegations. Roque is vocal about his innocence and assures voters that he will not be leaving his position any time soon.
Nellie Pou. State Senator Pou represents the 35th legislative district. Before her election to the senate in 2013, she was an assemblywoman for the district. Pou was the first woman and the first Hispanic to represent LD35.
Ruben Bermudez. The mayor of Vineland took office in 2012. In 2014, a petition to remove Bermudez from his position was launched. The petition was unsuccessful.
Gabriela Mosquera. The assemblywoman represents Camden and Gloucester Counties in the 4th legislative district.

Milly Silva.

Milly Silva. Silva is the executive vice president of SEIU 1199. She helped the powerful labor group (which represents health care workers) take on for-profit health care. She was Barbara Buono's running mate in the 2013 gubernatorial race.

Annette Quijano. The Assemblywoman from the 20th District became the senior assembly person serving the district with the retirement from the legislature of Joe Cryan.
Julio Marenco. Marenco is a North Bergen Commissioner. He had Mayor Nick Sacco's backing to fill the position when it was vacated by Theresa Ferraro.
Wendy Martinez. A state-wide Latino operative, Martinez is a founder of LADA. Based in Bergen, she helped ensure the Latino vote for state Senator Bob Gordon and County Executive James Tedesco. She is also affiliated with LUPE, an organization to empower Latinas in N.J.
Esther Salas. Salas is a United States District Judge for the District of New Jersey. Appointed by Barack Obama, Salas is the first Hispanic woman to serve as a U.S. magistrate judge in New Jersey. She is also the first to serve as a district judge in N.J.
Anibal Ramos. Ramos is a North Ward councilman in Newark. In 2014, Councilman Ramos founded the Anibal Ramos Jr. Civic Association, a non-profit organization that provides scholarships to help Newark students pay for high school and college.

Assemblywoman Maria Rodriguez-Gregg.

Maria Rodriguez-Gregg. Though Assemblywoman Rodriguez-Gregg is a relative newcomer—she assumed office in 2014—she is a rising star for the Republican Party. She is based in Burlington County's 8th District.

Camelia Valdes. When Valdes was appointed by Corzine to be the Passaic County Prosecutor in 2009 she became the first Latina county prosecutor in New Jersey.
Carlos Medina. The chairman of NJ Hispanic Chamber of Commerce is rumored to be a future contender for Lieutenant Governor if current Lieutenant Governor Kim Guadagno decides to make a gubernatorial run in 2017.
Rolando Bobadilla. The Essex County freeholder was first appointed to his position in 2011 to fill an unexpired term. Since entering office, he has been elected twice.
Analilia Mejia. Mejia is the Executive Director of the New Jersey Working Families Alliance, a statewide group that helps protect and lobby for the interests of working families statewide.
Martin Perez. In addition to being a partner at a New Brunswick law firm, Perez served as President of the Latino Leadership Alliance for about 16 years. Close to Gov. Chris Christie, who backed him to serve on the Rutgers Board of Governors.
Bernice Toledo. Toledo is the Passaic County Surrogate, a position to which she was elected in 2011.
Jose Sosa. Though former Assemblyman Sosa has not been an elected official since 1994, he has managed to stay politically relevant in the state. The Sosa Group, which he started in 2009, primarily consults on government and community affairs.
Arlene Quinones-Perez. The Hunterdon County Democratic Committee chairwoman is a partner at the law firm DeCotiis, FitzPatrick and Cole, based in Teaneck. She is also the Hispanic Bar Association of New Jersey secretary.
Hugo Cabrera. Cabrera is a North Bergen Commissioner. He currently serves as the secretary for the North Bergen Board of Education.
Ron Rios. Rios is the Director of the Middlesex County Board of Chosen Freeholders.
Domingo 'Alex' Mendez. The Paterson councilman-at-large is the current council vice president.
Ariagna Perella. The chair of the Newark Board of Education is the first Latina chair in Newark and also first female Dominican chair in N.J.

Fernando Alonso.

Fernando Alonso. Alonso was a 2013 Republican state senate candidate in LD38. Though he lost, Alonso continues to network on behalf of other Latino republican candidates in Bergen as the Bergen County Republican Hispanic Association chairman.

Ritzy Morales. Morales is a key player for Congressman Bill Pascrell in Paterson and Passaic.
Patricia Campos-Medina. The Latina operative is key to tapping into Latino voting blocks throughout the state. She is tapped into labor groups and worked on Corzine's 2009 reelection campaign and Obama's 2008 campaign.
Claribel Azcona-Barber. She is a key advisor to the Mayor of New Brunswick, James Cahill. She is rumored to be the choice to replace Blanquita Valenti in Middlesex Freeholder Board when Valenti retires.
Giancarlo Tello. Tello is an advocate for undocumented students in New Jersey. His efforts helped in the passage of a law that allows undocumented New Jersey's undocumented to pay in-state tuition at state universities
Carmelo Garcia. Though Assemblyman Garcia is on his way out he is looking to stay relevant. Garcia recently introduced transit bills he hopes will make ridership for N.J. commuters a bit easier. Garcia also is running for a seat on Hoboken's council to represent Ward 6.
Ruben Ramos. Ramos is a former NJ Assemblyman. After a dispute lead State Senator Brian Stack to no longer enlist his services, Ramos ran for Hoboken mayor in 2013. He lost to current Mayor Dawn Zimmer but is now pursuing a seat to represent Hoboken's Ward 4.
Pedro Rodriguez. A deputy mayor of Paterson, Rodriguez works closely with Joey Torres.
Maritza Davila. The at-large councilwoman from Paterson has close ties to Pascrell and Torres.
Francis Blanco. Blanco is the chief of staff to Trenton Mayor Eric Jackson.