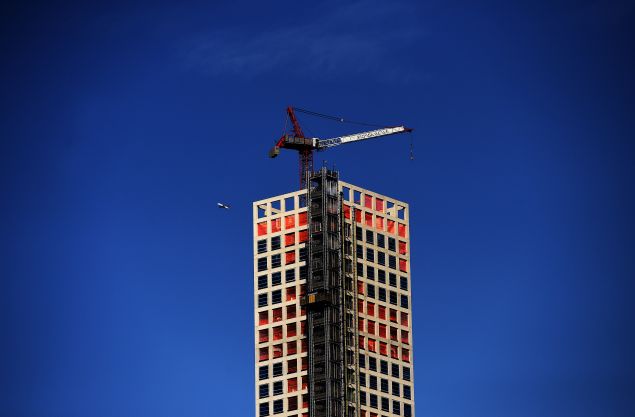 It's impossible not to notice all the cranes overlooking the New York City streetscape these days. Every few blocks there's another, reaching into the sky, reminding passersby that New York is constantly reinventing itself.
But most of the construction we see going up today is for high-end commercial and luxury residential properties that will open over the next three to five years. Sure, there will be some set asides for moderate income New Yorkers, but no one should expect the city to become meaningfully more affordable any time soon, for businesses or families. In fact, prices will almost certainly rise along with the new buildings, just as they always do. New York's metamorphoses have a habit of skewing to the more expensive.
The city has wrestled with a lack of affordable housing for decades. And as the population increases, the shortfall is more keenly felt with each passing year; the roughly 60-year-old supply of low- to middle-income housing stock degrades, and historically high land prices make it unprofitable for developers to build anything but luxury housing.
One third of the City's population now pays more than 50 percent of its income on rent. The federal standard of affordability is 30 percent. About a million New Yorkers live in City-owned housing or receive direct federal or state subsidies. And conditions in City-owned (NYCHA) properties are sub-standard from years of neglect.
The long-term answer to our affordable housing shortage is more revenue, and there's been a funding solution right under our noses for years.
Mayor de Blasio recently approved a 10-year initiative to create or save 200,000 units of affordable housing. He's counting on most of the $40 billion needed to be funded by private developers. Mr. de Blasio plans to mandate their investment by requiring developers to set aside 20-30 percent of new projects for affordable housing. A significant problem with mandated set-aside housing, though, is that if structured incorrectly it can significantly stunt new residential development of all types.
The long-term answer to our affordable housing shortage is more revenue, and there's been a funding solution right under our noses for years. Those 30-story NYCHA apartment towers so deeply in need of repair hold a partial solution, all 368 of them. Most were built on blocks pulled back from the street line to provide a modicum of green space. The desired effect was never achieved. Instead, the open space killed street life and provided areas for gangs and petty criminals to congregate.
New York City should sell one- or two-story strips of land on the avenues of these blocks to developers who could build retail stores serving those local communities. The proceeds could generate hundreds of millions of dollars in capital, but more importantly, generate huge real estate tax revenue, which would in turn generate billions of dollars in potential bond capacity. This is an idea that's been touched upon from time to time, but nothing has ever actually been done.
It could be all upside: Street life would be restored; money could be funneled back into NYCHA housing; new, modern affordable housing units could be built—and there might even be money left over to support local school construction and renovation. This could all be done without the City increasing its debt ratio levels, depending on increasingly undependable state and federal grants or straining its nearly $80 billion budget.
New York has a come a long way since its near bankruptcy in 1975 and since the frightful crime wave a dozen years later that almost brought the city to its knees. It gleams again in so many ways. But no one benefits from a city without a vibrant and upwardly mobile working class.
The city should be leveraging the assets it already has in smart ways to build the widest possible platform for its future. That's how the sturdiest construction takes shape.
Paul J. Massey, Jr. Is president of New York investment sales for Cushman and Wakefield and the former CEO of Massey Knakal.