Detective Stabler is leaving the SVU building for good.
And by building, we mean the city. And by Detective Stabler, we mean former longtime Law and Order: SVU star Christopher Meloni.
After Mr. Meloni left the show in 2011, he made the permanent move to Los Angeles with his wife, Sherman, and their two children. He's been looking to sell his condo at the Park Imperial ever since, starting with an ambitious $12 million in 2012—perhaps the year was an inspiration? Not that he didn't try to jazz up the listing by throwing in a Porsche Panamera Hybrid.
But neither the Porsche, nor cutting the price to $9.95 million in 2014, worked, though he did finally snag a buyer with a switch to Halstead Property and a $8.95 million asking price.
This was not, however, a soft sell. Unlike many high-profile apartments, the listing for Mr. Meloni's condo at 230 West 56th Street immediately mentions the fact that it was owned by a celebrity, which broker Brian Lewis said told us believed was a crucial component in marketing the 3,000-square-foot condo.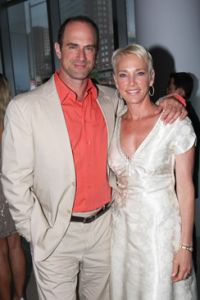 Mr. Lewis wrote in an email that he was finally able to find a buyer for the apartment because the television star "listened to me and priced keenly," and "gave me free reign to…leverage his name."
Mr. Lewis wasn't able to say if the apartment went for the exact asking price, only that the seller did "very well," and that the buyer is "smart, and a Park Imperial enthusiast." Not so well, however, that he's getting a Porsche.
The four-bedroom, 4.5-bath pad was featured in Architectural Digest in 2008, after Mr. Meloni and his decorator-wife made the move up from Soho. (They paid $5.45 million for the place back in 2005). Mr. Meloni said that he had always been an "exposed-brick, wood-beams—downtown—kind of guy," but having two children changed his mind. As his wife noted, "there's no grass in SoHo."
The couple redid the apartment, tearing down walls so that every room had a view. Mrs. Meloni said that she took her "cue from nature," in order to make the modern glass high-rise feel cozy.
"I enlarged the baseboards," Mr. Meloni added, and "[knocked] a hole in the kitchen wall so you could see the park view. I don't like being enclosed." He's also a big fan of the floor-to-ceiling windows. "While the views keep you very much in touch with New York, you're also above it all. When I'm done working and come home, I can really get away, be in a cocoon."
There's also a designer eat-in kitchen clad in "sapele and cherrywood," Brazilian wood floors, and an integrated sound system, though Mr. Lewis was unable to confirm if it's programmed to play the Law and Order theme when you walk into a room.